Phi Phi Relief Effort Growing
Heading out the door? Read this article on the new Outside+ app available now on iOS devices for members! Download the app.
Photos by Cathy Beloeil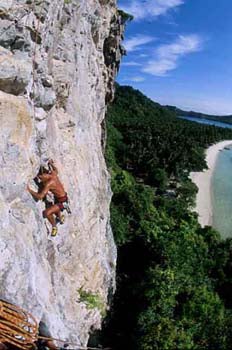 The islands of Koh Phi Phi, site of the first rock climbing in Thailand, were devastated in the December 26 tsunami yet received relatively little attention from climbers compared with better-known Railay Beach, which was spared the worst of the destruction. But relief efforts at Koh Phi Phi are accelerating. Because of Phi Phi's topography, it was hit from both sides by the tsunami, and the main Thai village and tourist areas were completely submerged. At least 2,000 people lost their lives, and many of the island's homes and businesses were demolished. Well-traveled climber Cathy Beloeil, who has operated a climbing shop on the islands for the past four years, has helped organize the Phi Phi Tsunami Relief Fund (Phi Phi Releve-Toi). Money is being raised to buy new fishing boats, build housing, and care for seniors and orphans. Beloeil and climbers Shamick Byszewski, Soley Onbut, and Sanan Changnarm also have led the effort to revive climbing on Phi-Phi, which, after an initial flurry of activity in the 1980s, languished when the more accessible climbing at Railay Beach was discovered. Bolts disintegrated and routes became unsafe. Since 2000, however, a major rebolting effort has been conducted, with an emphasis on moderate routes. The result, Beloeil says, is "some of the most beautiful moderate routes I have ever been on, in a paradise setting." Climbers can help the residents of Koh Phi Phi in two ways: visit and climb to bring business to the locals (see www.catsclimbingshop.com for information on the islands' climbing), or send money for the relief efforts. Visit www.phiphi-releve-toi.com for more information (in French and English) or to make a donation online, or send a check to Phi Phi Tsunami Relief Fund, P.O. Box 1097, Driggs, ID 83422. See Climbing #238 (April 2005) for a complete report on the tsunami in Thailand. Below: Devastation on Koh Phi Phi.