Heading out the door? Read this article on the new Outside+ app available now on iOS devices for members! Download the app.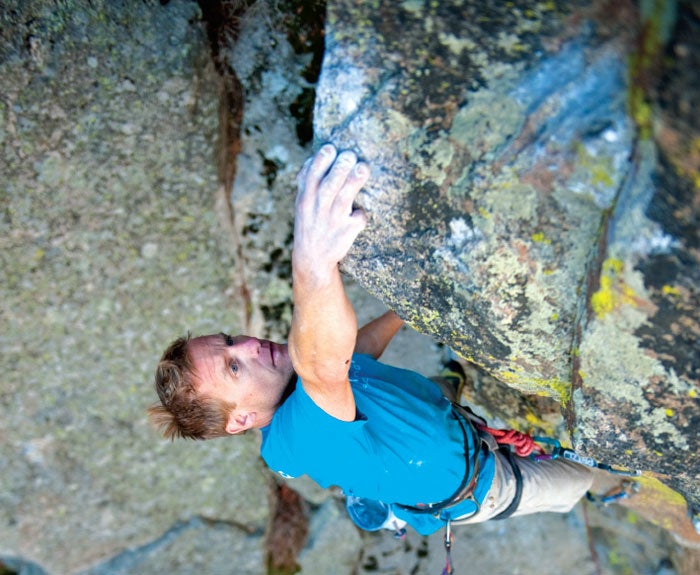 A small mob of kids swarms coach Jimmie Redo under the campus board at Movement Climbing + Fitness in Boulder. It's Monday night, and Redo's preparing the team for upcoming bouldering nationals.
You might not recognize him, but Redo (pronounced Ree-dough) has helped shape the climbing world for nearly 30 years. In the early 1980s, this quintessential California boy got his start in Yosemite, leading hard traditional cracks and scary slabs alongside legends like Ron Kauk. In 1989, he became the country's first national-level routesetter. Redo's coaching career took off in Colorado, when Justen Sjong created the Boulder Rock Club's first climbing team. Since then, Redo's been turning young stars like Emily Harrington and Daniel Woods into professional athletes, emphasizing his down-to-earth ethos: "I want them to be good people, not just good climbers."
At 43, Redo just sent his hardest climb yet: Mordred, a lichen-smattered 5.14 in Boulder Canyon, and he's got his eye on free climbing El Cap. After a five-year hiatus from coaching, during which he had another job, Redo's psyched to be back doing what he loves.
"Jimmie brings so much to the table as a coach," says Sjong, Movement's head coach. "His personal journey has taught him to be intelligent, methodical, patient, and, most important, it created his sense of humor and sharp wit."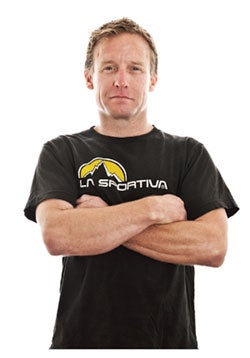 What's your role as the lead coach of Movement's Pro Team? The job of a coach is not just to educate, but to motivate. A lot of that is mental. Most people don't know how to train—they just go to the gym and climb. They don't know how to attack their weaknesses. I tell the kids, "It's not you against Chris Sharma or Robyn Erbesfield; it's you against the route or problem, and you need to be better than the problem."
What's the hardest thing to teach? The mental aspect. The physical isn't usually so hard. You give people the tools, and they learn how to train. The hardest thing is teaching people how to get over their fear of falling. There are 5.13 climbers who are afraid to fall and 5.11 climbers who aren't. And motivating younger kids who don't want to be there is tough.
What's the most important aspect that you teach your kids? To have fun. If you're not having fun, you shouldn't do it. Plus, it keeps you fit, and it keeps you young. We're really just big kids. We used to climb trees, and now we climb rocks. It's so completely pointless, but it's so fun.
Tell me about your first climbing experience. My dad took me to Pinnacles National Monument, south of the Bay Area. I was 15. I did a 5.4 or something. After that, it was Yosemite, Yosemite, Yosemite. Yosemite shaped me as a climber and a person. I took my dad up the Nose of El Cap for his 50th birthday.
Who are your climbing heroes? Yuji Hirayama is one of my big heroes because he's good at everything—cracks, comps, sport, big walls, hard boulders—and he's a really good person. My heroes are more well-rounded, like Tommy Caldwell. All of them are still climbing: Jim Logan, Steve Hong, Pat Adams, Jim Collins. It's their passion. It's so inspiring.
How has your climbing improved with age? I definitely don't recover as fast, but I'm probably smarter.