Heading out the door? Read this article on the new Outside+ app available now on iOS devices for members! Download the app.
Rich Purnell on AlcatrazPhoto by Luke Laeser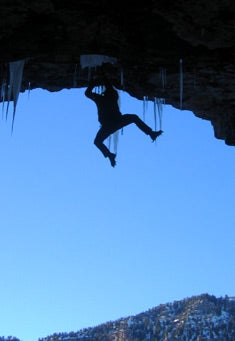 Rich Purnell has redpointed an enormous cave route in Glenwood Canyon, Colorado, and labeled the climb Alcatraz (M14). If the grade holds, it could be the hardest mixed climb in the world. Alcatraz crosses a nearly horizontal ceiling to a hanging dagger of ice, requiring 11 bolts for protection just in the huge roof. Purnell first noticed the potential climb a decade ago but didn't feel ready to attempt it until recently. Trying to start the project last winter, he couldn't find a way past a rock band on the approach and had to return in summer to climb a 5.9 approach pitch and begin the arduous process of bolting the cave. It took six trips to get in the route's 25 protection and belay bolts. Purnell then made another eight trips to Glenwood Canyon and up the two-hour approach before he redpointed Alcatraz on his second go on Jan. 26. Purnell has established 13 mixed routes in Vail, Colorado, ranging from M7 to M11 and repeated most of the other mixed testpieces in the state. He is the only American to have climbed The Game (M13) in Alberta, Canada. See http://m9ice.com/alcatraz.swf for video clips and a diary of Purnell's efforts on the climb.
Alcatraz climbs out the horizontal roof in the center of the photo to the thin pilar.Photo by Luke Laeser