President Biden Restores Bears Ears National Monument
Protection to 85% of Bears Ears was withdrawn by the Trump administration in 2017.
Heading out the door? Read this article on the new Outside+ app available now on iOS devices for members! Download the app.
Using his authority under the American Antiquities Act, President Biden is restoring protections to Utah's Bears Ears National Monument, effectively undoing President Trump's 2017 executive order, which reduced Bears Ears's size by 85%.
"This is a huge win for Indigenous people in the greater fight for America's public lands," said Chris Winter, Access Fund executive director, in a statement released by Access Fund. "This proclamation not only protects climbing and the vast cultural and scientific resources at Bears Ears, but it also helps to uphold the integrity of the Antiquities Act and protects all national monuments around the country."
Biden's proclamation also extends to Grand Staircase-Escalante National Monument, in southeast Utah, and the Northeast Canyons and Seamount, a unique marine monument off the New England coast.
When former President Trump reduced Bears Ears by 85% and Grand Staircase-Escalante National Monument by 50%, it was the largest reduction of federal monument protections in American history.
Bears Ears has been the scene of some political seesawing for the past half-decade.
The American Antiquities Act, signed into law by President Theodore Roosevelt in 1906, empowers the chief executive to proclaim national monuments on federal lands in order to protect noteworthy environmental or historical sites. With its thousands of petroglyphs, significance to Native American tribes, unique high desert environment, and value to a big tent of outdoor recreationalists (climbers among them), Bears Ears has long been considered a quintessential candidate for national monument status.
This finally became a reality in 2016, when President Obama designated the monument shortly before leaving office, but protections to the monument's original 1.36 million acres were short-lived. Early in 2017, then-President Donald Trump stripped protections from 85% of the original monument, calling Obama's decision a federal overreach. His actions were applauded by various mining, drilling, ranching, and development interests but decried by a vocal coalition of paleontologists, environmental groups, outdoor access groups, and Native American tribes.
As a result of President Trump's executive order, 40% of the climbing areas in the original monument, including Valley of the Gods, Lockhart Basin, and parts of Indian Creek, were reduced from their previous status—a mixture of BLM, national forest, and wilderness land. In addition to its climbing resources, the land around Bears Ears is full of petroglyphs, burial grounds, and pre-Columbian dwellings, and is considered sacred to the Navajo Nation, the Hopi Tribe, the Ute Indian Tribe, and the Pueblo of Zuni, among other. President Trump's actions essentially subordinated their interest in these lands to the interests of extractive industries. Biden's proclamation reverses that decision.
"Together, climbers and Native American tribes advocated for Bears Ears National Monument," said Aaron Mike, Access Fund native lands coordinator, "and we are thrilled that President Biden has corrected course on the prior administration's shortsighted and harmful decision to disrespect the traditional values and origin stories of multiple tribes."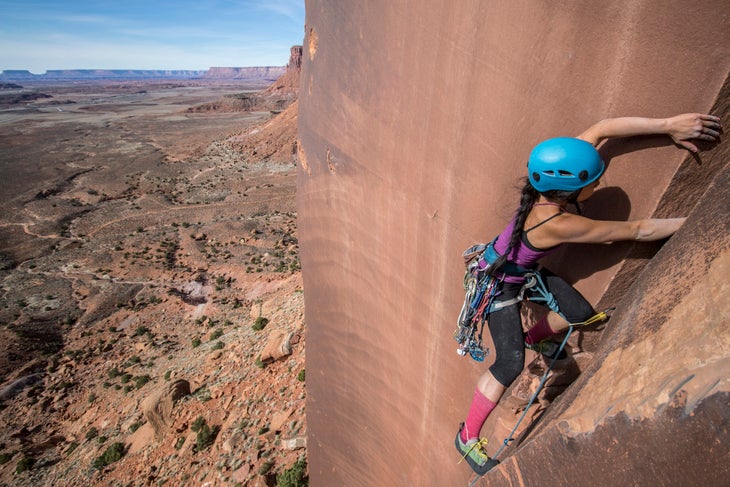 Republican opposition is likely
Just as President Trump's executive order was greeted by scathing criticism and legal action by environmental and tribal groups (among them the Access Fund), President Biden's proclamation is already seeing Republican opposition.
Utah's republican governor, Spenser Cox, who has previously implied that the State of Utah will sue the federal government if Biden were to make a unilateral decision, expressed his disappointment. He believes that the land's status should be definitively decided through congressional legislation, ostensibly because he'd prefer not to see its status seesaw back and forth according to who sits in the White House. "The president's decision to enlarge the monuments again is a tragic missed opportunity," Cox said. "It fails to provide certainty as well as the funding for law enforcement, research, and other protections which the monuments need and which only Congressional action can offer."
U.S. Senator Romney expressed a similar sentiment on Twitter: "Yet again, Utah's national monuments are being used as a political football between administrations," he says. The decision to re-expand the boundaries of Bears Ears and Grand Staircase-Escalante is a devastating blow to our state, local, and tribal leaders."
The Senator does not explain why tribal leaders might be devastated by this decision, however, since many tribes—allied with land advocacy groups like the Access Fund—have been advocating for the monument's restoration since 2017.
In an October 7 statement issued by the Bears Ears Inter-Tribal Coalition—which comprises delegates from the Hopi Tribe, Zuni Tribe, Ute Indian Tribe, Navajo Nation, and Ute Mountain Ute Tribe—Hank Stevens, a representative of the Navajo Nation, explicitly thanks the President for "restoring Bears Ears National Monument to its original vision of protection by incorporating Antiquities Laws to dissuade vandalism and desecrations of our ancestral artifacts and homeland."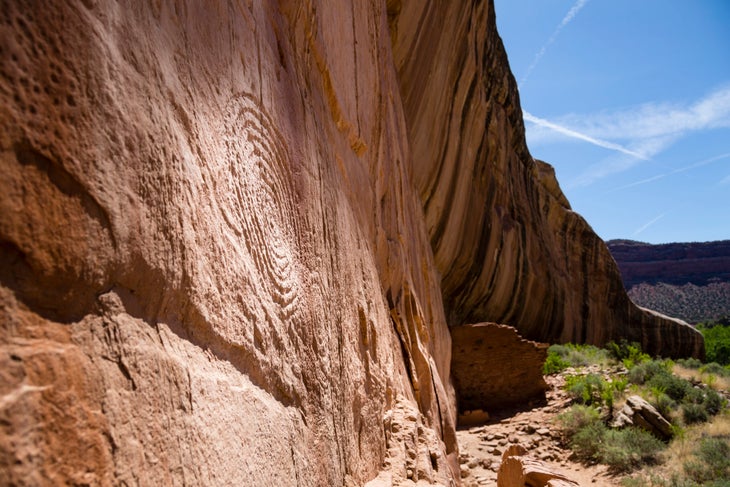 "For us the Moment never went away," adds Chairman Shaun Chapoose of the Ute Indian Tribe Business Committee. "We will always return to these lands to manage and care for our sacred sites, waters and medicines. The Monument represents a historic opportunity for the federal government to learn and incorporate our tribal land management practices. Practices that we developed over centuries and are needed now more than ever."
The Access Fund's Chris Winter also thanks "the many thousands of climbers from around the country who supported the legal battle over Bears Ears for three long years. Their advocacy helped elevate the importance of protecting the integrity of this National Monument as a top public lands priority for the Biden Administration. We would also like to thank all the volunteers and partners who continue to steward the Bears Ears landscape to ensure a respectful and sustainable recreation experience."