Heading out the door? Read this article on the new Outside+ app available now on iOS devices for members! Download the app.
Jonathan Martin clings to Jacks Baby, Animal Magnetism Boulders, Squamish, BC.Photo by John Evans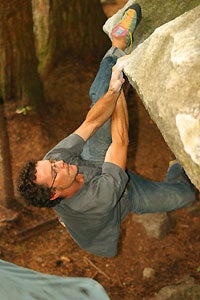 Our second report from Petzl/Arc'Teryx's RocTrip Squamish, and lets establish something right now. Right here, right now. "Right here, right now." Squamish is the spot! Climbers have come from all over the world to climb in Canada's premiere granite mecca. While Squamish used to be known for its splitter multi-pitch cracks and immaculate slab climbs, the bouldering seems to be drawing the most attention from climbers these days. And for good reason, with over a thousand established problems and routes it offers something for everyone. Aside from an appearance at the RocTrip event, many climbers like Justin Woods and Jason Kehl plan to stay here for the entire summer season, since it offers some of the coolest summer bouldering temperatures in North America.
Walking through the lush Pacific rain forests nestled below the Chief, you can't help but feel the mystical energy abound. Tall moss coated trees, slippery lichen patterned boulders, carpets of green ferns and four inch slugs trudging through this botanical paradise offer a plethora of life that reminds you…. you're not the only one present. Everywhere you go there are hoots and hollas from possies of climbers congratulating one another for hard sends and psyching each other up for their next projects.
World-class climbers continue to descend upon the area such as the Euro superstars Liv Sansov, Jerome Meyer (who arrived today without thier luggage) as well as Steve McClure, Fred Nicole, Scott Miltion, Jordan Wright and Sonnie Trotter. Even living ledgend, Fred Beckey, and Squamish's first ascent pioneer, who we bumped into at a payphone in our hotel (probably setting up another adventure?) is here.
Chris Sharma, who never ceases to amaze us all, has found and bolted a new project he hopes to send, possiby for the Big Show roped event this Saturday, on the famed monster Kacademon Boulder. The wildly steep 5.14+? rising rail should provide good entertainment for rock stars and spectators over the course of the event weekend.
Wills Young said to us yesterday "Lisa and I like to come to RocTrip because all of our friends are here, and it gives us a chance to see people we'd have to travel all over the world to see."
True that Wills… we agree.
So if your game is to soak up Easy in an Easy Chair, The Split Pilar pitch, or sports action of any kind, rain or shine, come get it, it's right here, right now.