Heading out the door? Read this article on the new Outside+ app available now on iOS devices for members! Download the app.
Ian Groll enjoys the perfect sort of dry holds on Heartbreak Hotel in the boulders below the Chief, Squamish, BC.Photo by John Evans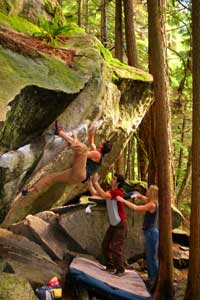 Conditions were gloomy for our third Petzl/Arc'Teryx RocTrip update as rainy weather controlled Tuesday night and persisted through Wednesday morning. However by 3 PM the skies cleared, the birds sang, the sun gleamed, the wind dried the rock and the climbers began to appear. Despite the wet conditions, everyone was ready to bust out in full, Northwest "flava."
The big news came from the south though as sources revealed that Petzl athletes Lynn Hill and Katie Brown(who have yet to arrive) freed the Westie Face on the Leaning Tower, a hard free classic in the Yosemite Valley. Word also spread that James Litz and Tony Lamiche will not be able to attend the event, due to schedule conflicts, which is unfortunate as both are talented competitors which many spectators (and fellow climbers) were excited to watch.
Sonnie Trotter provided us the low down on the new Kacademon route project which is now being dubbed TLC (Tender Lovin' Care). The new projected 5.14b testpiece, which begins with a short 5.12d slab to a wildly steep rail/seem, should undoubtedly provide us with excellent entertainment though. Trotter, who helped bolt the project with Chris Sharma and Jordan Wright on Tuesday, said the opening slab moves should help keep the "riff-raff" out as the short 5 meter section is incredilbly blank.
The forecast for Thursday shows perfect conditions, so we expect lots of activity in the boulder fields and on the walls of the Chief. England's Steve McClure and fellow Petzl athletes have plans to head up the Grand Wall early AM tomorrow. Petzl's Sport Division Manager, Dale Bard, couldn't be more optimistic for the weekend, as the weather looks to cooperate and the final preparations are in place. The routes for the "Ultimate Route Contest" on Saturday and the"Power to the People" bouldering fest on Sunday are all but finalized. According to Bard, the athletes will be going through final practice trials tomorrow before resting on Friday. "Tomorrow could be the biggest day of the week" said Bard. The athletes will continue to prepare for the main event by getting used the stone and "sending" many of the classics and testpieces before Saturday and Sunday. We'll be there… and so will you.