Heading out the door? Read this article on the new Outside+ app available now on iOS devices for members! Download the app.
At Friday's trail project, sponsored by the Access Society of B.C. and M.E.C., tons of gravel were spread throughout the boulders at the base of the Chief.Photo by Luke Laeser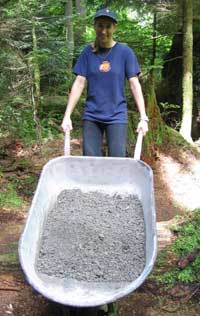 After we last left you, only a few hours were remained until Roc Trip Squamish 05 was set to kick off. Athletes in attendance for Thursday evening's final athlete meeting and media hour included: Fred Nicole, Lynn Hill, Katie Brown, Liv Sansov, Chris Sharma, Dave Graham, Joe Kinder, Steve McClure, Jerome Meyer, Ali Rainey, Boone Speed, Lisa Rands, Ines Papert, Harry Berger, Sonnie Trotter, Sean McColl, Tim O'Neil, Jason Kehl, Nick Sagar, Scott Milton, Daniel Woods and more. True to form, Roc Trip once again brought some of our sport's most talented athletes(not to mention a serious contingent of local Squamish talent). Besides the two presenting sponsors, Arc'teryx and Petzl, additional event partners included Entre Prises, La Sportiva, Flashed, Prana, Maxim, Onsight Climbing Equipment and Climbing Magazine.
Local sponsors The Howe Sound Brewery & Inn, Mountain Equipment Co-op and Valhalla Pure Outfitters all offered a network of help for event organizers and a "warm" welcome to all in attendance. Additionally, Anders Ourom of the Access Society of BC, and local goverment officials hosted a coctail party for all of the Roc Trip athletes and sponsors. The presentation included a historical retrospective on Squamish and an update on some of the current access issues like the increasing number of climbers, access threatened crags, and of course parking.
As in year's past, Friday included the service project part of the event. Orchaestrated by both Dale Bard of Petzl, John Irvine of Arc'teryx, and the Access Society of BC, this has been one of the key components of Roc Trip. "It is our way of giving back to this great climbing community" said Bard. About 50 climbers yielded their force and engineering talents: building new trails, bridges and cleaning up pre-existing threatened areas beneath the Chief and at Chekamus sport climbing crags. All volunteers received a free dinner and beer from the local hotspot Howe Sound Brewery. After dinner, Friday evening's entertainment "kicked-off" with a musical performance by local Squamish Native American tribe leaders followed by slideshow/multimedia presentations by Frederick Nicole and Scott Milton.
We awoke Saturday morning to "bluebird" skies, perfect dry rock, weather concerns were non existant. Saturday's competition element included route climbing at both Chekamus (a local, sport crag north of Squamish on the way to Whistler) and on the Kacademon Boulder below the Chief. Anticipations were high as competitors were planning their strategies for the day. The cut off for onsight attempts was 5.14a for men and 5.13b for women. Shady conditions and cool temperatures brought most of the morning activity to the Cocodemon Boulder, where Chris Sharma was attempting to redpoint his new project(5.14d?), TLC. As the competition format incorporates both route climbing and bouldering efforts into the final results, it was crucial for competitors to have a strong showing in each discipline of the competition.
With all the talent present, no one was let down. Amazing ascents and proud efforts occurred all day long.. Highlight's included: Dave Graham's onsight of Young Blood (13a/b) on the Kacademon Boulder, Steve McClure's redpoint of Patience at Chekamus (5.14a) plus unconfirmed reports of two additonal 5.14a sends by both Sean McColl and Sweden's, Said Belhaj. Spectator Rob Freeden said it best, "I've never seen so many good climbers and good climbing in one place before. The atmosphere below the Big Show at Chekamus was awesome!" Rob was alluding to the two hundred plus spectators who had sprawled about the boulders at the base of the cliff clicking photos of some of the worlds best climbers. SEE ROC TRIP PHOTOS AT CLIMBING.COM – PHOTOPOST
Saturday night's grand finale included a Timmy O'Neil presentation at Squamish's Brennan Rec Center. Once again, the crowd got more than they bargained for, including a Climbing Magazine sponsored doghnut hole eating contest where the winner won a rope provided by Maxim. Over four hundred people attended the show, all of which seemed to attend the dance party that followed. Petzl's own, DJ LaFouche and videographer Guillaume Broust, dazzled the crowd with beat, pumping techno tunes and video footage gathered from our week in Squamish. The pre-dominantly Canadian crowd didn't hold back, and the dance floor was wall to wall with people dancing the night away.
With the night ending around 3 AM, we wonder how any of the athletes will have anything left for the bouldering competition on Sunday. Somehow, we bet this won't slow anything down though. The weather on Sunday is pefect again with a little could cover and a nice breeze.
It's still right here, right now…