Salt Lake City Climber Wins Prize in National Story Contest
Heading out the door? Read this article on the new Outside+ app available now on iOS devices for members! Download the app.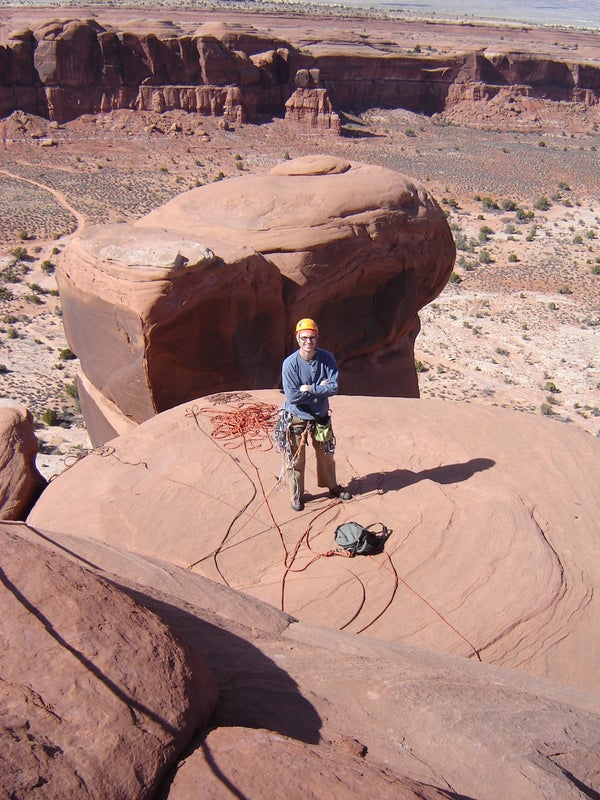 Defenders of Wildlife announces the winners of the Your Lands, Your Wildlife, Your Story contest
SALT LAKE CITY—A local climber snagged a prize in a nationwide contest today for his story supporting wildlife on public lands. Josh Ewing, a 32-year-old communications professional, is one of six writers whose story placed in the "Your Lands, Your Wildlife, Your Story" contest sponsored by Defenders of Wildlife as part of the Your Lands, Your Wildlife campaign. After leading his first challenging crack climb in Utah's redrock country, Ewing couldn't imagine feeling more psyched – that is until he and his climbing partner scoped out a herd of desert bighorn sheep on the cliffs above them. Ewing's story describes the rare encounter as the "singular most magnificent display of athletic prowess" he'd ever seen. The story landed Ewing a Garmin GPS for winning the backcountry adventure category of the contest. But Ewing hopes his words will have a greater impact for the wildlife living at the San Rafael Swell in central Utah. "This area is my favorite place on Earth," he says. "It was supposed to be protected. But that got killed. I thought my story would bring attention to the wildlife living there." Hailing from the great plains of western Nebraska, Ewing landed in Salt Lake City after taking a communications job at the mayor's office during the 2002 winter Olympics. He says that growing up in a ranching family instilled in him a deep respect and commitment for the land. Now an avid environmentalist, he works with a local conservation group and his fellow climbers to raise awareness of the threats facing the desert ecosystems. Prizes were also given away to the top story and in four other categories, including: hunting, fishing, birding and backcountry adventure. Their stories may help make America's wildlife a winner as well. The other contest winners include: Ian Havlick of Boulder, Colorado; Aaron Bialke of Virginia, Minnesota; Brendan Cushen of Eugene, Oregon; Stephen Kolbe of Stow, Ohio; and Jill Bartelt of Kewanee, Illinois. The contest comes as national forest lands and the Bureau of Land Management's National System of Public Lands face increasing pressure from rapid energy development, dramatic environmental changes associated with global warming and other development. Together the Forest Service and BLM steward 449 million acres of land – almost one fifth of the country's land area – for the benefit of all Americans. That's more land than Utah, California and Texas combined. These lands hold some of the last remaining intact wildlife corridors for big game animals, provide habitat for countless species, protect some 3,400 public water supplies, and offer some of the best opportunities for outdoor recreation, hunting and fishing. The Your Lands, Your Wildlife campaign aims to build a foundation for sustainable wildlife management on national forest and BLM lands. "These stories illustrate just how connected people from all over the country are to wildlife and public lands," said Marcia Lesky, the outreach director for Defenders of Wildlife. "Healthy lands and wildlife are important for so many Americans — for all kinds of reasons. That's why we need to restore sound management to our federal public lands."
To read Ewing's story and to learn more about the Your Lands, Your Wildlife campaign, visit YourLandsYourWildlife.org.
Defenders of Wildlife sponsored the contest as part of The Your Lands, Your Wildlife campaign, a coalition of sportsmen groups, outdoor enthusiasts and conservation organizations working to restore balanced management to federal public lands. Learn more about the campaign and partners at www.YourLandsYourWildlife.org.