Salt Lake City to Host Three World Cups (tickets are on sale now!)
In May, Salt Lake City will host three IFSC World Cups: Bouldering May 20-22, Paraclimbing May 24-29, and Speed and Bouldering May 27-29.
Heading out the door? Read this article on the new Outside+ app available now on iOS devices for members! Download the app.
In May, Salt Lake City, Utah will host three IFSC World Cups:
Bouldering World Cup May 20-22
Paraclimbing World Cup May 24-29
Speed and Bouldering World Cup May 27-29
Climbing readers will receive a 15-percent-off discount for tickets using the code ClimbingWC22, or following this link, where the discount has already been applied.
The Bouldering and Speed events will take place downtown at Pioneer Park, and the Paraclimbing World Cup will be held at The Front. The schedule is: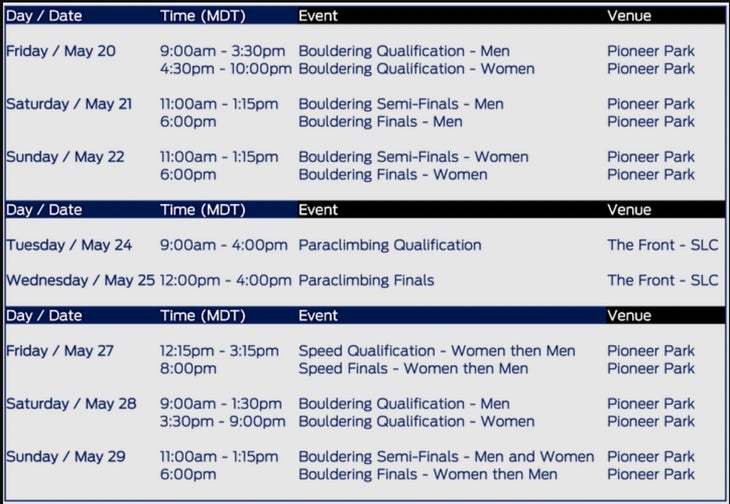 Last year, USA athletes Natalia Grossman, Sean Bailey, Brooke Raboutou, and Emma Hunt dominated the Salt Lake City Bouldering and Speed World Cups. Each athlete took home a medal (or two), in fact. All are expected to compete this year as well, alongside a strong roster of teammates. Although there was no Paraclimbing World Cup in Salt Lake City last year, the team is stacked and many past medalists are expected to compete.
A list of registered athletes will be updated in April. To see who has registered, please go here for May 20-22, here for May 24-25 and here for May 27-29.
[Read the 2021 recaps here and here]
For access to all three events, discounted tickets are $44.20 for an adult and $22.10 for children under 12. The Bouldering event May 20-22 and the Bouldering/Speed event May 27-29 are $34 each, or $17 each for children. And the Paraclimbing World Cup ticket prices are $17 for an adult and $8.50 for a child.
Single day tickets (rather than event tickets) are on sale, too. See the link below for prices.