Sarah Jane Alexander – Reader Blog 7
Heading out the door? Read this article on the new Outside+ app available now on iOS devices for members! Download the app.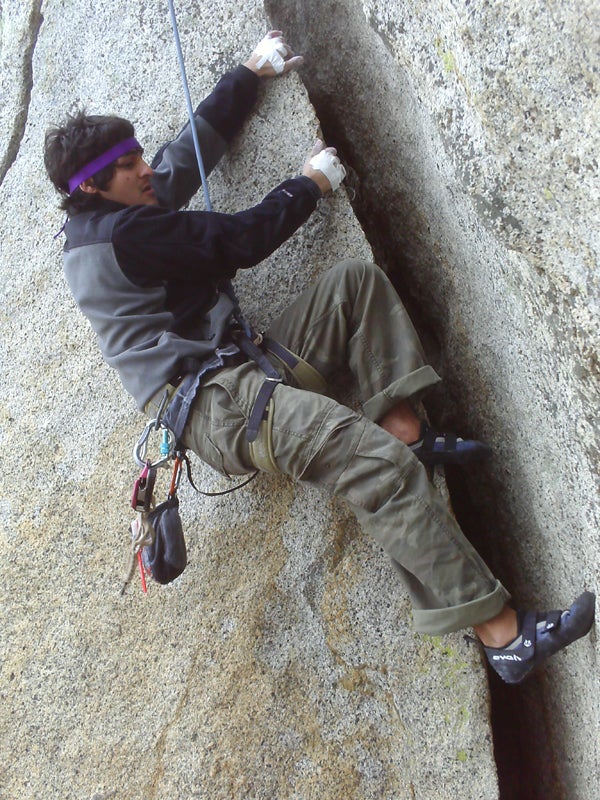 I was humiliated from the first climb to the last.
I had grand visions of fierce but smooth climbing on a slabfest called Tollhouse Rock. It also has some sweet cracks.
But my bros and I started at an unyielding boulder.
I'm not a huge bouldering fan. I feel insecure without a rope. So when Alvaro pulled over at the boulder, I wasn't too happy for myself. But I enjoyed watching Alvaro and Cary strategize and execute.
Then they asked me whether I wanted to try.
One of the best things I can say about myself as a climber is that I'll try a lot of routes that intimidate me and I don't mind getting shut out. Which is exactly what happened. Within seconds, the boulder made it clear who was boss.
Finally, we moved on to the main rock. Alvaro and Cary are stronger climbers than I, so Alvaro considerately asked me whether I thought I'd be all right on a chimney where he was contemplating setting up a top rope. I stared down into the chimney and thought it was the perfect size, small so I didn't have to worry about my short legs not being able to stem it.
We rapped down about 20 feet and discovered the chimney wasn't a chimney. We couldn't tell from above, but it was smaller – an offwidth crack.
I had no clue how to approach it. I tried liebacking it like my homies, putting my feet on an opposing rock. That didn't work.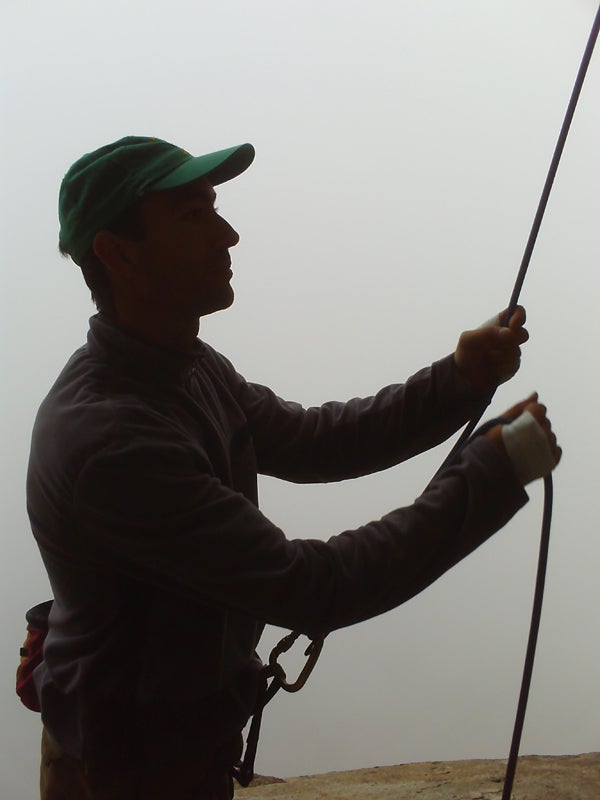 I tried half-squishing myself inside, but I couldn't find feet.
Then I tried a nearby hand crack. It was curvaceous, and I didn't know how to navigate the curve.
While I was having my adventures in humiliation, the universe continued to laugh at me by pushing frigid fog over the rock. I hate being cold, hate, hate, hate. When that bone-chilling mist blew in, I was shivering, cursing and longing for a warm stocking cap.
About the only thing going right for me that day was some great belaying for my friends. I caught their falls effortlessly. When I am belaying, my total focus is on the climber. I want my friends to have confidence in my belaying so they can focus, feeling secure.
When we were ready to leave, I told my boys they were going to have to hoist me up that offwidth till I could get some feet and climb it. The tone of my voice was nonchalant, but actually, I was horribly humiliated.
Which I told them when I emerged at the top.
"It just turned out to be a day of really hard climbs," Cary said, trying to comfort me.
As the evening set in, so did a little muscle ache. But the location and quality of the soreness were a silver lining in my day of disappointment.
Sarah Jane's most successful ascent of the day was a boulder that whooped her ass on the front but was so close to the ground on the backside that even her furry homeboy Leo sent it. Photo by Cary Davis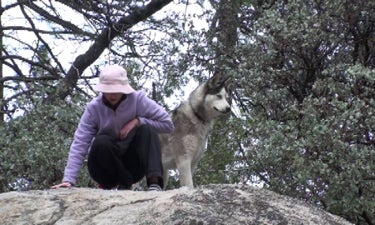 The first time I went climbing, I was torturously sore in my pecs and forearms for a couple days. Which meant my technique sucked and my muscles were unhoned to the rigors of climbing. Well, actually I had no technique. I didn't understand what my belayer meant when he kept yelling: "Use your legs!"
After this climb, my muscles ached slightly, a tiny bit in my pecs, but mostly in my hips, glutes and legs – which meant I had finally used them.
For more from Sarah Jane Alexander visit her website: time2climb.com
READ SARAH JANE ALEXANDER'S OLDER BLOGS: