Heading out the door? Read this article on the new Outside+ app available now on iOS devices for members! Download the app.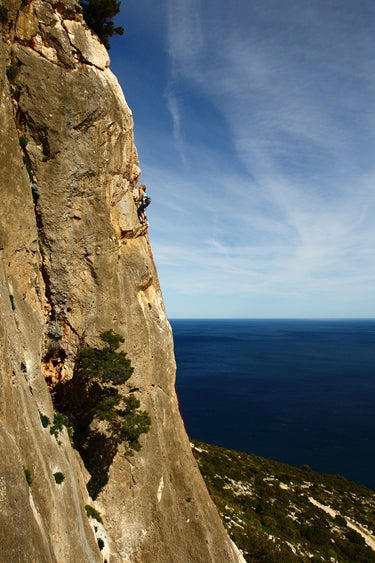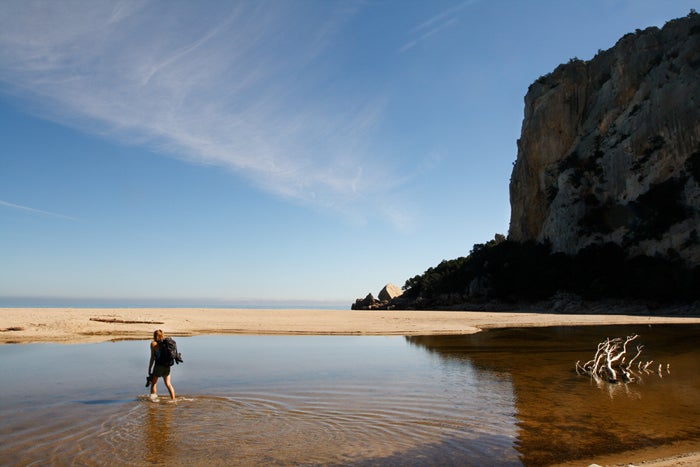 3/24/08 — For the next month Climbing.com contributor Bruce Willey and his wife Caroline Schaumann will be sending dispatches from Sardinia—an Online exclusive. This is their story: A story of average climbers, with average means on an average quest to explore the uncommon island off the coast of Italy.
Dispatches from the Island of Sardinia: Cala Gonone
Defining Flow is a dubious if uncertain enterprise. It's supposed to happen when you're not paying attention, when you're deep in the throes of say painting water lilies, blowing an Ornette Coleman riff from the mistral winds in your lungs and igniting a thousand fires. Without thought of flow, but still conscious of the absolute abandonment of deliberation, it suddenly appears out of nowhere. And the minute you think, why yes, this is strange, I'm flowing like a mofo, it disappears.
And it happened to me today. For one sweet day, I flowed. My wife flowed. And we flowed up and down one wholly satisfying climb after another at the Margheddie crag out on the hills far above the sea near Cala Gonone. The bite of the limestone holds felt pleasing to my fingers and I began to trust my feet to smears and tiny edges that would have given my pause the day before. Without putting too fine a woo-woo point on it, climbing seemed exactly what my body had evolved to do, where my mind found it's most sinuous focus.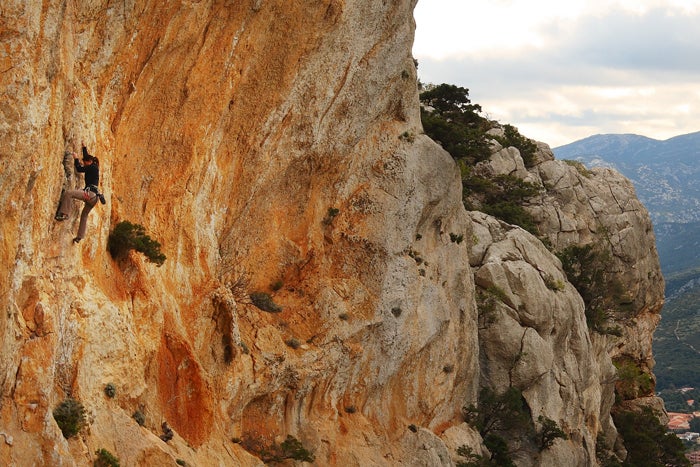 We warmed up on an excellent two-pitch route, Festeggiando I Tre Mesi (6a+), and rapping off high above the Mediterranean Sea, I paused to take in as much of the landscape as possible, wishing almost to do the climb again that very day. But there was another line next to it, and another. So we climbed nearly all of them. After lunch of sandwiches and fresh oranges, I spotted a finely featured bowl and hand crack above it. It looked good, too good to bother looking in the guidebook for names and ratings. After passing the crux with prefect jams, I yelled down to Caroline: "No, this is the best route in Sardegna." It's a running joke between us punctuated by a lot of truth, and influenced by Maurizio Oviglia's ecstatic gusto in his guidebook, Pietra di Luna. (www.sardiniaclimb.com)
Because of how the day was going I overshot the belay and began fun-hogging the second pitch. Caroline yelled up that I was running out of rope, so I down-climbed and found the belay. The second pitch Caroline led proved even better than the first, following the exposed arête all the way up the prow of the pillar. In Sardegna they call it Ninna Nanna per Martina (6a+). It's a climb I hope to recall on my deathbed.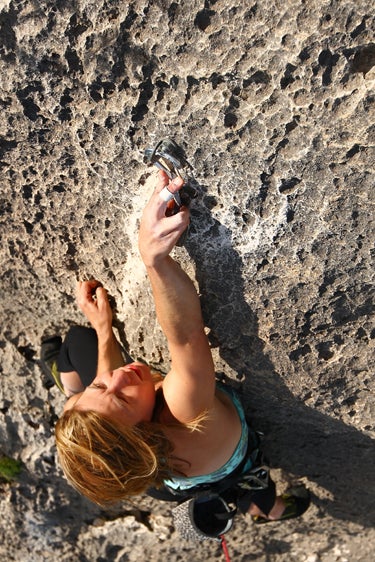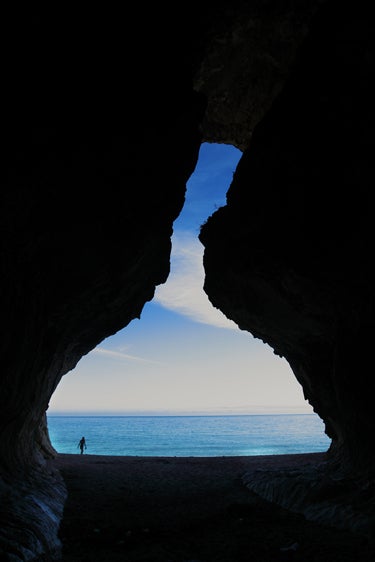 Thinking that a change of scenery would do us good, we had driven over the snow-covered Supramonte from the Ogliastra region to Cala Gonone. We were dubious about this move having heard that Cala Gonone is considered the most popular, well-known (and most crowded) area of the island. On our first week we had spent two days climbing in Cala down by the rocky spiaggia (beach) of Codula Fuili and at the super classic multi-pitch slabs of La Poltrona above town. There's nothing quite like climbing on the beach with the warm Med air wrapping you like you like Dante's vision of Paradsio. One route stands above the rest in Fuili, a short two-pitch climb (Wolof, 6a) that begins nearly in the water and is so grand it would seem to trump the very words of mentioning it.
Still, I have to say when you see a tremendously hirsute German dude wearing a one-piece bikini under his climbing harness grunt up some 5b limestone slab, you begin to reconsider the notion of paradise.
So far we'd enjoyed total seclusion out in the hinterlands of Sardegna, climbing by ourselves and only coming into contact with the sweet Sards. Sure, we would have welcomed a run-in with Italian climbers, or any climbers really. The impulse to wave flags and get nationalistic when climbing has thankfully passed. We're all part of the same ratty tribe moving through the world with the same earnest snap of carabiners.
And I'm no prude either. I've sunbathed plenty naked, my naughty bit hanging in the wind and waves of my old hippie haunt of Santa Cruz, California. Nothing to be ashamed of. Nothing to get all puritanically bunched up about. (Though let's get one thing clear: I've never climbed nude for the simple fact that calling out "watch me" at the crux would seem beyond the limits of male dignity.)
But something about this hairy German and his butchy partner rubbed us the wrong way—especially for my German wife. We'd tried being friendly (in German) as they were the first climbers we'd seen. In return they snubbed us coldly.
Thus, over a dinner of culurgiones and a bottle of cannonau, the wife and I had a long discussion about the Fatherland. Or more specifically why it is that Germans become aloof when they're outside the borders of their country. Because in Berlin, the Germans I've encountered couldn't be nicer, friendlier people as a whole. It seemed an odd paradox.
We didn't reach a lot of conclusions that night but we did manage a few broad generalizations. Like Americans, Germans have a desire to see themselves as individualistic. Of course Germany doesn't have large swaths of open land where you can pretend to be a cowboy. But many Germans like to get out and explore the world nonetheless with a decidedly adventuresome bent. Climbing is the perfect venue for this. So when they run into other Germans their individualism must go down a notch.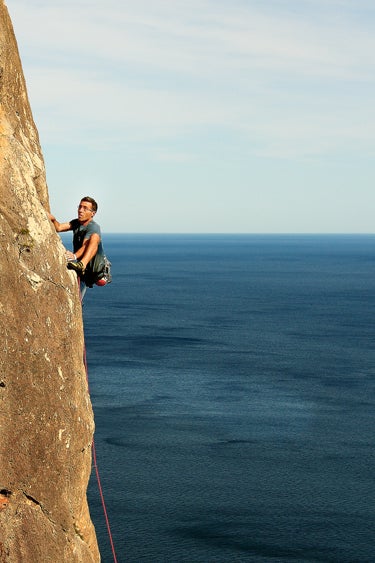 And then we opened another cannonau and went all the way back to the student movement of 1968 in Germany and the differences and similarities to the late 1960s in America (of which we both experienced as young babes), and you could say the discussion became sort of hazy by the next morning. But one thing became clear over the week in Cala Gonone. Nearly every time we ran into a group of German climbers they, in turn, gave us a look of angst.
We conjured another theory: Perhaps it had more to do with the way they insisted on excessively challenging themselves on climbs that were way over their heads. They climbed a few moves, yelled mach mal zu ("take") then hung for ten minutes studying the route above. Then a few more moves, take, hang, climb, take, hang, climb. It's like one long frustrating boulder problem with clips, the rope a crash pad. The influence of Kurt Albert's rotpunkte (red points) at the Frankenjura goes out the window. Above all, they probably just needed to find some Sard flow.
In all fairness, we did manage to meet a couple of fine German climbers at the Arcadio crags above town. The mistral winds were blowing hard, hard enough to blow your balance off. But this didn't keep them from almost red pointing an overhanging 7a climb nor did it diminish their humbleness. They were nothing short of sweet and friendly. For the rest of the week we hoped to run into them again. But as fate would have it, we never did.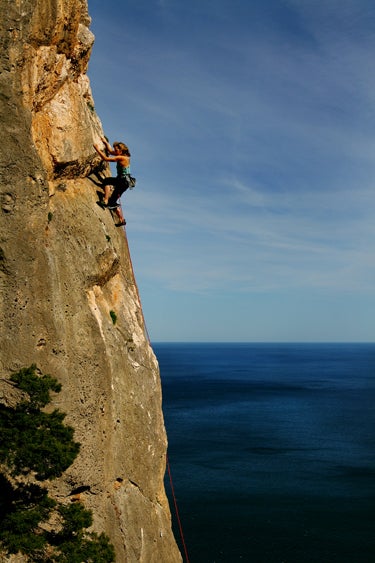 Enough sardonic (you guessed it—along with sardines we get this word from Sardegna as well) generalizations for the day. We're staying with a friendly Italian family. Or rather, we're renting an apartment (www.homeresort2p.it) from them in what would normally be filled to the hilt during the high season (with Germans). Now, we're the only ones here save for Nicola Pira and his family. His mama, whom we call the same for lack of knowing her name and because she baked us a cake, also lives downstairs. Nicola's English often takes a turn for the better. We went down to their apartment to inquire if he knew any Italian climbers that might want to go climbing with us. He was deep in the midst of a computer crises, cussing in both Italian and English. "When you say 'un-fuck' it not so bad, right?" he asked, ignoring our inquiry.
"I suppose you could say that," I said. "But to be honest it's something you generally can't un-do."
Cala Gonone is a sleepy village during the winter months. In fact it's difficult to find a place to stay when it's busy and when it's quiet. The slow months allow Nicola to travel. He recently returned from Seoul, Korea but found it a noisy, intense city coming from his town of 500 or so permanent residents. He left four days early. His dream now, while the American dollar is so weak against the Euro, is to rent a large 4X4 SUV and drive Route 66. "Beeg, beeg truck that use more gas than possible," he says. "And I wave to blond girls and go into the dirt, into the desert."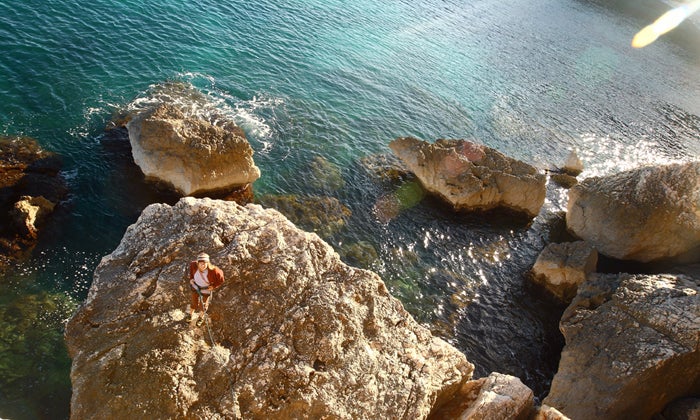 (So, if you see a handsome Italian in Nevada, driving a huge truck through the tumbleweeds with a blond on his arm, don't say you weren't warned.)
Nicola never did find us any Italian climbers. So Peter and Anne came over in their Fiat from the Ogliastra region to help with making some photographs and to drop off a pair of much-needed shoes for Caroline that my mother care-packaged over from the U.S. We of course wanted to show them the Margheddie crag, and in particular get some shots of Ninna Nanna per Martina.
Peter had told me earlier that he estimates only about 100 serious Italian climbers live on the island. Which partly explains Nicola's problem of finding us some local climbers.
We spot their white Fiat far below on the one lane dirt track while we're climbing Dodò (6a+). Peter, hobbling still from his injury on gritstone, comes up the talus. Anne wanders the road in a hunt for wild asparagus. "Luvi," he yells down to her, once he gets to the base of the crag. "Up here."
We climb all afternoon and have a blast. The mistral winds that have been blowing for the past three days finally start to abate. Later we have cappuccinos in town, hatching plans to meet in Joshua Tree next winter. We have become fast friends it seems, despite locking them out of their house last week.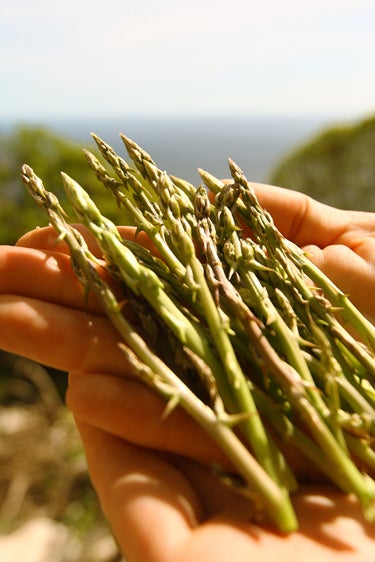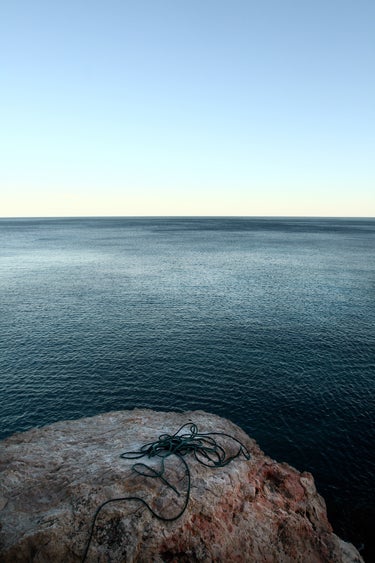 We had one more day in Cala Gonone and decided it best to check out the hoopla of the most famously beautiful beach in the Med, Cala Luna. Actually, it's the three or so mile hike out there that rivals the beauty of the beach. (During the high season most people take a water taxi or hire a boat.) Winding through the thick brush and oak forest, the trail rewards with stunning vistas of the sea. Then you come down the trail onto the beach only to see German climbers plying their craft on the overhanging mouths of caves. It's sight filled with both angst and beauty.
After a chilly swim comparable to the summer water temps of Northern California, we walk out to Scoglio di Luna, a 200-foot crag south of the beach. Here we find peace, quiet, and abundant shade. Running up the two-pitch Vamos a la Playa (6a) while looking forlornly at the sunny sand, we realize it's time to take the route's Spanish name (let's go to the beach) to heart. But by the time we rap down a fog bank has destroyed all notions of existing on the picture-perfect side of a postcard. Such is the winter weather of Sardegna.
Walking out, we pass a seasonal bar and restaurant. Paddleboats and rental kayaks lay overturned in the weeds. In a few weeks this place will teem with tourists. It's been known to be so crowded that you have to wait in line for climbs and a spot on the coveted sand takes more than a territorial towel to reserve. We will be leaving in the nick of time. Heading inland for the long multi-pitches of the Supramonte in the backcountry of Sardegna.