Schulte on Fire in France and Switzerland
Heading out the door? Read this article on the new Outside+ app available now on iOS devices for members! Download the app.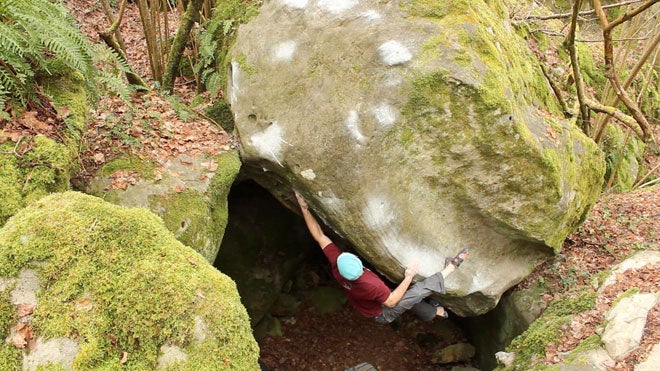 3/4/13 – Chris Schulte finally completed his long-term project—and his first V15—with an ascent of The Big Island in Fontainebleau, France.
Schulte spent between 30 and 40 sessions working The Big Island. A friend recommended he try the reachy problem, and "I thought it would be too hard, but I did most moves in my first session, and then the rest a couple sessions later," he says. "I love this style of climbing, so it was a natural draw."
The Big Island is a compression problem known for long reaches; Schulte, shorter than most of its other repeaters, had to use different beta. "I couldn't reach the double heel-hooks or heel/toe-hooks that most climbers use," he says. Instead, he danced his feet around while hanging off the "worst sloper on the route. Conditions were a big help," he says. "Key, really!"
Schulte has had a super-successful trip to Font and Ticino, Switzerland, including a couple V14s and many V11s, V12s, and V13s (see below). But The Big Island held his attention the most. Now that he's finished, he feels "relaxed. The whole forest looks five shades brighter. [I got] to climb a really great problem in my favorite style, and [I did] something that was a real barrier-breaker for me."
Schulte will spend two more weeks in Europe working out a few more problems, including a "sandbagged highball way out in the woods."
2/26/13 – Chris Schulte has been cranking hard this winter in Fontainebleau, France, and Ticino, Switzerland.
Originally inspired by a photo of Fred Nicole on the first ascent of Karma (V11) in Fontainebleau, Schulte has made many trips to these famed boulders in Europe over the past decade to soak up the European culture and tick hard problems. Schulte kicked off this season's trip in Font in January, making the second ascent of Partage Assis (V13, first ascent by Thomas Collignon) and working his long-term project, The Big Island (V15), before being run off by bad weather.
Lured to Ticino by dry, crisp conditions, Schulte enjoyed "a lot of perfect, perfect gneiss. The grain, structure, and shapes of the boulders is incredible," he says. "Big moves, angled shapes, gymnastic climbing in beautiful areas among high mountains." Here, Schulte ticked The Dagger (V14), Conquistadors (V12, flash), and General Disarray, Amber, and Einfisch Kleinfisch (all V13).
Having recently returned to Fontainebleau, Schulte has racked up even more ascents, including Elephunk (V13) and Nalle Hukkataival's Realist (V14). He still has his eye on The Big Island: "The thing is exactly my style, and yet so hard for me," he says. "The moves are really big: huge spans between bad to decent slopers. I'm pretty sure everyone who has done it is over six feet tall, with a big reach. It's a different problem for different sizes, like many things in bouldering. But I think this is often particularly evident with compression lines."
Schulte also had a few things to say about the role Internet has played in gathering beta for climbs. "Things are a lot different from the earlier years of John Gill, who apparently would refuse beta on the grounds that solving the problem was in fact part of the problem," he says. While he maintains that resources like Internet videos definitely help, they also change the experience a little. "I spend enough time trying to figure out how to do some moves in the backcountry," he says. "It's nice to be able to set to work on a problem, having a good idea of how to proceed, especially when your time at that place is limited. It's pretty likely I'd not have flashed Conquistadors without knowing exactly what to do at the beginning."
Sources: Chris Schulte, bleau.info
Dates of ascents: January-February 2013