Seb Bouin Climbs New 5.15b/c in One Gigantic 430-foot Pitch
On July 21, Bouin made the first ascent of Nordic Marathon, in Flatanger, Norway. The route ascends through the steepest part of the Hanshelleren Cave and gives a new definition to the word long.
Heading out the door? Read this article on the new Outside+ app available now on iOS devices for members! Download the app.
Seb Bouin has had a dang good summer. In May, he clipped the chains on DNA, his years-long project in the Verdon Gorge, for which he proposed the world's hardest grade: 5.15d. In early July, he claimed the second ascent of Iron Curtain in Flatanger, Norway, which was established by Adam Ondra in 2013 and originally graded 5.15b. (Bouin, using kneepads, found an alternate beta that drops a letter grade.) And last week, he FA'd Nordic Marathon, grading it 5.15b/c.
The line links a long 5.14b called Nordic Plummer (first ascended in 2012 by Ethan Pringle) directly into the second pitch of Thor's Hammer, a gargantuan 5.15a bolted by Magnus Mitbø and first done by Adam Ondra in 2017.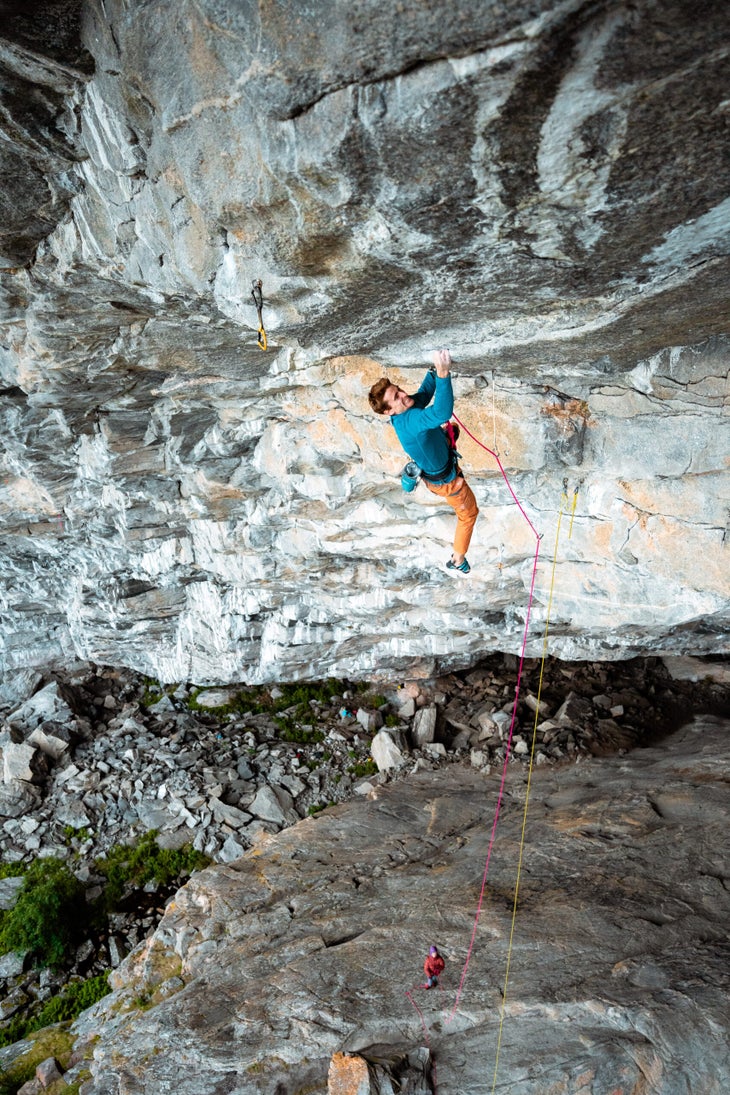 Nordic Marathon is actually the easiest of the mega-links first envisioned by Adam Ondra, who originally came up with the idea of climbing from the bottom to the top of the cave's steepest section ("it's basically a roof," Bouin said in a press release) in a single uninterrupted pitch. 
"There are three possible starting routes," Bouin explains, each of which finishes on the hard second pitch of Thor's Hammer. Nordic Plummer is the easiest, followed by the first pitch of Thor's Hammer (5.14d/5.15a), and Move (5.15b/c). 
Interview: Seb Bouin on His 430-foot Cave Route and the Future of Endurance Climbing
Bouin's longer-term dream is to climb "the hardest possible combination," starting on Move, which Bouin sent in 2019 after years of effort. The resultant route would require linking a 5.15b/c directly into a 5.15a—and would entail nearly 500 feet of radically steep climbing with a hard crux right at the end… certainly a contender for the 5.15d or even 5.16a grade. 
Bouin spent a week jumaring up fixed lines and trying the second pitch of Thor's Hammer in isolation before sending it two weeks ago. Realizing that the two harder starts would require too much work for a single trip, he began trying the easiest link, hoping "to get an idea of the challenge, and to be psychologically ready for the end when I start trying the harder version."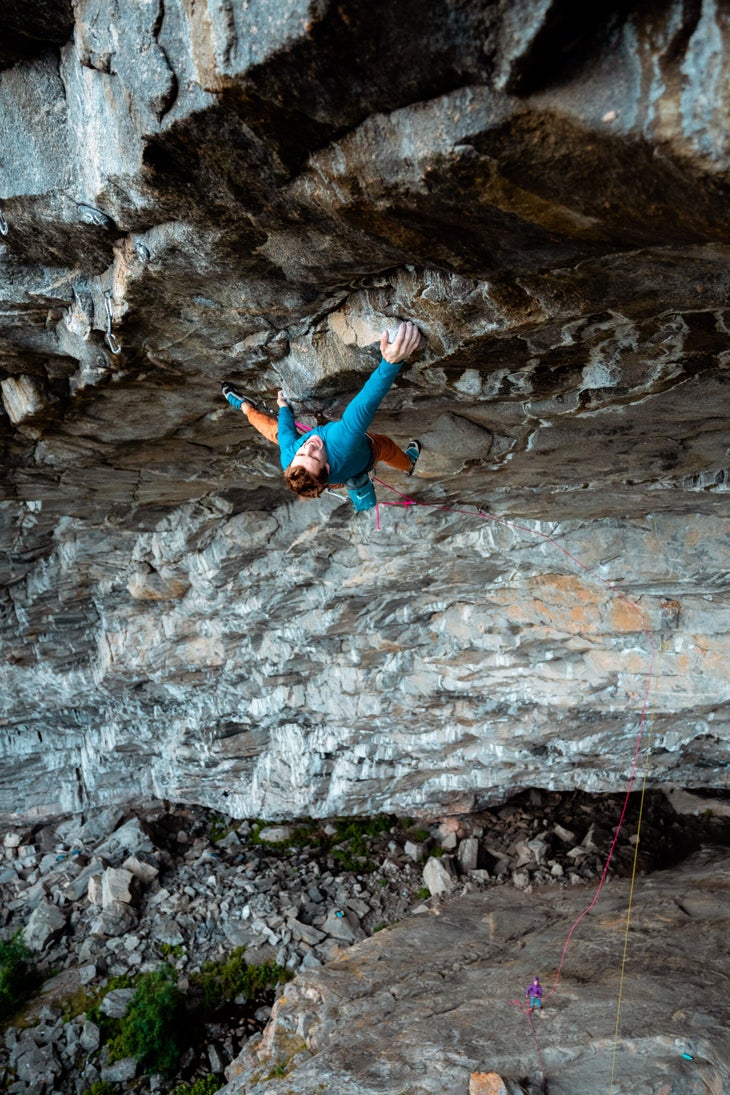 Despite the fact that he's an endurance specialist, Bouin found that the second pitch of Thor's Hammer (which has a crimpy redpoint crux at the 80-meter mark) got quite a bit harder when accessed via a long 5.14b. 
"The sheer size of the route makes it hard mentally," he said in a press release. "You can have one go every two days. It's so much climbing in one intense burst that you simply can't give two goes in a day. Then if you want to be as fresh as possible, you need a rest day in between. So it was quite hard psychologically."
He fell multiple times at each of the route's three cruxes, including the last and hardest of them. And even with some complicated rope logistics—he switched ropes halfway through the route to minimize rope drag—Bouin found the rope drag so extreme that he unclipped entirely for the last few feet of easy climbing to the route's anchor… 
Crazy, we know. We've reached out to him and will update with more details when we have them.