Second Free Ascent of Quinto Imperio (8b, 500m), Naranjo de Bulnes, Spain
Heading out the door? Read this article on the new Outside+ app available now on iOS devices for members! Download the app.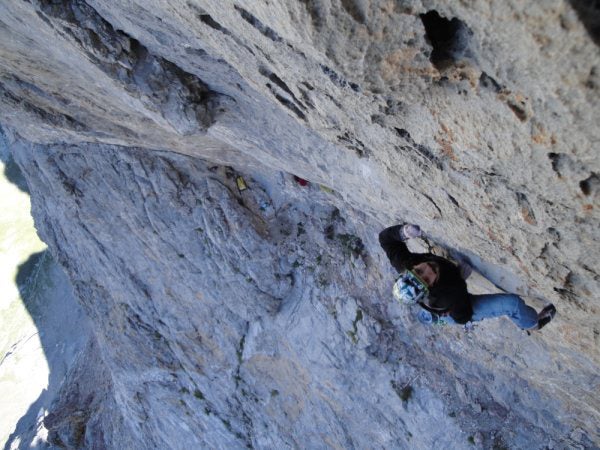 At the end of August 2009, Leopoldo "Leo" Faria and Pedro "Primo" Nogueira established the first repeat of Quinto Imperio (V 5.13d) on the West Face of Spain's most famous big wall, Naranjo de Bulnes (also known as Picu Urriellu).
Below is the first person account by Leopoldo Faria their ascent:
The main goal of our trip to the West Face of Naranjo de Bulnes in northern Spain was to free climb Quinto Império (8b or 5.13d, 500m), a route that was opened in 1996 by the Portuguese climbers Francisco Ataide and Sergio Martins and first free climbed by the Pou brothers in June 2006. It was our first time at Naranjo and it's one of the most impressive limestone walls that I've ever seen with orange and gray colors on solid rock that offers super technical climbing with not so easy protection.
Because we just only had a week and the weather was very unstable, we decided to go straight to the route. Being our first time in this wall, we didn't really knew what kind of conditions we were going to find, so we decided to take food and water for only two days of climbing.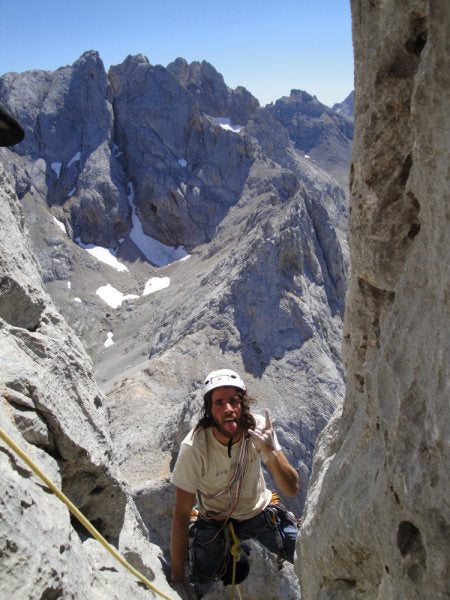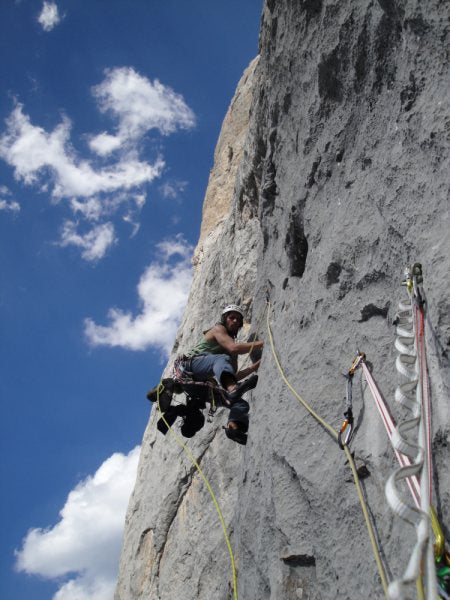 On our first day we only mangaed to climb the first 6 pitches (about half the route), not being very hard, almost all of them offer good moments of excitement with lots of air and exposure with sometimes very pour protections. For example, "Primo" on the second pitch, took a 20 meter fall passing through me, flying past the belay. On the second day the weather conditions were not very good, with lots of clouds and wind. We couldn't even see the Refugio at the base of the wall, but we decided to have a try on the 7th and hardest pitch to see if we had any chance. I started to climb passing the first section, an easy crack with good cam protection, and suddenly the holds were gone, it was the boulder section that Francisco (who opened the route) told me about. I stayed on that almost blank section for at least 30 minutes intil I finally found a way through it —15 moves on micro crimps with very technical and balance moves that make your finger tips cry!
After we solved all the boulder moves and get in touch with the upper section of the route, the exposed part, we get excited and completely forgot about the weather that was getting worse. We had about 300 meters of rappelling that separated us from the base camp. After a few more tries we were really close to freeing that pitch but then a thunderstorm came in and the weather start to worry us, so it was time to go down. An ice and rain storm caught us on the first rappel, thus all we could enjoy the water that fell on us, that came from a big slab above which turned the rappels into a serious submarine experience.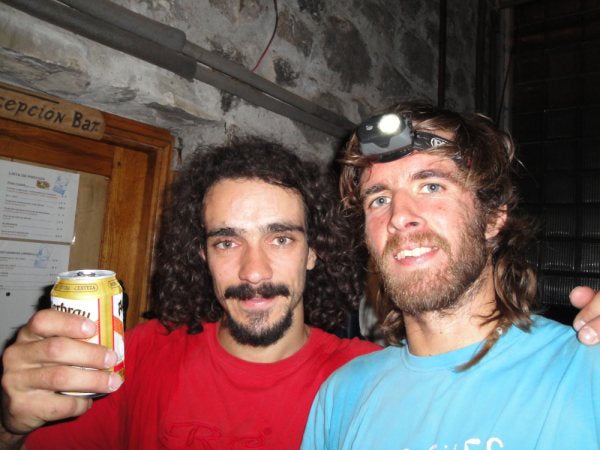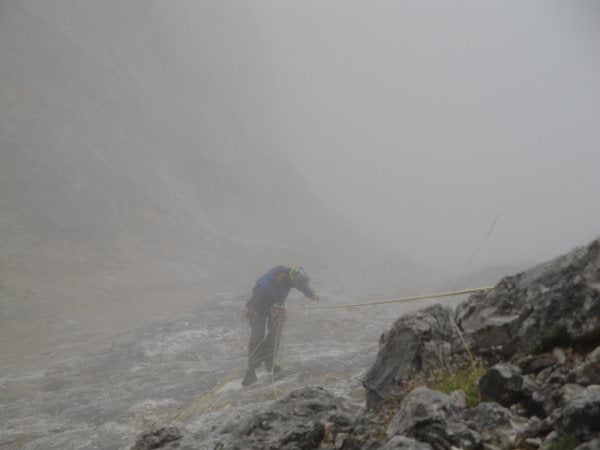 After a rest day, and with two days of a good weather window, we lived for one more attempt. When we arrived at the 7th pitch the wall was already in the sun, making it almost impossible to climb. We waited till the shade came in again, and that's a few minutes before it turns dark, but it was enough to make one more try that was ll we needed.
After that we celebrated on a small ledge under that pitch then returned for the easier and more exposed pitches the next day, so that we could enjoy the impressive and beautiful views of this majestic place and fully enjoy the peace that the rock had to offer!