Semi-Rad: Are You Climbing Enough?
Heading out the door? Read this article on the new Outside+ app available now on iOS devices for members! Download the app.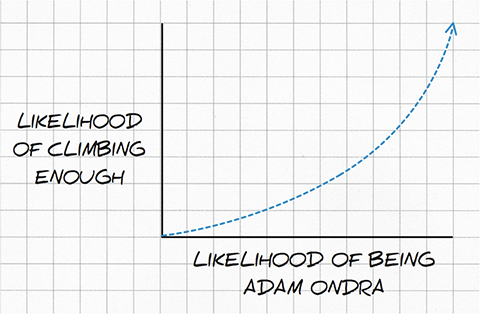 Do you have that one friend who, every time you ask him/her to go climbing with you, says yes, and then adds something along the lines of "but I haven't been climbing much lately."
Or are you that friend? I often am. I'm trying to quit saying that, or trying to say instead, "I haven't been climbing much lately, and by 'lately,' I mean 'since 1979.'"
Not Climbing Enough Lately is a significant problem in the climbing community, and according to my totally unscientific research, it affects 99 percent of climbers at all times. There are few people worldwide who really are Climbing Enough, and usually they aren't being asked to "go climbing," because they already are climbing every day. This list of people includes Alex Honnold, Adam Ondra, and Chris Sharma. They Climb Enough because their full-time job is climbing. They get paid to Climb Enough, and getting to the point where you get paid to Climb Enough requires a level of dedication and possibly obsession that results in sponsors noticing and writing checks.
If you're anything like me, you'll set out to Climb Enough then get sidetracked by a Groupon for cooking classes. Or maybe you'll decide that this is the year you'll learn to longboard. Or a new doughnut shop will open down the street, and you'll have to try every flavor, and you're sure not going to the gym that week. There are an unlimited number of things that I want to do or need to do that take time away from the limited amount I have each day to Climb Enough. Climbing, though, is different from a hobby like building model trains or drinking. Your friend will never say, "Man, I would love to go to happy hour with you, but I haven't been drinking that much lately and I don't want to hold you back."
Your friends will do things like:→Claim they have not been Climbing Enough when you meet them at the gym, and then warm up on your project.
→Claim they have not been Climbing Enough, and then hike everything at the crag while you struggle. When you say, "I thought you hadn't been climbing much?" They reply, "Just plastic."
→Talk about Not Climbing Enough when you see them at the gym, and then reveal that they have been on Denali for the past three weeks.
It's important to realize that Not Climbing Enough Lately is a subjective phenomenon. The very serious climber's Not Climbing Enough Lately might very well be the fully employed new parent's Holy Shit It Is Great To Get Out Of The House And Climb A Few Routes. It's entirely possible that Kevin Jorgeson and Tommy Caldwell arrived at the Dawn Wall this year and apologized to each other for Not Climbing Enough Lately.
In most of our lifetimes, we will only have short periods where we believe we are Climbing Enough. If you have one, you are fortunate. If you have more than one, you are extremely fortunate.
Here is a short list of times in your life that you may have Climbed Enough:→That week you spent at the Red River Gorge and climbed five out of six days
→The time you climbed the Nose over the course of three to six days
→That week you spent at Indian Creek and climbed five days straight
→That road trip you took one summer, hitting five life-list crags
→The three-week period when you told everyone you had "good skin"
→That time you competed in 24 Hours of Horseshoe Hell
Not Climbing Enough is not an affliction or something to feel bad about; it's the normal state of being for most climbers. If you find that Not Climbing Enough is making you unhappy, restless, or slightly depressed, think about scheduling some time to Climb Enough next year. The commitment can be as short as 24HHH, or as long as quitting your job, packing all your stuff into your car, and driving around the country climbing your ass off until you run out of money. It's up to you.
Brendan Leonard is a contributing editor for Climbing. He lives for the relentless pursuit of 5.fun and writes at semi-rad.com.