Sending Spree at the Buttermilks
Heading out the door? Read this article on the new Outside+ app available now on iOS devices for members! Download the app.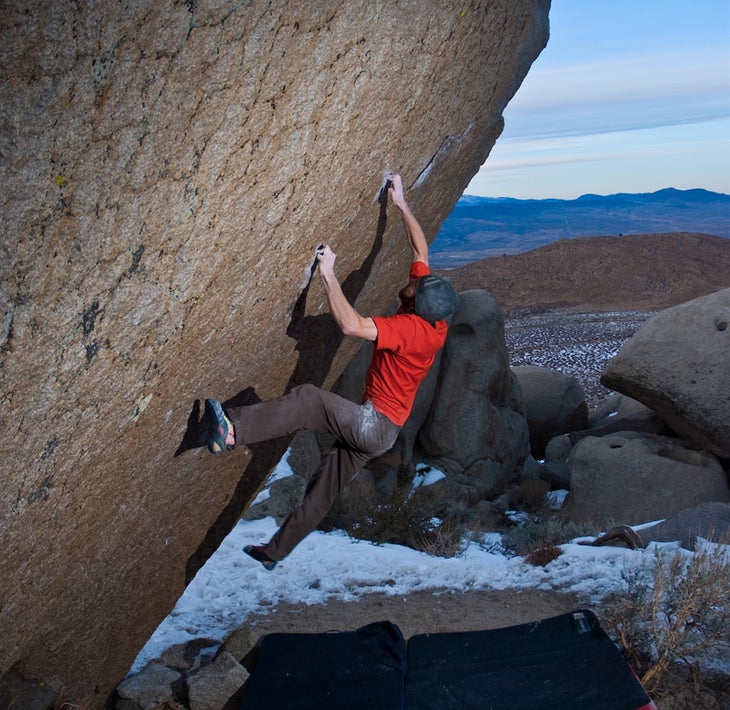 Matt Wilder climbed a number of hard problems during a three-week trip to Bishop, California, over his winter holiday in December 2008 through early January 2009.
After a cold and snowy first week, where most problems couldn't even be topped out, Wilder found his groove on the second week as the conditions improved. His first send of the trip was Evilution Direct (V11). This was the first ascent after a key hold over the lip had broken, possibly making it more difficult, but Wilder reports, "It's probably not worthy of an extra grade".
To start off his final week Wilder fired off the Swarm (V14) 4th try on his second day working the problem. The next day, after a short warmup, he did the Mandala Sit Start (V14) on his first try — though he had worked it many previous days and had repeated the regular Mandala (V12) earlier in the trip. According to Wilder, "My fingers went totally numb half way up the serious crimps, but I held on to the finish".
Shortly after sending the Mandala SDS, he went over to Evilution where a bunch of people were trying the left (original) exit at V12. He had tried the moves once on a rope and knew them, so after a short rest he sent the highball first try (though, according to Wilder, definitely aided by the fact that he had the bottom moves wired).
To finish off the trip, fighting fatigue and sore fingers, Wilder managed to climb two more problems on his last day: the Buttermilker (V12) (from the undercling start) and Thunderbird (V11).
To read more about his trip visit his blog at: http://mattwilderclimbing.blogspot.com
Sources: Matt Wilder
Date of Ascents: December 2008 – January 2009