Sharma Redpoints Clark Mountain Project
Heading out the door? Read this article on the new Outside+ app available now on iOS devices for members! Download the app.
Chris Sharma working on the Clark Mountain project earlier this month. Courtesy of Bigupproductions.com.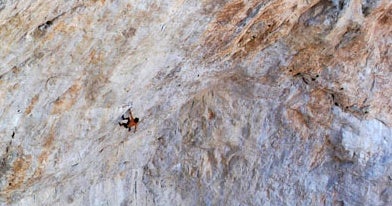 Chris Sharma has completed his 250-foot mega-project at Clark Mountain in Southern California. Though no name or grade has emerged, Sharma called the pitch "for sure the hardest route he's ever done," according to Big Up Productions' Cooper Roberts, who filmed the ascent.
The climb fires up the center of Clark Mountain's third tier, (a.k.a. the Monastery), climbing about 175 feet to the lip of the enormous cave, followed by approximately 80 feet of less steep limestone. Sharma topped out on flat ground when he redpointed the climb.
Randy Leavitt, who discovered Clark Mountain limestone and developed many of the routes at the cliff, placed the first bolts on this line more than a decade ago, envisioning it as a three-pitch route. When Sharma saw the line, he rebolted it and began working it as a single pitch.
Summit! Sharma celebrates on top after redpointing his 5.15 project. Photo by Jorge Visser, courtesy of Bigupproductions.com.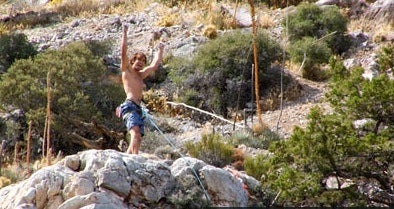 "If you're going to climb up to 90 feet of climbing, you might as well just go deep-water soloing," Sharma said in the Big Up film King Lines (2007), which featured his attempts on the Clark project. "If you're going through the bother of tying in, you might as well climb something really big. These giant 200-plus-foot pitches are kind of the next level."
Sharma, 27, put in many days of effort on the climb over the past year and a half. Because there are very few rests—"one shake," he says in King Lines—he skipped bolts through difficult sequences, often taking 60-foot falls as a result.
Sharma has previously redpointed several 5.15 routes, including Realization and La Rambla, as well as the deep-water solo Es Pontas in Mallorca—a climb he did not grade but called the hardest he had done. Until now.
More details about the Clark Mountain climb will be published here when they are available.
Date of Ascent: September 11, 2008
Sources:Bigupproductions.com, Climbing
Comment on this story