Sharma Sends Mallorca Arch Project
Heading out the door? Read this article on the new Outside+ app available now on iOS devices for members! Download the app.
Photo courtesy of Brett Lowell/Big Up Productions.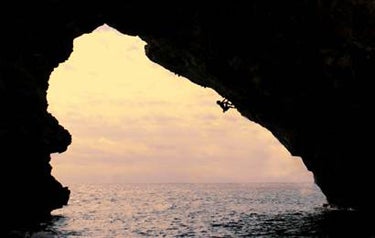 "Hey guys, Chris Sharma did his arch project in Mallorca today. He hasn't named it yet — he's still in the bar celebrating … " read the email that filmmaker Josh Lowell wrote Climbing on September 26. Sharma, who described his "arch project," a 65-foot deep-water solo, in the latest issue of Climbing (No. 252), had worked on the climb during four different trips to the Spanish isle.
"Since I started deep-water soloing," Sharma said, "I've wanted to find something that's at my limit — that's really a project … I wanted to find something comparable to Realization, taking it to the highest level possible." The arch (Es Pontas, off the east coast of the island) provided such difficulties — and then some.
The wildly overhanging line includes a difficult, seven-foot dyno, 35 feet above the sea. (This alone took Sharma roughly 50 attempts.) He had linked up through the dyno and out an easier, 5.13a face finish, but didn't feel that this was the integral route, which climbs up through the dyno and continues out the belly of the arch via technical heel hooking and powerful slapping. Sharma said that the climbing remains difficult until the 55-foot mark.
In typical Sharma style, he declined to grade the arch, but his own comparisons to the world's first legitimate 5.15a give some perspective to its difficulty.
The Es Pontas arch project can be seen on Lowell's site (bigupproductions.com) and will be featured in a future video release.Comment on this story