Sharma Working Clark Mountain Mega-Proj
Heading out the door? Read this article on the new Outside+ app available now on iOS devices for members! Download the app.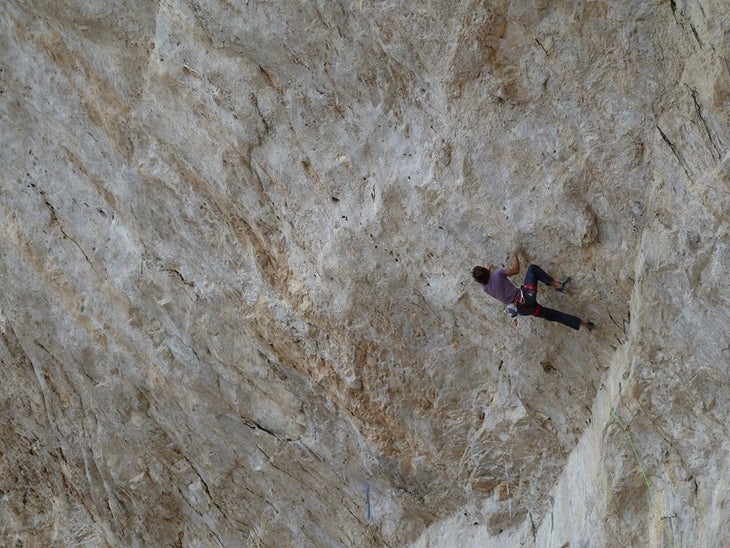 10/9/13 – Kept out of Yosemite by the government shutdown, and thus unable to work on the Dawn Wall as planned, Chris Sharma traveled south for another mega-project: a futuristic route on Clark Mountain. Sharma has been working a line that Randy Leavitt, the original developer of the crag, speculated might be upper-level 5.15.
Clark Mountain, southwest of Las Vegas near the Nevada-California border, is the home of Jumbo Love, which Sharma projected over multiple visits before redpointing the route in September 2008. The 250-foot climb, considered to be 5.15b or harder, is unrepeated.
Leavitt said the new project follows an old line bolted by Jorge Visser but never redpointed, and then links  solid 5.14 ground to join Jumbo Love. "Jorge's undone 14a goes up to chains, then a really hard-looking boulder problem follows to a two-bolt section—bumping the grade up to perhaps 14c—before it hits Jumbo Love," he said. "At that point you basically have to climb ALL of the hard part of Jumbo Love. This new start eliminates only the old 12d start to a no-hands rest ledge, plus a few bolts of hard, but not really hard climbing. So the full grade would be the sum of 14b/c + 15b. I can't do the math, but you would think it would be 15c at the very least.
"This crag is the future of 5.15," Leavitt added. "There is so much more potential. It is ridiculous!"
Source: Randy Leavitt