Sherman Exposed: Slightly Censored Climbing Stories
Heading out the door? Read this article on the new Outside+ app available now on iOS devices for members! Download the app.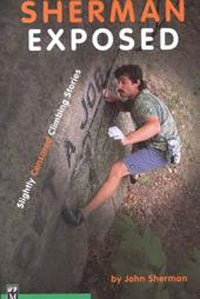 History. Where's a good place to look for it? The public library, the internet? Screw that. In my experience, what you search for, only a few people know. Go underground, dig in the dirt and find some sheep. Find someone who's lived the life, who's got steeet cred … someone who's been there. Find John Sherman. Or better yet, read Sherman Exposed: Slightly Censored Climbing Stories.
I can almost guarantee if you sit down to read the first two pages while drinking a beer (which is probably in good style), beer will come streaming out your nose. I know it did mine, that bartender was pissed. And two things will happen: you will learn who The Vermin is and why you should listen to what he has to say.
Along with learning a little bit about ethics and style you just might start to have a little fun while climbing. This book has everything from a history quiz (don't worry the answers are right after the questions), to the 11th Commandment, to a solution to end all ethical squabbling, to the evolution of the V-grade for boulder problems, to sheep and finally to boobies. But this book isn't all fun and games, The Hard Song chapter is quite possibly the most real piece of writing that I have ever read.
If you care about climbing at all, pick this book up and learn where virgin wool really comes from.