Shock and Awe – Milton Gets Aggro Linkage
Heading out the door? Read this article on the new Outside+ app available now on iOS devices for members! Download the app.
Scott Milton divot-pimping on his potential new 5.14c at Smith Rock.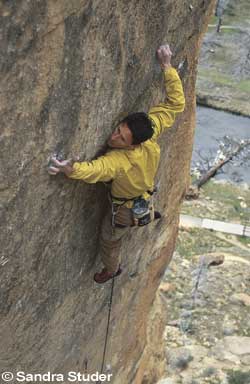 Scott Milton shocks and awes
This April, as bombs fell on Baghdad, itinerant Canadian climber Scott Milton was suffering from Shock and Awe (5.14c) on the Aggro Wall at Smith Rock. The new route is a link-up of Repeat Offender (5.14a) and Villain (5.14a), now considered harder than its original 5.13d grade after climbers (not Milton) flattened and filled-in various natural holds. Link-ups can be contrived, but this one is an exceptional line, stacking all the hard climbing on both 5.14s into a marathon, 17-bolt, 120-foot pitch that starts at the lowest point of the wall and beelines to its apex. Milton, who has done several 5.14b climbs, is unsure of the route's rating. "Grades are a suggestion," he says. "But, for me, it's definitely harder than 5.14b." Like many hard routes at Smith Rock, Shock and Awe has powerful cranks on tiny pockets. The first time Milton felt the shallow divots he didn't believe they could be used. "There are three right-handed grips that put a lot of force on your fingers at unnatural angles," he says. "My fingers were swollen like crazy after climbing on it. I was worried about permanent damage." Milton worked the route sporadically for a month, taking frequent rest days to deflate his digits. As both Repeat Offender and Villain feature insecure cruxes, even when Milton felt strong he was never assured of linkage. "I was shocked and awed when I did it because I'd been having some really crappy days," he says, "like not being to do the crux moves of either section off the dog." During his visit Milton also made the first ascent of Chemical Ali (5.14a), on the far right side of the Scarface Buttress, with permission from its equipper Larry Brumwell, and repeated Mr. Yuck (5.14a), near the entrance to Cocaine Gully, in three tries.