Siegrist Redpoints 5.14a/b Mixed Climb
Heading out the door? Read this article on the new Outside+ app available now on iOS devices for members! Download the app.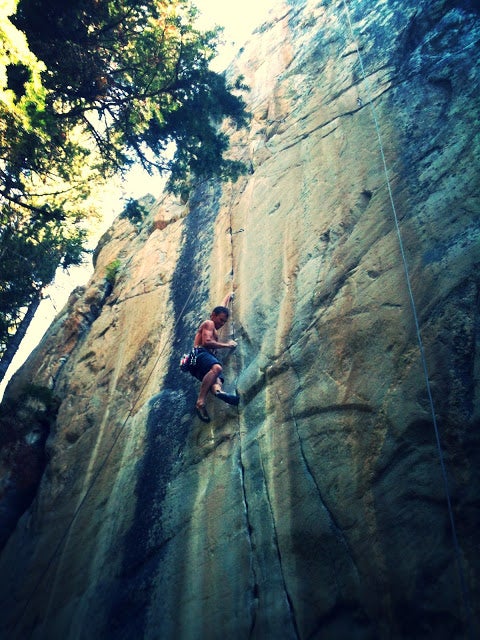 7/24/13 – Jonathan Siegrist has completed an ascent of The Almighty, a 5.14a/b granite mixed route in Teton Canyon (on the west side of the Teton Range). Local climber Ty Mack made the first ascent in October 2011, suggesting 5.14a for the line.
"It's nothing short of stunning," Siegrist wrote on his blog.He spent three days working out the moves and gear placements; after seven toprope rehearsals, he clipped the chains on his second redpoint attempt.
Mack pre-placed gear on the bottom half during the first ascent, and Siegrist's goal was to place gear on lead. Two pieces protected a ground fall from the lower crux, and the first had to be placed blind. "Although it is bomber, I rehearsed this placement tirelessly because you never actually see on-the-go if you've nailed the placement," he says. "It's all by feel." After the second piece, a small nut, fixed gear and bolts lead the way via the route Super G (5.13a) to the top. "Placing the key crux gear placement [was] definitely [one of] the hardest parts of the route for me," says Siegrist.
On his first redpoint attempt, Siegrist slipped off at the second nut and whipped to within a few feet of the ground. "I unexpectedly came out at kind of the worst spot and then saw the ground rushing toward me," he says. "In the moment, I was just disappointed that I used up skin and didn't send. Then shortly after I was pretty 'adrenalized' and definitely thankful that I toyed with the key nut placement to keep me safe."
Siegrist suggested 5.14b for the line, due to his height. He's significantly shorter than the six-foot-tall Mack, and he ended up making at least twice as many moves as Mack, "grabbing a lot of horrible holds and using awful feet in between the 'good' stuff." (At the last crux, where Mack reaches through with one move, Siegrist made nine moves to reach the same hold.) Aside from the seven 5.14 pitches on El Capitan's Dawn Wall, the only other 5.14 traditional climb Siegrist has done is Enter the Dragon (5.14a) in the Fins, Idaho. After his ascent of The Almighty, he finished up his day with Freerider (5.13a).
Date of ascent: July 23, 2013
Source: Jonathan Siegrist