Simon Lorenzi Establishes Another V16 Low Start to Fontainebleau's Classic The Island.
An interview with Belgium's Simon Lorenzi, who's done three V16 (though one may be harder) in the last 12 months.
Heading out the door? Read this article on the new Outside+ app available now on iOS devices for members! Download the app.
On January 23, Belgium's Simon Lorenzi, age 24, wrapped up the most successful 12-month period of his climbing career by making the first ascent of Big Conviction, V16, in Fontainebleau.
His new line starts on a V13/14 called Conviction Bas (or Conviction Low), which he established on his second day of effort in late December, then angles left into the starting holds of The Big Island (V15), which is the slightly lower start to Dave Graham's famous The Island (V14).
Conviction Bas starts on two underlings, with very bad feet, and involves a long slap to a good crimp. After that it's a few easier traversing moves into the start of The Big Island, a climb with which Lorenzi is intimately familiar. After sending The Big Island in just two sessions in October 2020, he started trying it from its left sit-start, which had seen significant effort by such compression-climbing luminaries as Jimmy Webb and Jan Hojer. 
He spent nearly 25 sessions on the line, climbing alongside French crushers Nico Pelorson and Camille Courdet, before making the first ascent in February 2021. He named the climb Soudain Seul and tentatively proposed a grade of V17, although Pelorson suggested a downgrade after making the second ascent in April.
Lorenzi spent just three sessions on Big Conviction itself. "The first move is by far the hardest," Lorenzi told Climbing in an email. But once he unlocked the start, he was climbing into a problem that he had totally dialed.
 *
For Lorenzi, who currently studies sports science at a university south of Brussels, climbing is "a family business." His father, Claude Lorenzi, was one Belgium's leading climbers in the 1990s, establishing the country's first 8c (5.14b) in 1994, several years before Simon was born. (In a nice twist, Simon did the second ascent of the line 26 years later.)
Tagging along with his father, Lorenzi was climbing by age 2, but he didn't get serious until he ("quite unexpectedly," he says) won his first Belgian Youth Cup at age 10. After that, he was motivated. 
"I got fascinated by climbers like Chris Sharma and Dave Graham," he says. "I watched… King Lines and Dosage 5 every day after school, dreaming of climbing like the stars in the film someday!"
Lorenzi, it would seem, got his wish.
His ascent of Soudain Seul last February and Big Conviction this January frame the Belgian's most successful climbing year to date. In June, he made his first Bouldering World Cup finals—a longtime goal of his. During a break from the comp circuit this summer, he visited Magic Wood and made quick ascents of La Force Tranquille (V15), Power of Now Direct (V15), and The Never Ending Story (V14), among others. Finally, in November, he went to Ticino and sieged Shawn Raboutou's Off The Wagon Sit (V16), spending ten briefly-spaced sessions on the climb before finally sending.
Climbing caught up with Lorenzi by email. Most of our conversation was about his recent sends and his training, but Lorenzi also added that his love of climbing goes beyond hard moves and big goals. For him, it's also about "the beauty of the rock and the movement."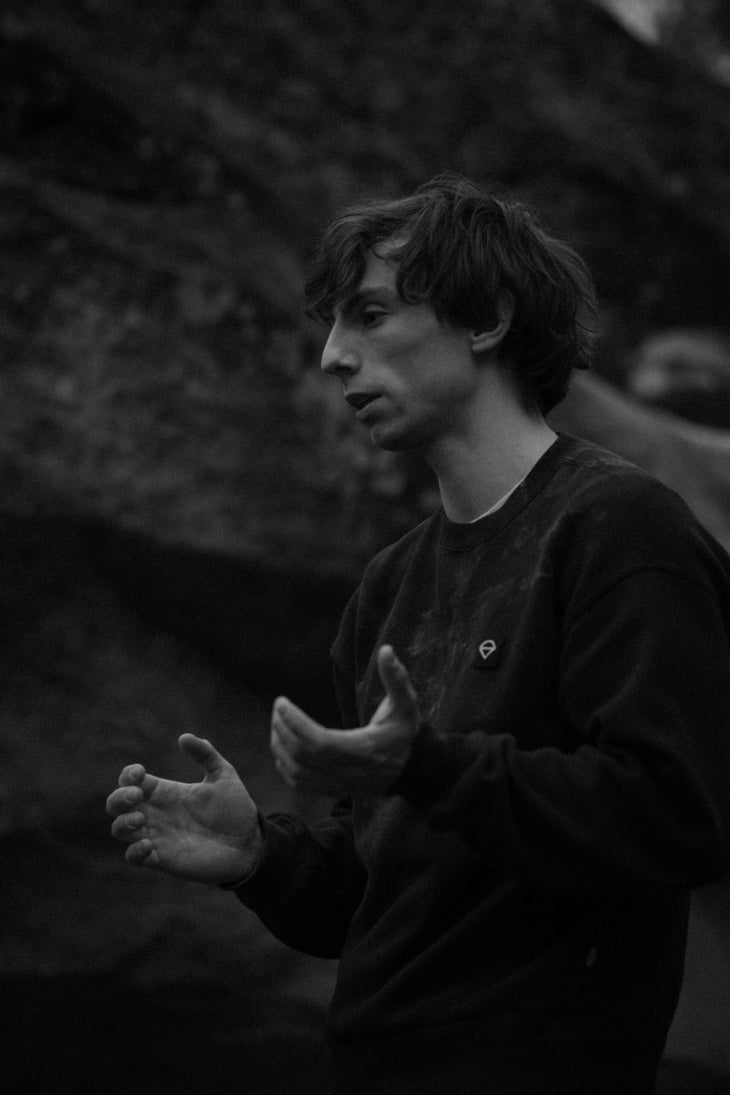 Climbing: Walk us through your process on Big Conviction.
Lorenzi: During Christmas my finger was injured, so I decided to go to Font instead of Ticino. I was also very happy and nostalgic to come back to the place where I experienced the best moments in my life as a climber last year. The start of my first session on Big Conviction was not very promising. I could barely get into the position for the first move and had no chance of actually grabbing the crimp. Fortunately, a friend who had already worked on it showed me where he grabbed the underclings, and three tries later I did the single move. My finger was not hurting so much, so it was perfect.
The next day I opened the low start to Conviction [a preexisting V11] and spent the end of the session working on the middle part of The Big Island to avoid left hand crimps. I spent two more sessions on the boulder during the new year, but the undercling wasn't in condition, so I worked again on The Big Island, trying to climb it as perfectly as last year. Twenty days later, after my exams, I came back with better fingers and fitness. I felt very solid in The Big Island during the warmup, and it gave me good confidence. On my first attempt I had a heartbreaking fall on the very last move because my heel slipped. After that I had three bad attempts in a row, falling very low. It helped to lower the pressure. After a short rest, I sent the boulder without any mistakes or hesitation.
Climbing: So you sent very fast?
Lorenzi: It was kind of strange for me to send so quickly, because I went there with the idea of finding the same feelings as last year on Soudain Seul. I was very happy [to send it], but I was searching for something more—a feeling that I can't have if I don't struggle first.
Climbing: How does it compare to the left intro, Soudain Seul?
Lorenzi: It feels easier, because if you can do the first move, and if you have The Big Island dialed, you can send it quickly, which is not the case for Soudain Seul. In other words, the level of strength needed for Big Conviction is higher, but it's less tricky and pumpy. So if you're strong enough to do the first move, it's easier to send. But as always, there is subjectivity in grades. I can't wait for both climbs to see more repetitions. 
Climbing: 2021 was a breakout year for you. Did anything change to make this year so successful, or was it just many years of preparation coming together?
Lorenzi: I've been training hard for many years now, but I never spent so much time outdoors because of training. The few times I did go outdoors, I sensed I had some potential, because I did a few hard ascent quickly, including Dreamtime [Fred Nicole's classic V15 in Cresciano] in two short sessions and a flash of L'Insoutenable Légèrté de l'Être [V13] in Fontainebleau. But I didn't know what I would be able to climb by investing more time in a project. So the biggest change over the last year is that I have spent way more time pushing my limits outdoors, and that has given me more experience and confidence.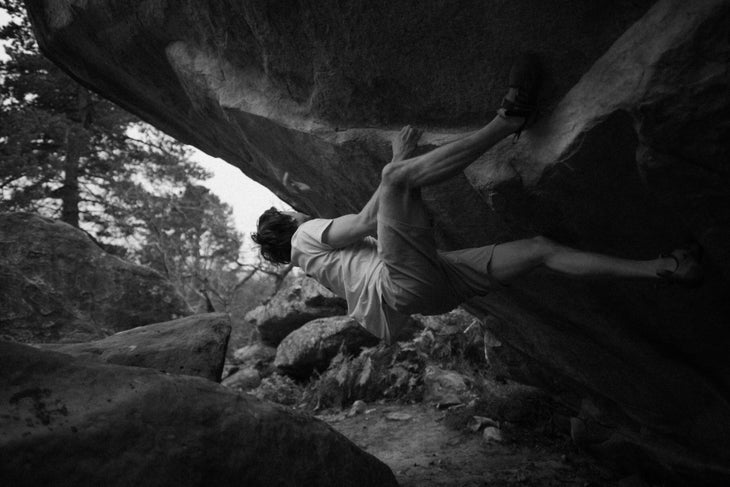 Climbing: Can you talk a little about your projecting process? 
Lorenzi: Projecting is one of the things that I like the most in climbing. I like when you're so obsessed with a line that it becomes hard to sleep because of the stress from the attempts to come. I like when you can't stop thinking about which move you can do better—every micro detail that could help you to reach the top. The process is addictive. I really like when everything becomes a ritual. Everyday doing the same warm up, putting the tickmarks the same as the day before, brushing the holds in the same way again and again, doing the same preparation with your shoes, the chalk, and your stuff before the attempt. I love when every detail becomes mandatory, automatic, and part of yourself. All this preparation before climbing raises the pressure, and it's just magic when you start climbing and everything disappears suddenly. There is also the last step when you finally send your project. It's the best feeling ever, but also the one that disappears first. It leads you to search for a new project—something that is hard and beautiful enough to possibly supply the same burst of happiness.
Climbing: How do you deal with setbacks?
Lorenzi: When you're projecting hard, setbacks are normal. Most of the time I consider it as a consequence of something that I do wrong, even if everything seemed to work a few sessions before. That makes me reflect even more on every detail that is not perfect. What can I do better to influence my performance? How can I climb more efficiently? Focusing on these things is one of the quickest ways to improve on a project. 
Climbing: You changed your training to perform better in the competitions, and it seems to have worked: you made your first BoulderingWorld Cup final. What did you change?
Lorenzi: Previously, I was mostly training on a spray wall, which was perfect for strength, but being strong is not enough. I stopped training the physical aspect. [I'm now] focusing almost exclusively on my weaknesses, like strategy, flexibility, mental aspect, slabs, and uncomfortable climbing. One of the biggest changes was starting to work on mental preparation with a sport psychologist and, in parallel, working on every detail of my climbing that can be linked with the mental aspect. For example, if I feel insecure on small footholds, doing boulders in this style is not sufficient, so we worked on things like confidence and on accepting the discomfort of the situation.
Climbing: How do you balance the competitions against outdoor climbing?
Lorenzi: Till last year, training for competition came first. I trained almost all year round. Now, though, I spend more time outdoors from November to February, then I stay indoors for the entire comp season. I prefer to focus only on one thing, so I choose competition or outdoor for a period of time, and then I switch at the end of the season. For me, it's very hard to find time for both in the same period because I want to do them at 100%
Climbing: How did your processes differ from Soudain Seul to Off the Wagon to Big Conviction?
The processes were very different. For Off the Wagon, I was alone and quite far from home. It's very important for me to speak [to people] about [my project] to learn faster. On Soudain Seul I was never alone. [I was with] with my girlfriend and Gilles [a filmmaker]. But on Off the Wagon I was alone, so performing was harder for me. I had to take a lot of rest days for my soft skin at the beginning, so it was frustrating because I could not try as much as I wanted. Mentally, the biggest challenge was to fall on the same move over and over, which makes it hard to feel any progress. To be honest, I was a bit too confident too early in the process, and that led me to make bad decisions in the way I was working on it. Maybe it's the only time in my life that I'm thankful for the bad weather, because I had no choice but to [go back and spend a session working] on the part that I had neglected. The next session with good weather, I climbed this amazing line.
Soudain Seul was a completely different process. It started in my mind when I climbed The Big Island. Somehow, I felt that I had the potential to make the first ascent if I put in enough effort. So during the Christmas holiday [2020-21] I started to work on it. It was intense because there was a battle for the first ascent with Nicolas Pelorson and Camille Coudert. After two weeks of work with generally poor conditions, I was falling high in the boulder and was sure it would [happen] the next session. But I was wrong. It took me 15 more sessions.
My process on Big Conviction was kind of an extension of Soudain Seul. When I went back to this place to try the boulder, I had the strange and pleasant feeling that I'd never left the place, that nothing had changed since last year. I tried this new line mostly for the nostalgia of being there again, and it worked perfectly. But now it's time to move on!