Heading out the door? Read this article on the new Outside+ app available now on iOS devices for members! Download the app.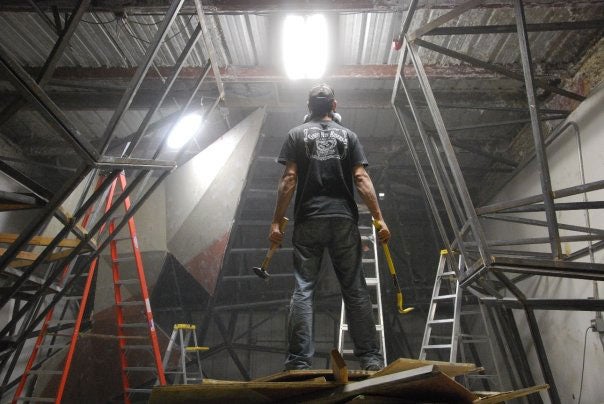 Community Rock Climbing Gym Construction Under Way
San Luis Obispo, California June 22, 2009 — After raising over $55,000 from a grassroots collection of broke college students and pillars of the San Luis Obispo community, SLO-Op Climbing (the country's first non-profit bouldering gym) is breaking ground this week at 289 Prado Road.
The climbing gym was previously located at 141 Suburban Road (and before that, at Alamo Storage on Tank Farm Road), but had grown beyond its physical capacity, prompting founders and managers Yishai Horowitz and Kristin McNamara to seek out a new home and find a way to fund the build-out.
SLO Op (an homage to it's co-op beginnings) is a 501 c 7 non-profit social club that provides walls open for member climbing 24 hours a day, 7 days a week. "The accessibility is a unique feature compared to other climbing business models out there, and we're grateful to our members and volunteers who help us maintain it – without them, we'd be nothing," says McNamara.
More than doubling the climbing space available, the managers hope to offer other services in the new space, including clinics and climbing teams, and providing a home for San Luis Obispo-based Fluid Luminescence's aerial dancing workshops. In addition, SLO Op has sublet its office space and part of the warehouse to Bouldering.com, (an online and storefront climbing gear retailer) making the Prado Road compound a solid destination for anyone involved with rock climbing.
"We just feel so fortunate to not only provide these services to the community, but to continue to build it. If you asked me five years ago if this is where it would take me, I'd never have dreamed of it," says Horowitz.
The funds for the build out were raised partially through donations and partially through long-term loans. Efforts culminated on June 11th, when Horowitz and McNamara held a fundraising benefit supported by Bouldering.com, Mad Rock Climbing, Trader Joe's, Fluid Luminescence, SLO County Special Olympics, and donors to the raffle. SLO Op is scheduled to open in the beginning of August. Construction is being done largely by a volunteer force of skilled and unskilled workers coming from the climbing community.
Manager Yishai Horowitz, 29, is proprietor of All Out Events, a SLO-based outdoor events production company, putting on events that include the Central Coast Adventure Challenge, SLO Mountain Run, and Pine Mountain Pulldown. He is a Cuesta College and Cal Poly alum.
Manager Kristin McNamara, 29, is a part-time English instructor at Allan Hancock College in Santa Maria and is a Cal Poly Alum.
Contact: Kristin McNamara, 805 748 1478 Kristin@slo-opclimbing.org , www.slo-opclimbing.org 289 Prado Road San Luis Obispo, CA 93401