SLO Op Climbing Opens Its Doors
Heading out the door? Read this article on the new Outside+ app available now on iOS devices for members! Download the app.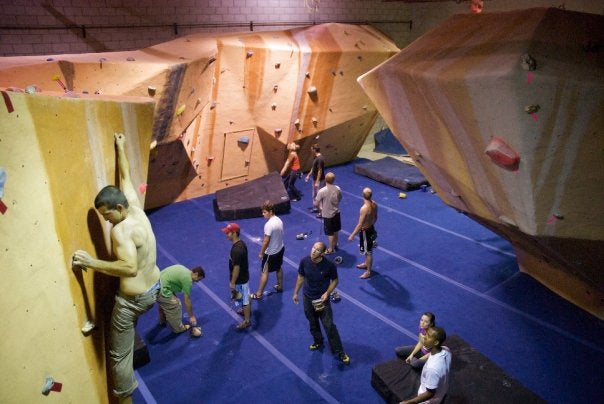 San Luis Obispo, California – August 31, 2009 — After raising over $55,000 from broke college students and pillars of the San Luis Obispo community and two months of construction, SLO-Op Climbing (the country's first non-profit bouldering gym) opened its doors this week at 289 Prado Road. SLO Op (an homage to its co-op beginnings in a storage unit) Climbing is a 501 c 7 non-profit social club that provides walls open for member climbing 24 hours a day, 7 days a week. The brainchild of Co-Executive Director Yishai Horowitz, SLO Op has become a central meeting spot for climbers and other athletes in the region, as well as a stopping point for people passing through town looking for a place to meet new people and pull down. Horowitz says, "We started out with maybe 30 people in the old facility. The new place, we figured would top out around 70, but I knew it was time to go big time when we reached 350 members in a town of 45,000 with no advertising." The end of construction resulted in more than tripling the climbing space available (to about 3500 sq ft of climbing) in comparison to the old facility, and the managers hope to offer other services in the new space, including clinics and climbing teams. In addition, SLO Op has sublet its office space to Bouldering.com, (an online and storefront climbing gear retailer) giving the Prado Road compound one of the best pro shops available to a gym.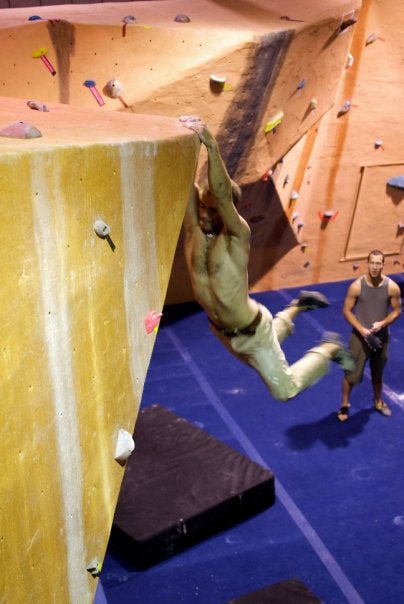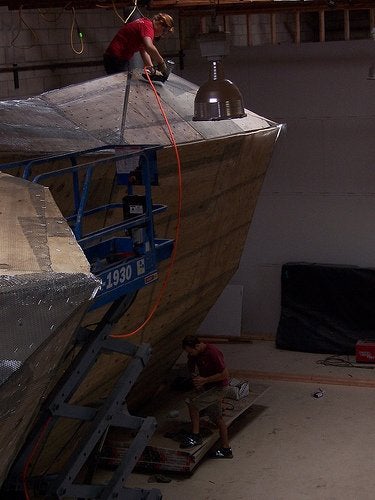 Construction was done largely by a dedicated volunteer force of skilled and unskilled workers coming from the community. Not only having to build a new facility, the volunteers had to melt down the old one . . . a laborious and often painful process. The new gym features 16-foot top out boulders designed to emulate climbing locations like Bishop and Santa Barbara, California. Visitors have compared it to the self-proclaimed "Best Bouldering Gym in the Country," the Spot, in Boulder Colorado: a proud accomplishment for Horowitz, who spent years touring gyms and looking at construction and shaping features, always searching for the perfect bouldering terrain. Wall builder and shape holder, Louie Anderson, who was contracted to put up the steel and help with finishing touches of the wall says: If you're within a couple of hours drive from San Luis Obispo, it would be well worth the drive to climb on these boulders. If you live closer, you should be very happy because you have a wonderful new facility in which to climb. I only wish it was a few hours closer to home for me. I guess I may need to take a road trip… Not without its pitfalls, Horowitz and co-Executive Director Kristin McNamara braved stress injuries and fifteen-hour work days to build the gym. "I thought I knew tedium when we drove self-tapping screws into steel and plywood with the old gym – but nothing hurts more than four days straight of stuccoing overhanging walls, only to do it again the next week!" says McNamara. Executive Co-Director Yishai Horowitz, 29, is proprietor of All Out Events, a SLO-based outdoor events production company, putting on events that include the Central Coast Adventure Challenge, SLO Mountain Run, and Pine Mountain Pulldown. Executive Co-Director Kristin McNamara, 29, is a part-time English Professor and semi-professional writer best known for her work on Rockclimbing.com as "maculated."
SLO-OP Climbing, LLC289 Prado Road San Luis Obispo, CA 93401info@slo-opclimbing.orgwww.slo-opclimbing.orgThanks to our Sponsors:www.sickle.comwww.bouldering.comwww.madrockclimbing.comclimbing.local www.urbanclimbermag.comwww.foothillcyclery.com