Janja Garnbret Gets Her "Revenge" in Slovenia World Cup; USA's Grupper Earns Silver 
Results and takeaways from this past weekend's lead World Cup in Koper, Slovenia.
Heading out the door? Read this article on the new Outside+ app available now on iOS devices for members! Download the app.
As the 2023 World Cup season winds down, it's clear that Slovenia's Janja Garnbret is more of a celebrity now than she ever has been. She has been on the cover of Cosmopolitan in her home country; she has added 2024 World Championships to her personal trophy case; and she has already qualified for the Paris 2024 Olympics. (She has even seemingly released a new personal line of branded "Janja" merchandise.) But this weekend's lead World Cup in Koper, Slovenia, gave her a chance to perform in front of a massive home crowd—something she had not done since the Slovenian National Championship in May. 
As expected, Garnbret set the early standard in Koper, being the only competitor in the women's division to reach the top of both qualification routes. But Japan's Ai Mori—who has beaten Garnbret at World Cups in the past—reached the top of one route to stay closely tethered to Garnbret on the scorecards. 
In the semi-finals that followed, the gap between Garnbret and Mori lessened, with both competitors navigating the route's low dyno crux, midway compression sequences, and upper overhanging slopers to secure identical scores of 35+. Other competitors notched high scores too: Slovenia's Sara Copar set a longstanding high point of 31+, and Japan's Natsuki Tanii earned a score of 34 before falling just shy of the headwall. But Garnbret, in particular, had the backing of the massive Slovenian crowd and remained the clear favorite. 
The most memorable performance in the early portion of the final round came when Slovenia's Vita Lukan—also enlivened by the home crowd—lost her chalk bag after successfully performing the route's requisite 360-degree campus move. As the chalk bag fell to the ground, Lukan stayed on the wall and continued climbing, ultimately setting a new high point (40+) on the route's roof section. The next couple of competitors (Japan's Tanii and South Korea's Chaehyun Seo) could not surpass Lukan's place, but soon Japan's Mori motored through the roof section and powered on to the headwall before falling on the route's penultimate hold (with a concluding score of 44+). The drama created the perfect stage for Garnbret to show why she is widely considered to be the Greatest of All Time. Bolstered by the audience's continuous chants of "Janja! Janja! Janja!" Garnbret made quick work of the 360-campus move, then eased through a section of sidepull crimps and the route's roof, and finally passed Mori's high point with a dyno to the top. In doing so, Garnbret earned the gold medal—a bit of figurative retribution from last year's Koper World Cup, when Mori beat Garnbret by three points. "Finally I got my revenge here in Koper," Garnbret said this year during the post-event interview.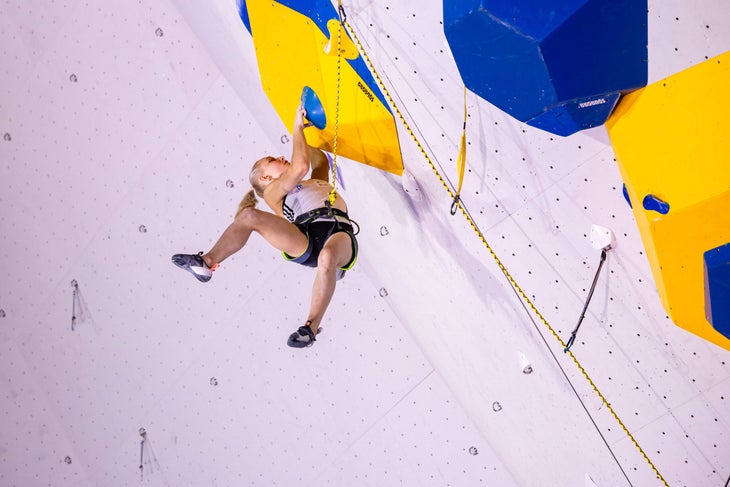 Anraku's Dream Rookie Season Continues 
The men's portion of the competition had some compelling ties to the previous season as well, with Slovenia's Luka Potocar hoping to defend his Koper gold medal. And things started out well for Potocar; he topped one of the qualification routes, and set an early high point on the men's semi-finals route. But the early standout was undoubtedly Spain's Alberto Ginés López, the Tokyo 2020 Olympic gold medalist. He was the only man to reach the top of both qualification routes, and he eked into the finals despite a surprisingly low fall on the semi-finals route.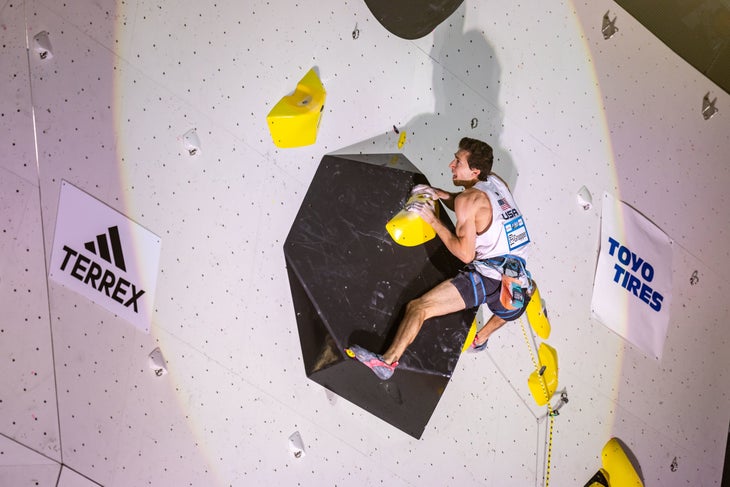 The woes increased for Ginés López in the finals, as he tried unsuccessfully to readjust his position on the wall midway up the route and eventually fell with a concluding score of 23. Potocar, too, fell fairly low on the finals' route after securing a haft-hand pinch on a sloper—thus ending his bid to defend his gold medal. Other competitors—Germany's Alex Megos and Yannick Flohé—struggled on slopers too, which made it all the more impressive when Team USA's Jesse Grupper rocketed through the slopey midsection and advanced to the headwall with a powerhouse score of 42+. 
Just as it seemed like Grupper's high point, more than double that of most other finalists' scores, would result in a gold medal, Japan's Sorato Anraku breezed through the slopers too. Anraku continued onto the headwall and stuck a cruxy sidepull that had bested Grupper. Then Anraku launched to the top for the victory. In earning the gold medal, Anraku also secured the 2023 overall season title for the lead discipline.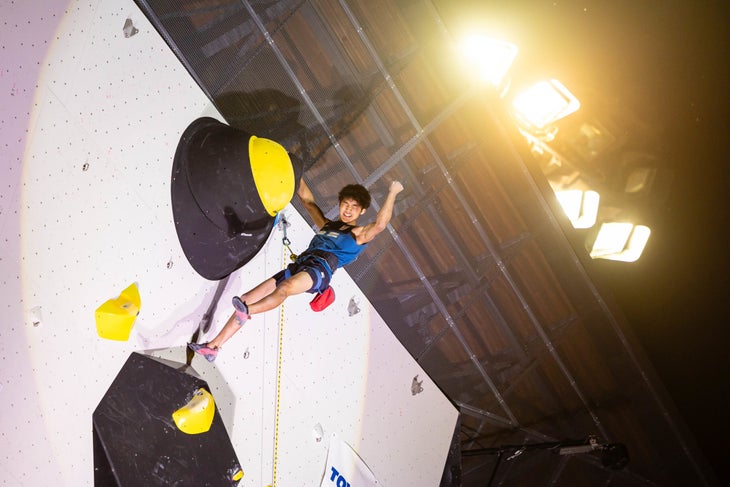 Here are a few more quick thoughts about all the action…
Grupper earned the silver medal, and it was really nice to see him finally get some hardware. His entire 2023 season has been anchored by a bad knee injury, and it's safe to say that his results in 2023 have not matched the extraordinary standards he set for himself in 2022 (which, if you'll recall, included gold medals at Briançon and Edinburgh, and a silver medal at Villars). Hopefully this medal in Koper was a sign of Grupper righting the ship. 

Here was a cool moment that probably got lost in the shuffle: Did you notice Great Britain's Toby Roberts wipe his brow in jest after sticking a dyno on the men's final route? Roberts has struggled with dynos previously, and this little gesture was a self-aware acknowledgment of that. I loved the showmanship. 

You have to give credit to Italy's Laura Rogora for staying composed when she got tangled in the rope while doing the 360-degree campus move in the women's final. She managed to stay on the route and commenced to set a high point. 

Speaking of the women's final round, I don't know if I've ever heard a comp crowd cheer as constantly or as loudly as they did for Janja Garnbret throughout her entire time on the wall. That's the type of enthusiastic fandom that comp climbing desperately needs. 

Let's take a moment to emphasize that Sorato Anraku is only 16 years old, and so far this year he has won a boulder gold medal, and two lead gold medals—to say nothing of other medals he has won that were silver and bronze. Incredible. 
Results
Men
Sorato Anraku (JPN)

Jesse Grupper (USA)

Alberto Ginés López (ESP)

Toby Roberts (GBR)

Alex Megos (GER)

Yannick Flohé (GER)

Sam Avezou (FRA)

Luka Potocar (SLO)
Women 
Janja Garnbret (SLO)

Ai Mori (JPN)

Vita Lukan (SLO)

Chaehyun Seo (KOR)

Natsuki Tanii (JPN)

Laura Rogora (ITA)

Nonoha Kume (JPN)

Mia Krampl (SLO)
Also Read