Denali's Massive "Slovak Direct" Climbed in a Blazing 17 Hours
Alaska's driest spring in recent memory provided ideal conditions for the 9,000-foot ice and mixed climb.
Heading out the door? Read this article on the new Outside+ app available now on iOS devices for members! Download the app.
It's been quite the season for Alaskan alpinists, as a long dry spell has provided ideal conditions for fast and committing ascents throughout the range. On May 20, Jackson Marvell, Alan Rousseau, and Matt Cornell made an impressive speed ascent of the Slovak Direct (VI 5.9X M6+ WI6 A2 9,000 feet) on Denali (20,310 feet) in a mere 21 hours and 35 minutes. (For reference, the previous speed-record holder was 60 hours, by Steve House, Scott Backes, and Mark Twight, in 2000.) Then, less than a week later, Richard Nemec and Michal Sabovcik free climbed the Slovak in under 40 hours.
Most recently, on June 3, Sam Hennessey, Rob Smith, and Mike Gardner climbed the Slovak in just 17 hours and 10 minutes, redefining what many thought was possible on such an iconic and massive route. "I've climbed three routes on the south face [of Denali] and every other time, the challenge has been trailbreaking and dealing with snow," Gardner told Climbing. "[This time] it was almost like a melt-freeze crust; there was no trail breaking and the ice was in good shape. This was the year to go that quickly."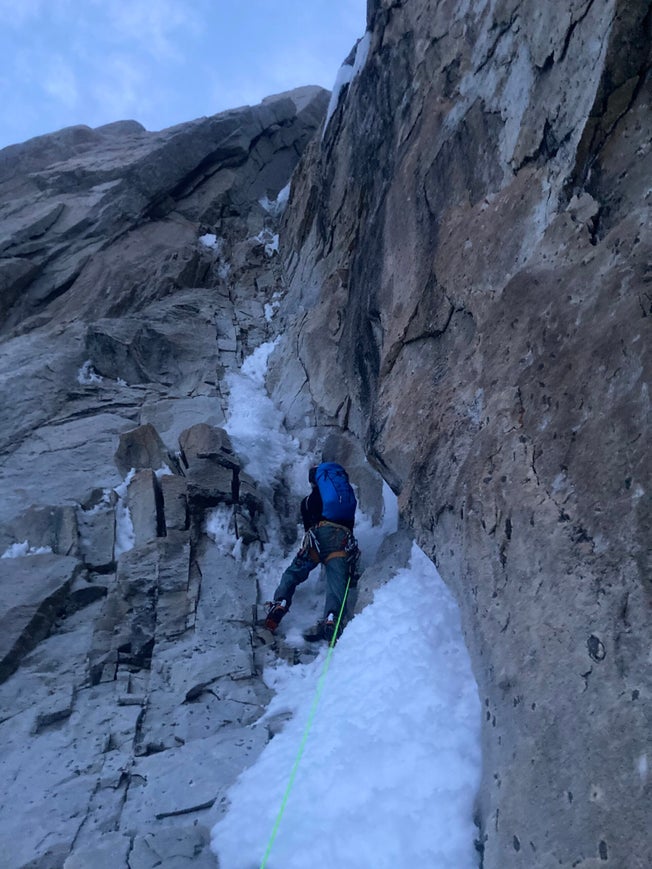 Conditions aside, this trio was also the team to go that quickly. Gardner and Hennessey guided on Denali as a means of income and acclimatization pre-Slovak, and they have already climbed an arguably harder route on the south face of Denali in a single-push, no-bivy-gear style. (The route, Light Traveler [VI M7 WI6], was cited by the FA Marko Prezelj as having the "hardest free pitch I have led in the mountains.") Smith, too, is an Alaska regular, having skied in to try the Slovak on two other occasions, and this was his fourteenth trip to the range.
"It's been an exceedingly dry year here, for better or for worse," Gardner said. "For better for doing one measly quick climb in your life, but worse, overall, for climate change. The Alaska Range is falling down right now." Indeed, though the upper snow-climbing section of the Slovak held firm, supportive snow, the crevasses, bergschrunds, and lower-elevation snow slopes are deteriorating much faster than what is typical for June.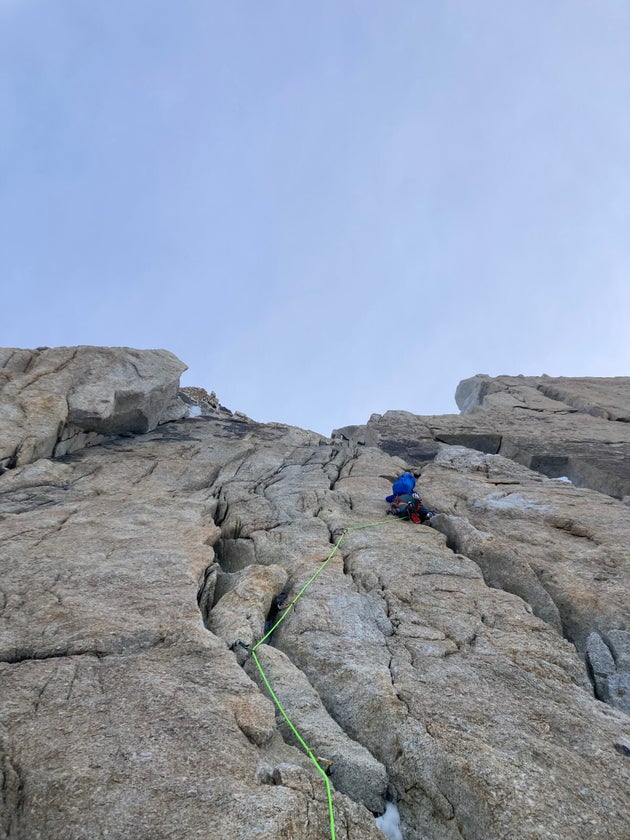 The trio left their camp at midnight, with intentions of reaching the aid pitch (found near the top of the technical difficulties) at 8 a.m.—perfect conditions, they hoped, for a warm and well-lit free-climbing attempt. They raced up the lower section of the Slovak in just five hours, however, and with the aid pitch still firmly in the shade, they decided the wait wasn't worth the reward. "You're in Alaska, man. It's cold and you gotta keep the body moving," Gardner said. "And that's the thing with climbing without bivy gear—when you're in the coldest part of the day you need to keep moving." Gardner stressed that, even with warmer conditions, freeing this short 50-foot section of a 9,000-foot route was relatively low on their list of priorities. "I feel like the [media's] over emphasis on freeing this particular pitch is reducing the Slovak to a less grand scale—with far too much emphasis on one of the least inspiring pitches," he said. Smith pulled on two cams to pass the section and Gardner and Hennessey followed the pitch free. 
The team brought a single rope and simul climbed all but three or four pitches, where they were forced to stop and restart while transitioning out of their lead blocks. Without bivy gear the team was able to fit all of their kit into two 20-liter and one 30-liter packs, with over two days of food and fuel taking up the majority of that real estate. This added kit is important to note, Gardner said, given the current trends of climbing as fast and as light as possible in the mountains.
"Our strategy wasn't let's go ballistic and see how fast we can go…you should never red line in the mountains," he said. "We weren't sprinting up there, we were climbing in control [and] we reached the summit with tons of energy." On their descent down the West Buttress, at 20,000 feet, Hennessey and Gardner aided in another party's rescue before all three spent the night at 14,000 feet and retrieved their cache of skis below the south face the next day. More than anything, this retrieval day shows the margin of energy that remained with the climbers; over seven hours, from "14 camp," the trio gained roughly 2,500 feet up the West Rib, descended 5,000 feet to the Northeast Fork, then gained another thousand feet to Kahiltna Notch before rappelling and down climbing 2,000 feet to where they left their tent and skis at the base of the Slovak. Then they skied the nine miles out to base camp. "Energy to spare" indeed.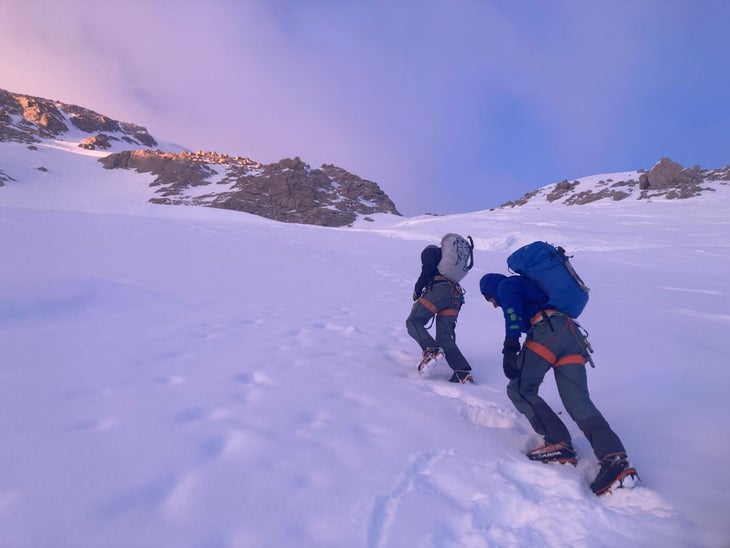 This margin of energy, Gardner said, is vitally important while alpine climbing. As the cliché goes, the summit is only halfway so you best not arrive exhausted. "You can slap the chains on a sport climb and be totally shit kicked and it's a send, you know? You lower down to the ground," Gardner said. "But there's no slapping the chains in alpinism—not until you're back at home with your family or at the bar."
---
Anthony Walsh is a digital editor at Climbing.
Shrinking Serac Opens Up Stout New Route on Mt. Hunter, Alaska
Americans Make Serious First Ascent in the Revelations—After Six Years of Effort