Speedy Free-Solo Spree in the Dolomites
Heading out the door? Read this article on the new Outside+ app available now on iOS devices for members! Download the app.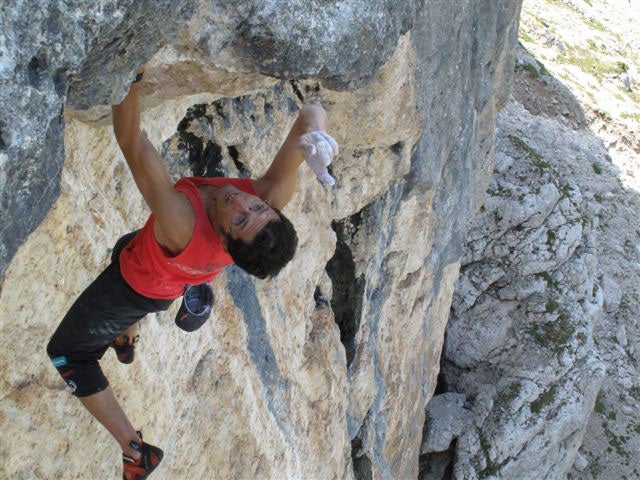 Manfred Stuffer of Ortisei, Italy free-soloed five routes on the North Face of the Torre Orientale di Mesules, Sella, Dolomites in an astonishing 3.5 hours.
The limestone routes Stuffer climbed range from about 5.8 to 5.10 and generally lack much solid protection, so he decided to simplify the process and climb them without any ropes or gear.
Stuffer began at 4.00 p.m. from the parking area at the bottom of the mountain. His first climb was Geo (VII, 230 meters). He soon found a "good rhythm" and finished the first route after only 19 minutes; a record itself, considering that the average time for a climbing team is 3 to 5 hours.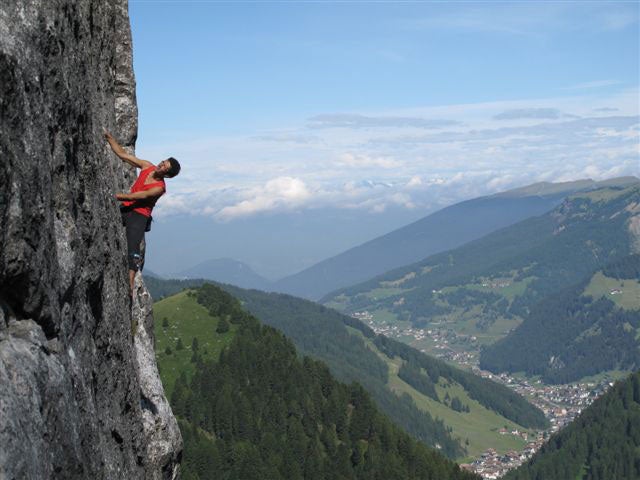 After descending on the backside, Stuffer started up again, this time on Regenbogen or Rainbow ( VII, 190 meters), and then ran down back to the base of the wall again. Next he started up Quo Vadis, also level VII and 190 meters long. Regenbogen and Quo Vadis are both very intense and it's believed that Stuffer made the first and only free solo ascents of the routes.
"Those two routes are very special for me. You climb on really small finger pockets on a slab with poor foot holds — It was very satisfying," Stuffer said after his speedy day.
To finish it off Stuffer next flew up Brunsin (VI+) and the Brugger-Walde (VI), completing his five route total adding up to more than 1000 meters of climbing in just 2 hours and 18 minutes. By 7.30 p.m. he was comfortably back at his car on the road to Passo Gardena.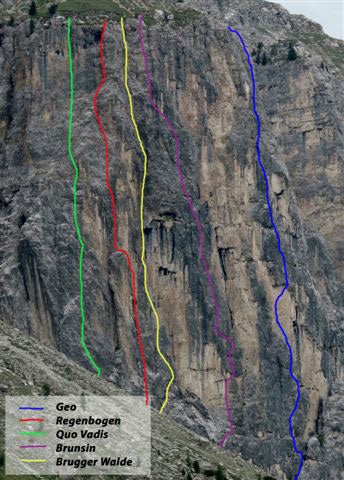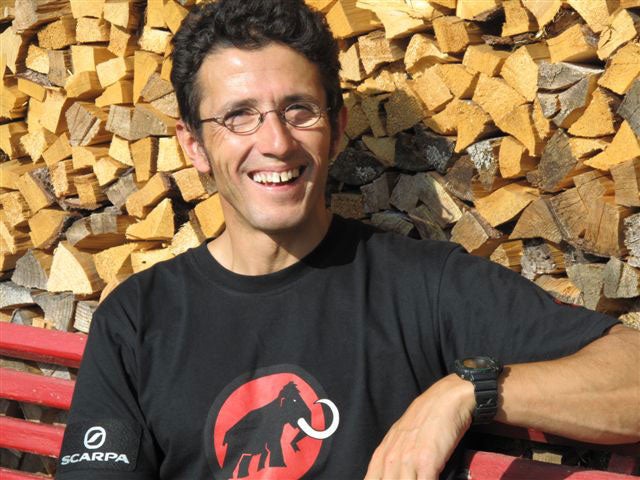 Stuffer has made other remarkable free solo ascents in the Dolomites like Ottovolante ( 7a+, 360 meters) which was onsight. He also made a free solo of Ciapa e tira (7c+) and has redpointed as hard as 8c+/9a.
Date of Ascents: July 14th, 2009
Sources: Reinhard Mair, planetmountain.com, 8a.nu, alpinist.com
MORE NEWS: