Spray Trailer and Tour Schedule
Heading out the door? Read this article on the new Outside+ app available now on iOS devices for members! Download the app.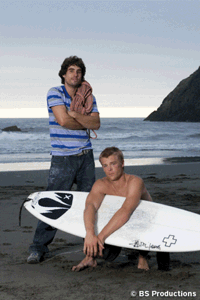 Joe Kinder and Chris Lindner have spent most of their lives in the fast-paced world of professional climbing. They are forever focused on amassing their knowledge and improving their skills to climb increasingly difficult routes. In a sport that requires endless motivation and supreme confidence, there are constant pressures and expectations that would test the moral fiber of any person. Instead, Joe and Chris have found a way to explore the clouds with their feet firmly planted in the ground.
Spray, the fourth feature film from BS Productions, attempts to capture the true spirit of climbing. Filmmaker Brian Solano followed Joe Kinder and Chris Lindner on their most recent journey documenting every moment in crystal clear High Definition video. The team set out to explore the treasures of California's northern coastline. They ventured through the delicate beaches of Arcata, the stunning limestone of the Trinity Aretes, the historical shores of Mickey's Beach, and the alpine stone of Donner Summit.
With the support of Urban Climber, Smartwool, Timberland, and Evolve, the Spray DVD will be the first climbing film printed on 100% recycled materials. The DVD is jam packed with Bonus Footage that didn't make the final cut. In addition, BS Productions is premiering the film at several theaters throughout the US. On January 30, the World Premier of Spray will take place at the Boulder Theater in Boulder, Colorado. Raffles, door prizes, athlete appearances, and poster/DVD signings will make this an event you won't want to miss. To order your copy of the DVD, check out www.SprayMovie.com.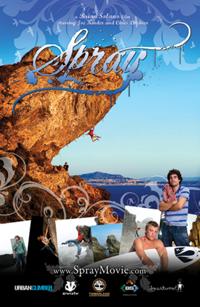 The SPRAY Film Tour World Premier's
PREMIERE EVENT— January 30, 2008Boulder Theater, Boulder, COTicket includesa Free Day Pass to The SpotFree Smartwool socks (for the first 200 guests) Free Afterparty at Bacaro
February 1, 2008Victoria TheatreSan Francisco, CA
February 2, 2008South Metro YMCAJacksonville, FL
February 2, 2008MPHC Climbing GymNew York, New York
February 13, 2008Tower TheaterSalt Lake City, UT (Presented by Momentum Climbing Gym)
February 16, 2008Appalachian State UniversityBoone, NC (In conjunction with the Southern Comfort II Bouldering Comp)
February 23, 2008Escalade Climbing GymKennesaw, GA (In conjunction with the February Fallout Bouldering Comp)
March 6, 2008Regent TheaterArlington, MA
March 13, 2008Martyrs', 3855 N. Lincoln AveChicago, IL (Doors open at 6pm, show starts at 7pm; Ticket cost is $10)
April 5, 2008Thresh | HoldRiverside, CA