Heading out the door? Read this article on the new Outside+ app available now on iOS devices for members! Download the app.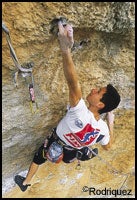 Statement of youth Ramón Julián fires La Rambla Direct Look out Realization. Scoot over Flex Luthor. There's a new all-natural 5.15a on the scene– La Rambla Direct, an extension to Alex Huber's 5.14c benchmark route at Siurana, Spain, that makes for a 17-bolt, 135-foot pitch. For over a decade the 20-foot extension has withstood attempts by top European sport climbers. In the end it was the diminutive Ramón Julián– and not his more famous countrymen Dani Andrada or Iker Pou– who scored the first ascent.
In just over a year Julián (who friends call Ram&oacutenet, Spanish for Little Ram&oacuten) has vaulted onto the international scene with one 5.14d, five 5.14c, and 11 5.14b redpoints; a World Cup victory; a 5.14a on-sight; and now La Rambla Direct. The 21-year-old works as an electrician– but only in the morning, so he can train with his coach, David Maciá, four afternoons a week. A few days after sending La Rambla Direct, Julián sat down for an interview with photographer Dario Rodriguez.
What is the route like?
Crack, pockets, lots of crimps, sidepulls, underclings– there is a little of each. It starts with a 5.13c crack and follows with a traverse to the left, which adds up to 5.14a. Then it becomes 5.14b as it moves right until a rest. The final upper part, the last 35 feet [up to and past La Rambla's anchor], could be graded between 5.13c and 5.13d. This line requires continuous effort, but the most difficult is the top section, with violent moves on small holds and crimps.
What is the secret to redpointing this line?
You have to make the two-finger pocket. If you get the pocket with your right hand you can clip Huber's intermediate belay and you've done La Rambla. If you are going for La Rambla Direct, you have to take the pocket with your left hand– this is the key move. I made it to this point four or five times.
What did you do when you finally climbed the route?
Everybody was yelling, "Jump! Jump!" So, to celebrate, I unclipped from the belay, my dad gave me enough rope, and I jumped. It was a flight of 65 feet!
How else did you celebrate?
The refugio in Siurana had a bottle of cava [Catalonian champagne] prepared for me, but I don't drink alcohol. I celebrated with apple juice, and Dani [Andrada] had two glasses of champagne– mine and his.