Stop Getting Lost When You Lose Cell Reception, Gaia GPS Keeps You On Track
Photo: NPS/Jacob W. Frank
Heading out the door? Read this article on the new Outside+ app available now on iOS devices for members! Download the app.
Whether you're planning your next national park vacation or just wanting to discover new climbing or backcountry skiing trails, a really important thing to know is that vast areas of the country have zero cell phone reception. Yellowstone National Park is infamous for its lack of coverage, although the park is working on installing more towers. Stretches of road between Utah's five national parks make the occasional pay phone sighting seem like a beacon of modern communication.
So if you're relying on cell reception as you descend Bright Angel Trail in Grand Canyon or to find a backcountry ski trailhead near Rocky Mountain National Park, you'll be blindly navigating when cellular service disappears. Fear not, though. We've found the Gaia GPS app is an indispensable tool for any outdoor adventure. Not only can you download trail maps and off-the-grid routes before you leave home and use them when you're far beyond the reaches of civilization (a.k.a cell service), but Gaia GPS now has car capabilities for Android Auto and Apple CarPlay. Simply plug your phone into your car, tap on your Gaia GPS app and choose which map you'd like to view, including Gaia Topo, satellite imagery and National Geographic Trails Illustrated, on the dash.
"We hit home for people who go just beyond the edge of where the internet is available," says Ashli Baldwin, director of operations of Gaia GPS.
Driving with Gaia GPS
Why use the Gaia GPS app while driving when you have Google Maps or Waze on your phone? Google Maps is great for well-traveled paved routes when you have clear cell service. But when cell service cuts out and you're on a remote dirt road, you're left with only your instincts to guide you. And in places like the Yellowstone area where every fork in a Forest Service dirt road starts to look the same or the Zion area where every rock formation resembles the one before it, getting lost can get scary fast. Particularly if your gas tank is getting low.
"Google Maps does have functionality of downloading offline maps, but with Gaia GPS, you're going to see a lot more detail, including U.S. Forest Service maps with dirt roads, so it's great for that level of exploring," Baldwin says.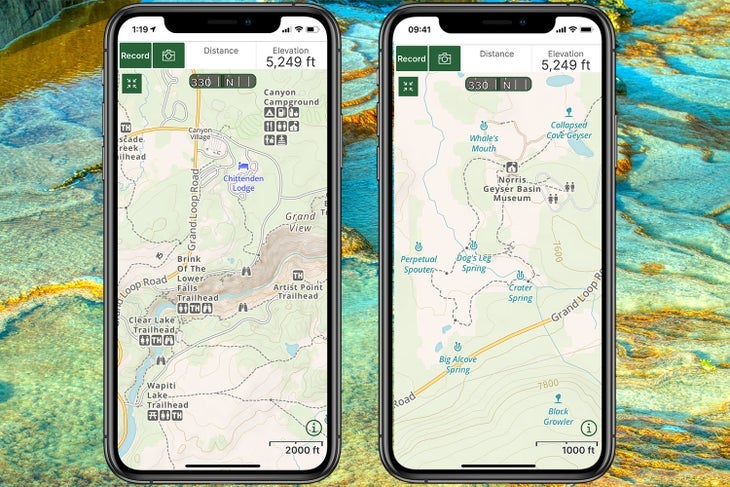 Download Gaia GPS maps for the route you want to travel before you leave home. That way, as you drive through remote reaches of Grand Staircase-Escalante National Monument on the stunning 47-mile unpaved Cottonwood Canyon Road, you can be worry-free. Gaia GPS will guide you on the detour to Grosvenor Arch, regardless of cell service. Plus, the app shows you all the hiking trails along the route, as well as restrooms and viewpoints. Take that, Google Maps.
"We have a lot of off-roaders who use our maps," Baldwin says. "You're driving 150 miles on dirt roads all day and you're out of cell service range."
Plan Your Next Hiking Adventure with Gaia GPS
Planning your next adventure from your couch has never been more comprehensive with Gaia GPS. Not only can you pull up stellar trail maps like National Geographic Trails Illustrated but you can also get a sense for weather like rainfall and if there's wildfire smoke in advance. How? You can customize your base maps with weather overlays like the precipitation, wildfire, and smoke maps. That way, if Idaho is filled with smoke and your itinerary is flexible, you may want to head to Colorado where there is less smoke but still great outdoor opportunities.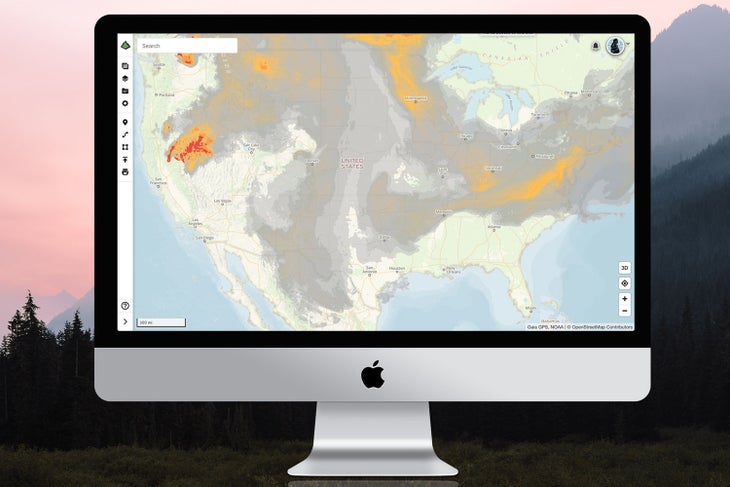 And Gaia GPS is great for doing short day trips near where you live. You actually can easily download the map for your entire state, so that no matter what day adventure you do, you're ready.
"I have all my home state of Utah downloaded so that even if I am in a pinch, I can still access the maps if I am out of cell service," Baldwin says. "It was a big deal when we launched that capability to download Gaia Topo for your entire state – in less than 500MB in many cases. I don't know if anyone else is doing that because with other types of maps it would be too large of a file."
If you're at home trying to get a sense for how much snow is still on a hiking or backcountry ski touring trail, use the Fresh Sat-Recent and Fresh Sat-Cloud Free layers. You can even use them to get a sense for if trees have begun to change colors during the fall. Fresh Sat-Recent will give you timely satellite images of the area you're interested in while Fresh Sat-Cloud Free will show you images without the clouds that may be obscuring your view.
Avoid Trails through Burn Scars
Last year, two fires tore through sections of Rocky Mountain National Park, and while it may not occur to you initially, it pays to plan a hike that avoids a burned area. Otherwise, you'll be extremely disappointed to find yourself on a trail that nowhere resembles the gorgeous photos of the park that brought you there in the first place.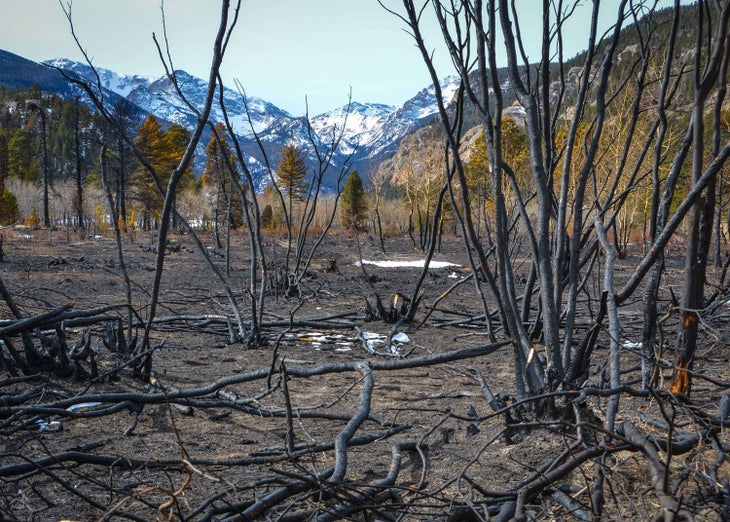 Gaia GPS helps you avoid those trails dotted with scorched earth and burned tree stags ―unless you want to see what fire can do to a forest and how nature begins the process of regenerating itself. If you reference the "U.S. Wildfires" overlay with Gaia GPS, it will show you where fires burned, helping you easily reroute yourself in advance to a trail that's full of wildflowers, healthy trees and green meadows.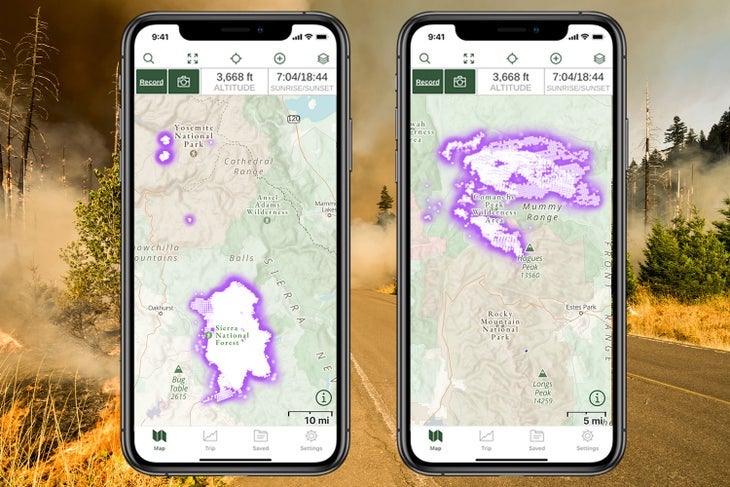 In fact, the Gaia GPS map catalog includes historical U.S. wildfires from 2000 to 2018, so even if a fire didn't burn recently, the landscape you're planning on visiting may still show the effects of an earlier fire. You'll see the interactive premium overlay shows wildfire areas in shades of red on the map, with more recent fires colored brighter shades of red. If you have the iOS app, tap on a fire to see its official name, the year it burned and how many acres were impacted.
Taking Route Finding to a New Level
What's great about Gaia GPS is that it is just as useful to a beginner hiker or backcountry skier as it is to the most adventurous, extreme athletes in the world. Take Anchorage, Ala., resident Luc Mehl who charted an entire trip to ice skate across the Arctic Circle using Gaia GPS. Yes, you read that correctly. He ice skated 125 miles across the Arctic during a four-day adventure that involved crossing a frozen river, lake and seashore, in the far northwest region of the state. Mehl discovered expedition ice skating, as it is called, when trying to find an outdoor pursuit during the shoulder season between backcountry skiing in the winter and backpacking in the summer.
Become a member of Outside+ for $99 per year, and you'll get a Premium annual subscription to Gaia GPS, along with exclusive adventure content from Climbing, Backpacker, Ski and moreas part of your membership perk package. Learn more.