Secure the Ledges Campaign Succeeds, Protecting Climbing Access in New Hampshire's Mount Washington Valley
Heading out the door? Read this article on the new Outside+ app available now on iOS devices for members! Download the app.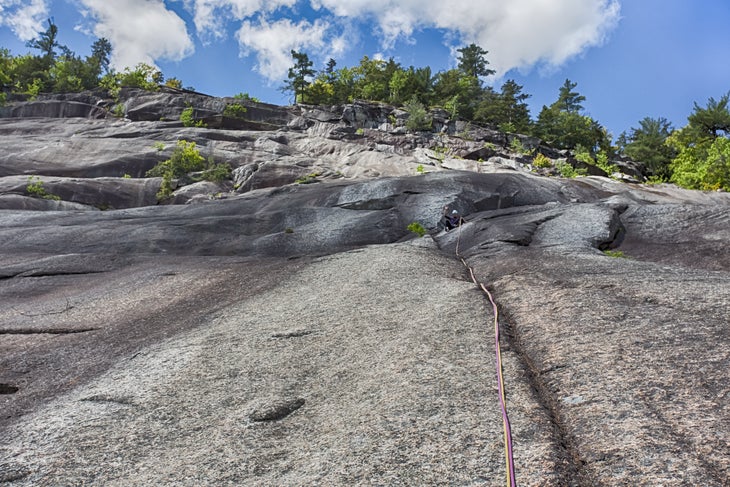 Thanks to the Secure the Ledges initiative, nine-acres of land critical for access to Cathedral Ledge and Whitehorse Ledge in the Mount Washington Valley of New Hampshire will be protected and maintained in perpetuity. The Access Fund made the announcement on April 30, about six months after the fundraising campaign began.
According to a press release from the Upper Saco Valley Land Trust (USVLT), the campaign was launched after landowner Jim Ansara donated the land to USVLT, which he had owned since 1997. The area is critical for access at both Cathedral Ledge and Whitehorse Ledge. The Bryce Path and Bryce Link Trail both lie within the donated land, which are the typical descent paths for climbers who have topped-out routes at Whitehorse. The property is also home to a number of popular boulders.
"I spent many years living part time in the North Conway community living on Bow Lane at the foot of Cathedral and Whitehorse Ledge," Ansara told the Access Fund. "I had great enjoyment with my friends and family hiking, climbing, and running on the cliffs and trails, and I wanted to see that future generations of climbers, hikers, and those who love the outdoors have the opportunity to enjoy the park and the cliffs to the same extent we have."
Beyond access, the land donation means that the local community, as well as the numerous climbers who visit each year, can be certain that the area will not be blighted by development. As the Access Fund points out, the maintenance of a viewshed is important to the climbing experience.
The donation of the land was just the first step. The USVLT wanted to ensure that it would be maintained and protected into the future. With this goal in mind, they partnered with the Access Fund and the local non-profit Friends of the Ledges to raise $48,000 in the Secure the Ledges campaign. Through generous donations from Blue Ridge Charitable Trust, John R. & Margrite Davis Foundation, Ansara, an anonymous family foundation, and many individuals from the local community and beyond, the fundraising goal was reached at the end of April 2019. This money will be used to ensure the long-term stewardship of the land, and to set up a legal defense fund for the secured land.