Super Albert: Upping the Ante Every Year
Heading out the door? Read this article on the new Outside+ app available now on iOS devices for members! Download the app.
An inspiring story of superhero who climbs his age each birthday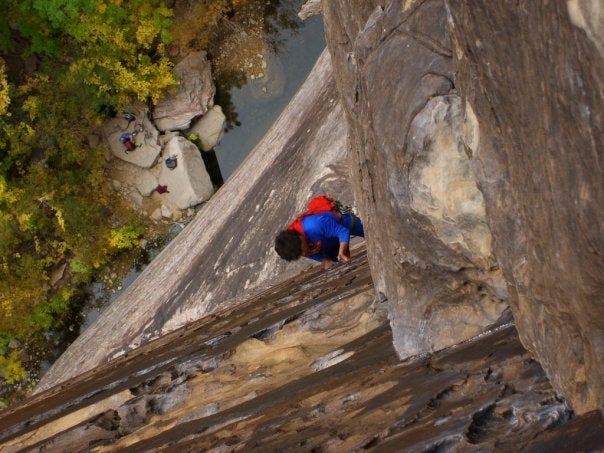 Six feet out from the first bolt on a 5.8 at Iron Gate in southwestern Virginia I hear the encouragement of my belayer, "stick with it, you don't wanna fall there." Great, just what I want to hear on my first lead. I made it to the second bolt and the top of the climb, with a little help from my friend.
Does it take super powers to be a superhero? Batman and Iron Man were rich guys who used high tech gadgets. The Southern Yosemite Mountain Guides guide cabin is no Wayne Manor and Albert Nugue isn't out battling evil in tights and a cape, except on special occasions, but he is a great climber and an even better friend. Albert and I have been best friends since we were five. We've played on the same team in just about every sport imaginable and seen our fair share of trouble together (on and off the rock). Albert has always been a talented but not excellent all-around athlete. It has been his grit and determination that have allowed him to excel in just about every sport he tried from elementary through college, and still today.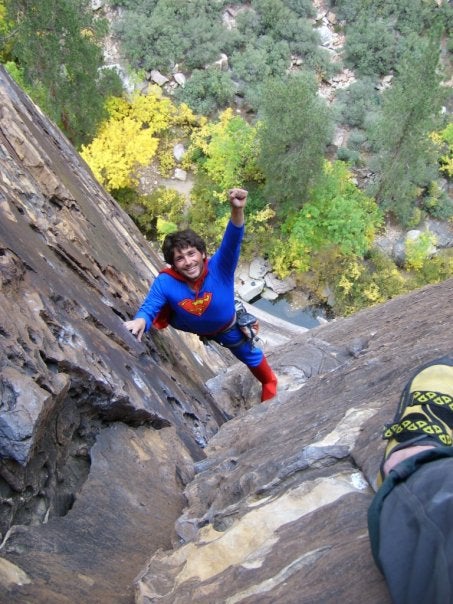 The fall is our favorite time to road trip. Everyone is feeling strong from a summer of climbing, the temps are just right, and it's off-season. Climbing trips have always been a time to celebrate, and since Al's birthday is right in the middle of prime fall season (October 26) our annual climbing trips would invariably be filled with festive adventure. After years of moderately ambitious climbing and countless nights of late night libations Albert decided to kick it up a notch.
In 2006 for his 32nd birthday Albert set his mind to lead as many routes in a day as he was old. Red Rocks was the destination, and friends from near and far gathered to assist. Ropes and belayers were dispatched to different locations between the first and second pullouts to make the day as efficient as possible. Lowering off the last climb of the day Albert had just enough strength to crack open a cold one while his belayer untied him.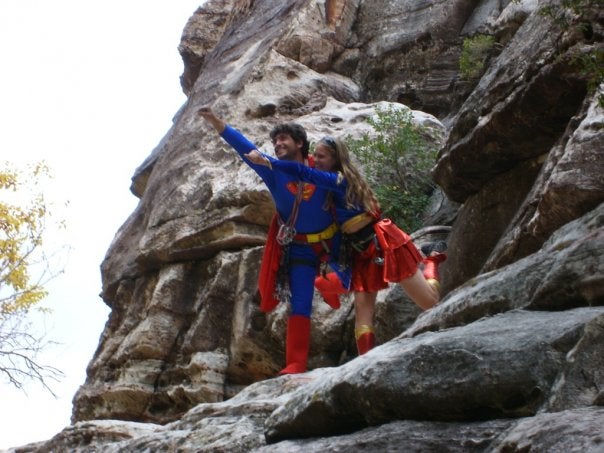 The next year, 2007, Albert changed the venue to Jack's Canyon, a limestone sport crag near Winslow, Arizona. Because Albert had never been there, this upped the ante quite a bit requiring him to climb every route onsight. After a day of reconoscence, and to no ones surprise, Albert unsurprisingly accomplished his goal, having time (and energy) at the end of the day for two routes to grow on and a game of bocce.
Just as many of us had expected, in 2008 Albert raised the bar once again by leading 34 trad pitches, all onsight, in a day at Tahquitz, California. Not to tip-toe around his own birthday challenges Albert made sure to lead every pitch; routes ranged from 5.8-5.12 with the majority falling in the 5.9-5.10 range.
I have always admired Albert's drive and ability to push himself. He raises the bar for those around him and he has helped many of us achieve goals of our own. Albert may not be a super hero in the Marvel Comic sense of the term, but he keeps me motivated and inspired. Thanks Al!
Author's note: No climbing trip for Al and I this year. My wife, Kristen, and I had twins the day after Albert's birthday. Marley (my daughter) and Kai (my son) will be ready to hit the road soon enough and back on for daddy's desert climbing trip next year.