Support Climbing Gyms: Sign the Petition for Stimulus Inclusion and More
The Climbing Wall Association petitions Congress for climbing gym inclusion in the coronavirus relief stimulus package. Eldo Walls offers donations to your local gym.
Heading out the door? Read this article on the new Outside+ app available now on iOS devices for members! Download the app.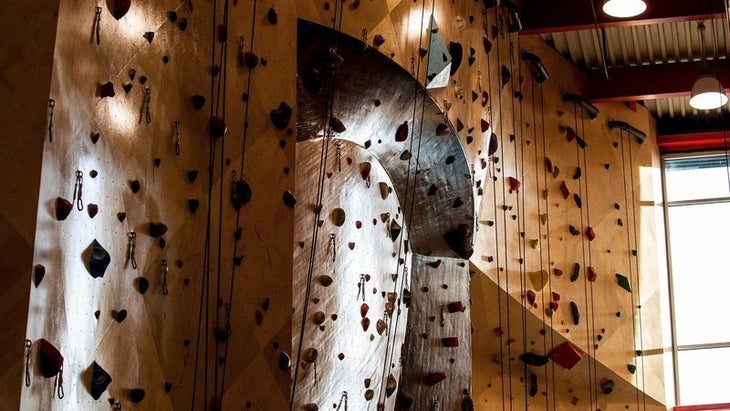 Hundreds of climbing gyms across the country have closed their doors amid the COVID-19 outbreak to prevent the spread of the virus. Many of these gyms are small businesses and integral pieces of the climbing community that may not survive a weeks- or months-long closure. Take a look at this list compiled by the Climbing Business Journal to see the staggering number of gyms that have closed their doors. When this period of self-isolation is over and businesses begin to reopen, we hope our climbing gyms will still be there. Here is what you can do to help.
Sign the Petition For Inclusion in the Stimulus Package
The Climbing Wall Association (CWA) has sent an open letter to key government officials requesting that they include provisions for the fitness and recreation industry—with a particular emphasis on climbing gyms—in the $2 trillion coronavirus relief stimulus package. The stimulus package passed the Senate on Wednesday, and will be voted on by Congress Friday morning.
The letter to Congress reads: "Climbing gyms and other fitness and recreational facilities all face severe layoffs and the threat of bankruptcy during this crisis. This has affected, and will affect, tens of thousands of Americans. Without any fault of their own, climbing gyms are losing their ability to provide for members and employees due to lost revenue on account of massive forced closures."
CWA is asking for the immediate financial relief that will be provided to businesses included in the package, as well as inclusion in the upcoming Pandemic Risk Assurance Act to protect vulnerable businesses from the economic hardships of future pandemics or epidemics.
Click here to sign the petition to help get climbing gyms included in the stimulus package!
Build a Home Wall
Beyond governmental relief, there are avenues you can pursue to help support your local gyms.
There has never been a better time to build a home rock wall than this period of nationwide self-isolation. Right now, you can build a home climbing wall and support your local gym. Eldorado Climbing Walls is currently offering to donate 30% of sales on almost everything on their website to the gym of your choice; you simply enter your gym's name at checkout. The company has built the climbing walls at commercial gyms around the country—including well-known gyms like The Spot in Denver, Colorado, and Triangle Rock Club in Morrisville, North Carolina—and they also sell everything you need for your home climbing wall, from panels to holds to padded flooring and more. This is a win-win, as you can build or improve your own home wall while helping to ensure the survival of your beloved gym.
Lastly, a sound piece of advice from Eldo's website: "The BEST way to support your gym, if you have the financial means, is to NOT CANCEL YOUR MEMBERSHIP for as long as you can."