Susan E.B. Schwartz – Reader Blog 7
Heading out the door? Read this article on the new Outside+ app available now on iOS devices for members! Download the app.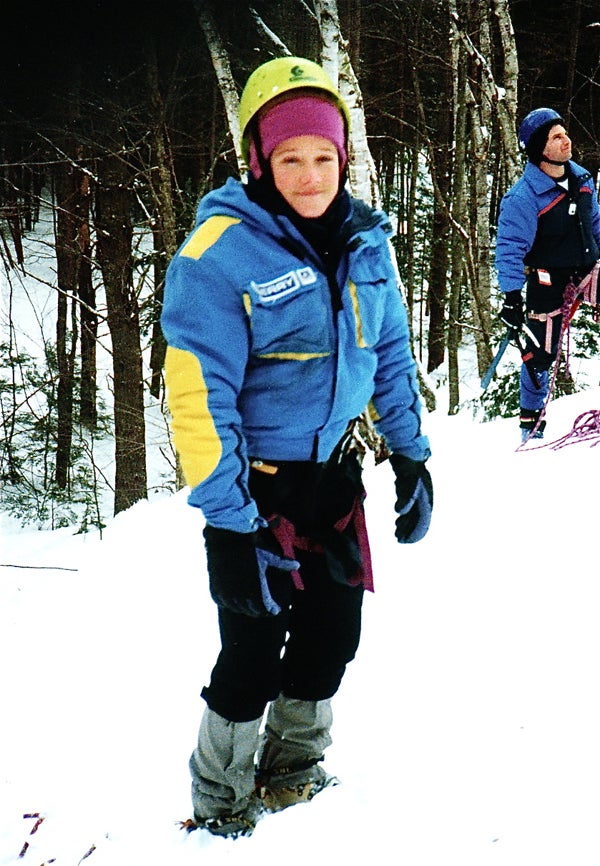 The Power of Climbing Photography
As a climbing writer, my specialty is the word rather than the image. But that doesn't mean I don't enjoy looking at climbing images. The problem is that virtually all climbing images look great to me. I don't appreciate the nuances that separate a good climbing image from a great one. But one thing I do know: climbing photography is really hard, even for talented professional climbing photographers. A few years ago, I took part in some photo shoots for Climbing Magazine and was always astounded by the disproportion between the photographer's set-up time and amount of film shot versus the small number of photographs that the magazine ended up running. The rest of us non-talented, amateur enthusiasts are left to slog along as best we can when we try to capture climbing images of friends and family. How many of us have experienced something like this? When I first started ice climbing in February of 1991, I was so excited by the experience. Understandably…I had been up to North Conway, and talk about lucking out, since I didn't know anyone who ice climbed, I had hired the amazing alpinist Kitty Calhoun as my guide.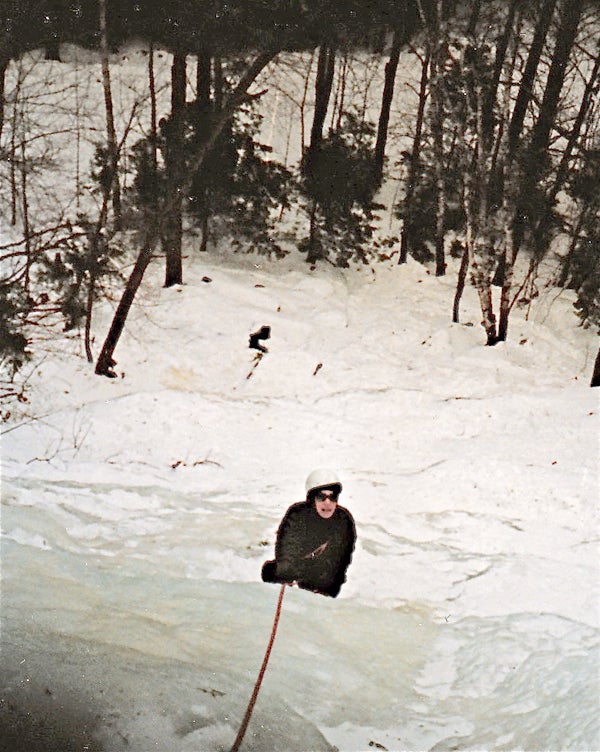 Kitty must have recently returned from Makalu, where she led a small team which summitted via the extremely difficult West Pillar Route. An equivalent in golf might be if someone who had never even picked up a four iron wandered into a golf shop one Saturday to hire a pro and walked out for a morning's round accompanied by Tiger Woods. There Kitty and I were at the classic ice climbing area, Frankenstein. I was outfitted in what I considered state of the art gear — second hand foot fangs, a clunky Joe Brown ice helmet bought third hand, boiled wool mittens, and boiled wool socks. Someone at Frankenstein snapped some fuzzy photos, one of which I kept on my desk at work as a memory of a happy day. A co-worker, whose outdoor experience was limited mostly to après skiing hot tubs, happened by my office one day and peered at the photo of my very first ice climb — or very first climb of any kind, for that matter. "Wow," he said, "I might have trouble skiing down that."
Please share your comments with us in Climbing.com's forums HERE.
—SEBS