The 2008 Extremity Games – Planet Rock – Pontiac, Michigan
Heading out the door? Read this article on the new Outside+ app available now on iOS devices for members! Download the app.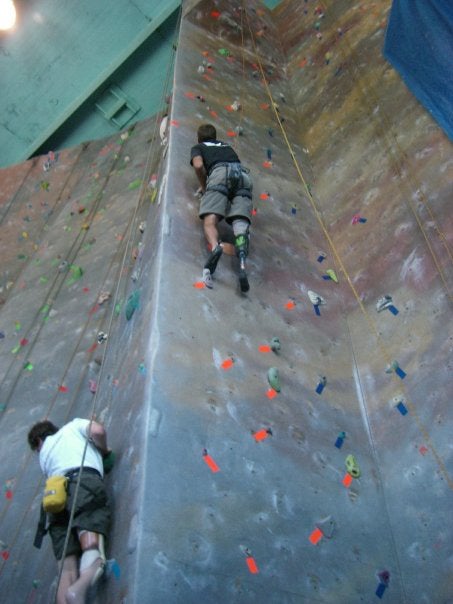 The place looks like a bomb went off. Legs and arms are strewn all over the floor. Sounds grim, but in all actuality, it's really cool. I'm standing in the middle of the 2008 Extremity Games climbing competition, hosted at Planet Rock in Pontiac, Michigan on Friday July 25th, and things are looking good. With about 30 people in the competition, the field is a bit deeper than last year, and the set-up consists of 15 routes ranging in difficulty from 5.7 to 5.12c. Competitors' scores are added together after two hours of climbing, and the top three scores are what stick.
The Extremity Games is the brainchild of College Park Industries (CPI), a manufacturer of prosthetic feet. After seeing the athletes in the X Games, they envisioned an extreme-sports competition for individuals living with limb loss, and then went to work. The first climbing event (2006) was a bit of a dog-and-pony show, with each competitor climbing a clear Plexiglas wall to see who could climb/jump up the fastest. The following year, after most of the climbers had complained of a need for a real real comp, CPI came up with a standard format of both toprope redpoints and bouldering.
I'm missing my right leg, so I climb with a tricked-out prosthetic made by Evolv and a company called TRS Prosthetics. It allows me to climb almost like I used to, and with my footwork already having been bad before I got hurt, the change isn't that hard to overcome. I'm amazed by the other climbers — people missing all sorts of limbs are throwing themselves at routes and having a great time.
I partner up with Brian Doyne. Brian lost his left hand and eye in an explosion on his fifth tour of duty in Iraq. We had met at last year's games, when he was still working through a lot of the emotions and anger that come with losing a limb. This year, he seemed relaxed, and even said as much by telling me he was here to have fun, not to try to win. We traded routes, and I watched as he tugged his ice axe into the holds and made his way up climbs able-bodied people would have trouble with. The climbing wore us down, and people looked worked; it was hot. and the gear we all had to wear to climb made it even hotter. In summer, I always equate my leg to a crock-pot: it feels like my stump is slowly cooking inside the carbon-fiber shell.
Brian and I both made the finals, so they ushered us all into a closed isolation area. Inside, we lounged around on crashpads while the final routes were unveiled to the crowd.
Planet Rock went above and beyond getting ready for this comp, dropping all the holds in their gym to set the routes– that equates to 12,000 sq. ft. of climbing and about 7,000 holds. The routes for the finals did not disappoint; they tackled the longest and steepest part of the gym. Looking up, I was a bit intimidated at the length of the routes (they checked in at about 80 feet) and, especially by the overhangs, I knew I 'd need to move quickly, since I had to do all three routes if I had any chance of winning.
When I climb, I tend to focus on a really small area in front of me, and I'm able to block out the rest of the world. Once I start up the route, I concentrate one or two moves ahead of me while still being present on the hold I'm grabbing. In Pontiac, this style helped, because the routes came at you fast, though they still allowed for the occasional on-route rest. Most routes became harder the higher you went, so the race to the chains grew a lot more interesting near the top.
After onsighting the first two routes, I was pumped. The second route had a lot of slopers, and the pump I was feeling was not going away quickly enough in time for the third and final climb. In a comp like this, we had eight minutes to climb each route, then a minute transition to the next climb, and so on. That would mean I had about seven minutes to depump before climb No. 3.
As I started up, the route flowed under me and as I neared the final lip. I felt good…until I realized I would be launching for a jug at the apex of the overhang. I coiled up and launched, latching the hold on my first go and chugging the remaining 30 feet to the anchors. Brian also did well, sending the first route and getting high enough on the other two to place second.
I was happy to win, but as corny as it sounds, the people and the place made all the difference that day; for that afternoon, we were just climbers doing what we love to do. Never did being disabled come into the equation. Nor did whatever event had brought each of us to be the disabled climbers we were. In fact, that's usually an afterthought, a footnote to who a person truly is.
That day, we were just climbers having fun.
Final Results
Men's
1st – Craig DeMartino 2nd – Brian Doyne 3rd – Chad Jukes
Womens
1st – Cara Fortunato 2nd – Loi Ho 3rd – Mckayla Hanson
Bouldering
1st – Ronnie Dickson 2nd – Randall Perry