The Alpinist is Up for Two Sports Emmys
"Marc-André deserves to be there at the Emmys with us"—though being in a city and a suit, and the center of attention, might be his worst nightmare. PLUS: the many climbing films to receive Emmy or Academy awards or nods over the years.
Heading out the door? Read this article on the new Outside+ app available now on iOS devices for members! Download the app.
The Alpinist—the superb, wrenching film that everyone, from all your non-climbing friends to your family, has seen—is up for two Sports EMMY awards. The awards ceremony, the first held live in three years, is May 24 at the Lincoln Center, New York.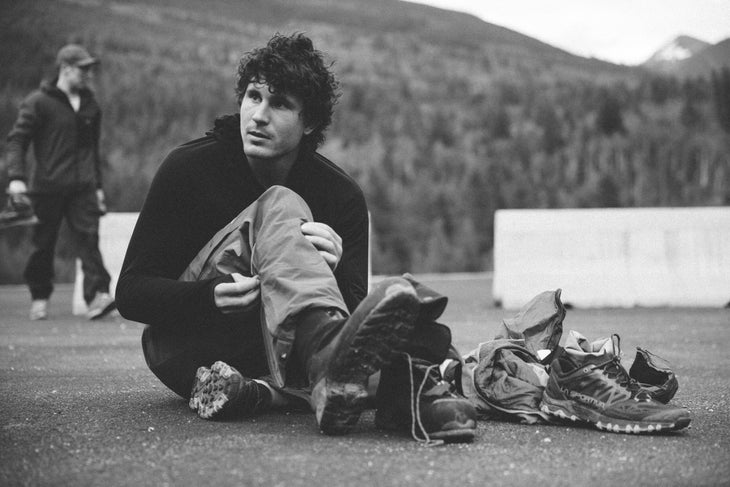 Asked his reaction upon receiving the Emmy news, Nick Rosen, co-director with Peter Mortimer, tells us: "Hot damn! We were delighted. Always an honor to get a Sports Emmy nom and fun to hobnob at Lincoln Center." The Alpinist is nominated in two categories: Longform Documentary and Cinematography.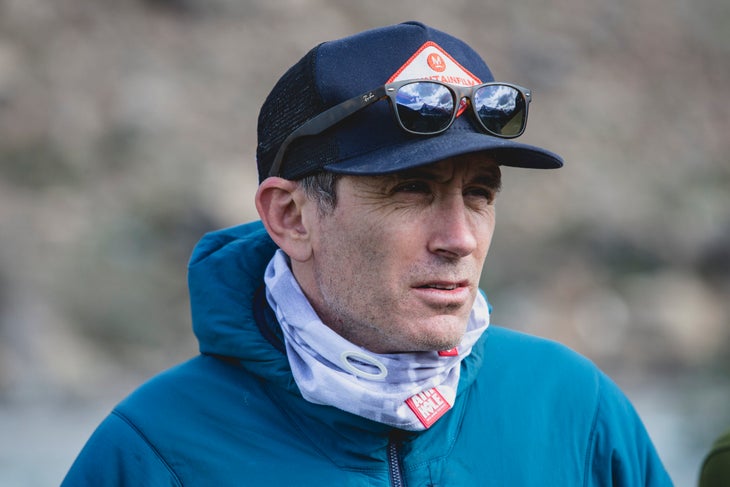 Mortimer and Rosen will attend, with Josh and Brett Lowell, their partners at Sender Films, who also contributed to The Alpinist; Ben Bryan, their partner at Red Bull Media House and a producer; and other producers. Rosen, Mortimer and Bryan would take the stage in case of a win.
The film is packed with electrifying footage of the brilliant Canadian alpinist Marc-André Leclerc, often ropeless, on far-next-level objectives. Asked what he would say if given that opportunity to speak, Rosen is conflicted, given the loss of the movie's revered central character. Leclerc was killed after what was thought to be completion of the film.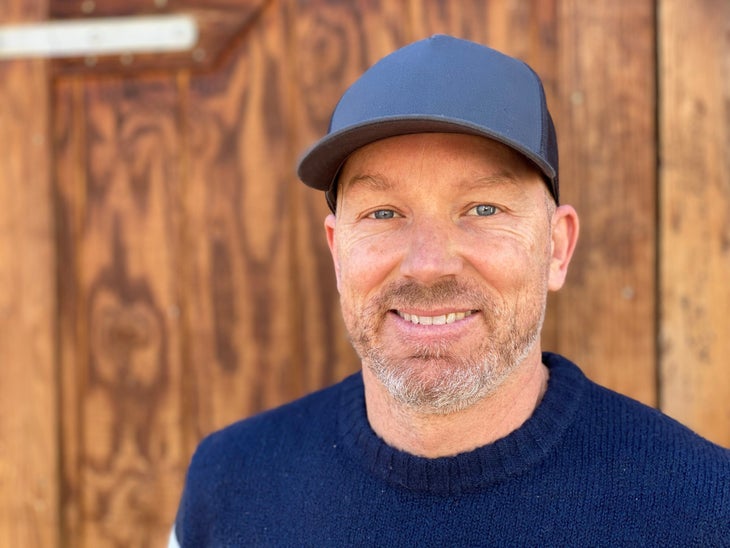 "Honestly, I feel a bit weird about a victory speech," Rosen says in an email. "Peter and I were very lucky to have been allowed, sometimes a bit grudgingly, into Marc-André's beautiful, terrifying world for a couple years, so we could track and observe such a rare creature in his wild element. I'm not sure I've ever met a climber, or any human being, with such a pure, grandiose vision and the talent to realize it." The cinematography and storytelling, he says, "owe much" to Leclerc.
"Marc-André deserves to be there at the Emmys with us, though I am pretty sure that being trapped in a big city and stuffed in a starchy outfit and thrown in the spotlight would be his absolute fucking nightmare."
The team pushed to add Marc-André to the cinematography credits.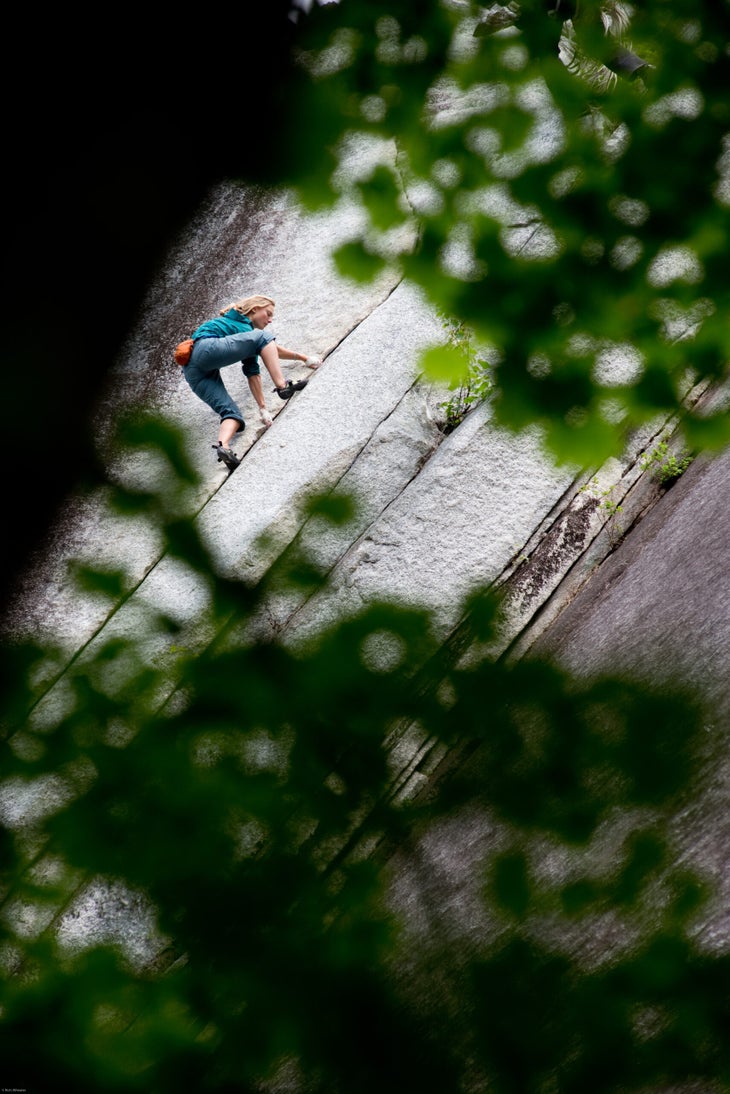 *
This is not Mortimer's and Rosen's first Emmy rodeo. Remember the great Valley Uprising? In 2016 it won a News & Documentary Emmy Award for Graphic Design & Art Direction.* In 2007 Josh and Brett Lowell were awarded (also with Sender Films) a Sports Emmy for Outstanding Camera Work for a segment on Chris Sharma's first ascent of Es Pontas, in Mallorca, Spain, which aired on NBC's Jeep World of Adventure Sports. Their episode of the First Ascent Series "Fly or Die" was nominated for a Sports Emmy in Cinematography in 2010.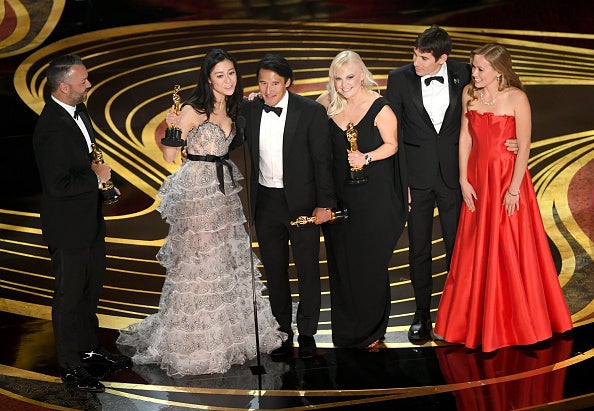 *
In any recent news of climbing films at the Emmys or the Academy Awards, Free Solo (2018), co-directed by Elizabeth Chai Vasarhelyi and Jimmy Chin, stands out inexorably. In 2019, after collecting the Best Documentary Feature win at the Academy Awards in February, the film received seven nominations for Creative Arts Emmy Awards—and, at the ceremony in September, swept them all. The honors included outstanding direction, cinematography, and interactive media.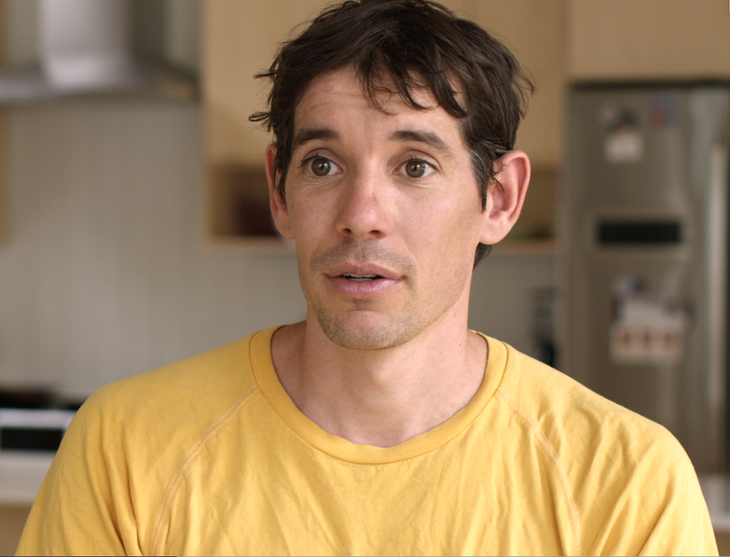 Free Solo, tracing Alex Honnold's journey to the historic first ropeless ascent of El Cap, via Free Rider (5.13a, 30 pitches), also won for Best Documentary at the BAFTAs (British Academy Film Awards, which are the British version of the Oscars).
*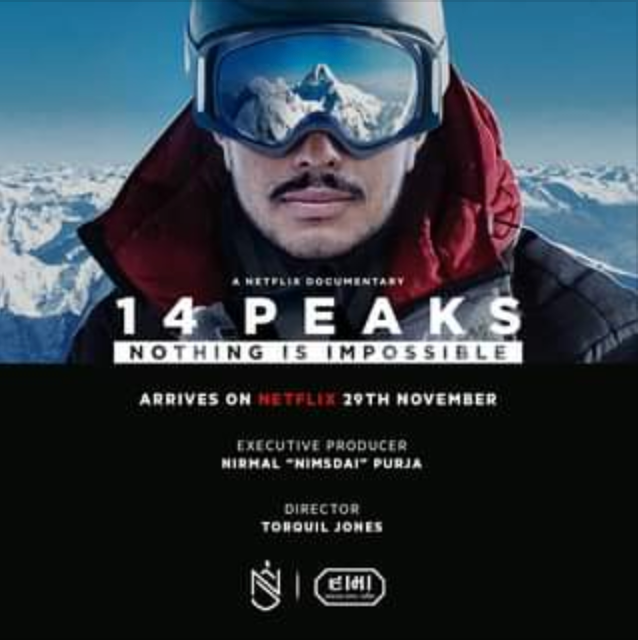 The Alpinist and Free Solo are shining examples in the slew of top-drawer, general-interest climbing-feature films to come out in recent years. Consider Meru (2015) and The Dawn Wall (2017); or that Renan Ozturk has been cinematographer on many films, including Sherpa: Trouble on Everest (2015), a BAFTA nominee; and that 2021 brought us 14 Peaks: Nothing is Impossible as well as The Alpinist.
The new The Sanctity of Space (2022), directed by Ozturk and Freddie Wilkinson, opened in select theaters nationwide this past weekend, May 14-May 15. It follows a quest, inspired by an old Bradford Washburn photo, that leads to a new route (an immense traverse) on the Mooses Tooth, Alaska Range.
In 2019 Ozturk, Anson Fogel and Tim Kemple were nominated for a commercial-category Emmy for an Earth Day video shot for Apple on an i-Phone.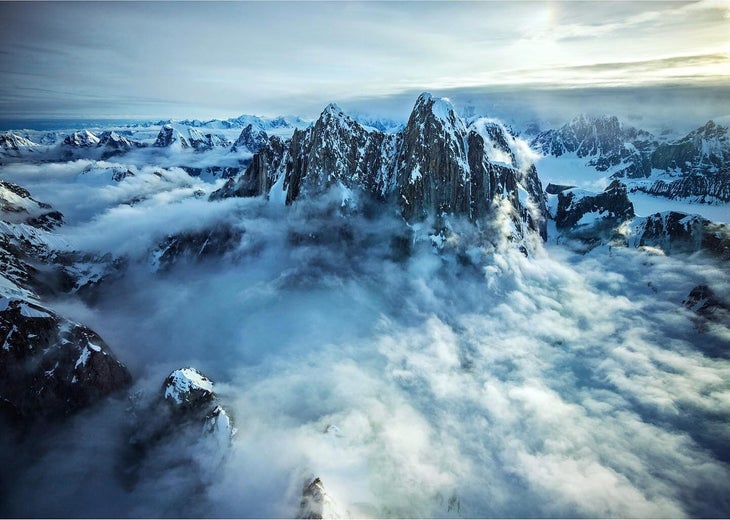 In "The Sanctity of Space," Renan Ozturk and Freddie Wilkinson Seek Alaskan First Ascents and Purpose in Exploration
Chin and Vasarhelyi's riveting 2021 film, The Rescue, about the young soccer team trapped in a flooded cave in Northern Thailand in 2018 (and a cave-diving rescue in which climbers were involved), made the short list for this year's Academy Awards but was not nominated.
As Chin said beforehand, whatever the outcome might be, "We told the story the best we could."
The film was nominated for a BAFTA award in Best Documentary.
Climbers In "The Rescue," Latest Film from Chai Vasarhelyi-Jimmy Chin
In past BAFTA recognition, Touching the Void (2003, based on the bestselling memoir by Joe Simpson), won the Alexander Korda Award for Best British Film at the 2004 awards. The film recalled how in 1985, Joe Simpson and Simon Yates of the UK made the first ascent of the West Face of Siula Grande in the Peruvian Andes. After Simpson fell high on the face, shattering his leg, Yates got him off the mountain in a vicious storm, but in an accident near the base, Simpson fell into a deep crevasse. He ended up crawling out alone five miles to reach camp.
*
Other, earlier climber filmmakers have history with Emmys and Academy Awards as well.
As early as 1972, Bob Carmichael produced the 14-minute Break on Through—not the modern one, directed by Matty Hong as well as Mortimer-Rosen, about Margo Hayes climbing 5.15—on Roger Briggs and Duncan Ferguson doing Eldorado's Naked Edge (5.11). Believing in the material, Carmichael hitchhiked to New York and swiftly sold it to CBS Sports. He made numerous climbing films, including one on Lynn Hill and Beth Bennett during an early women's ascent of the Edge, and in 1979 his and Greg Lowe's Fall Line, not on climbing but extreme skiing on the Grand Teton, received an Academy Award nomination.  In 1988, he and crew filmed the first Snowbird International Climbing Competition, also for CBS Sports. (Carmichael won a Sports Emmy in 1983 for a documentary on football injuries.)
As far back as 1974, Mike Hoover's 15-minute climbing film Solo was nominated for an Academy Award in Best Documentary Short; his and his co-director Tim Huntley's 1984 documentary Up, about a man who sets a hawk free and then seeks it on a hang glider, won for Best Short Subject. Hoover and Bev Johnson (first woman to solo, meaning rope solo, El Cap) were a powerhouse married adventure-filmmaking team, including filming on polar exploration. (Vasarhelyi and Chin are also married, as are Ozturk and Taylor Rees, another filmmaker, per below). Johnson was one of three killed in a helicopter crash in 1994; Hoover alone survived.
A longtime Yosemite climber, Mark Chapman, as noted in our profile of Earl Wiggins, shared in two Academy Awards, a Technical Achievement Award in 2006 and a Scientific and Engineering Award in 2011, and credited Wiggins (deceased), telling us: "Earl's idea to build computer-controlled winches was at the heart of this technology. When Earl approached me with the concept in 1998, no one had anything like it."
*
David Breashears was the first ever to transmit live footage (video) from the top of Everest, on May 7, 1983. Age 27, he had been sent to Everest by John Wilcox, series producer for "American Sportsman," ABC.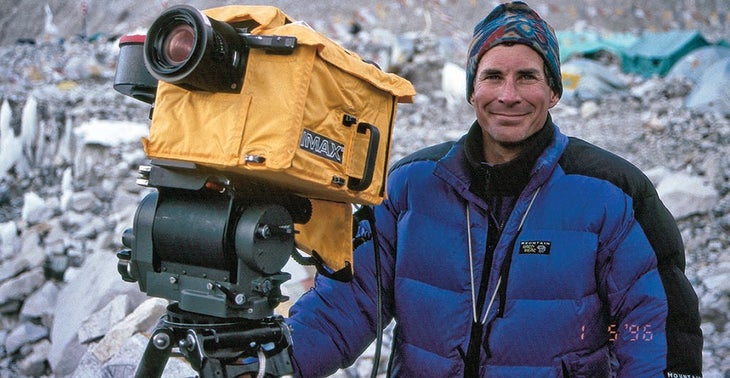 Asked in what category the award was, Breashears muses of his statues, "I don't know. They're in storage."
He got another Emmy for Everest footage, from the Kangshung Face, filmed that fall of 1983.
Breashears has received four Emmys and climbed Everest five times, though is best-known for the 1998 IMAX film Everest, which covered the disaster of May 10-11, 1996, during which his team stopped filming and provided aid to others.
The team regrouped after the tragedy, waiting and reaching the summit on May 23. "It took a lot of resolve," he says. "Because we knew Scott [Fischer] …. Ed [Viesturs, with Breashears's team] had climbed a lot with Scott, and had worked with Rob [Hall] the year before." Fischer and Hall were among the eight who died. "We were traumatized" by all of the losses, Breashears says. The film, for which he was cinematographer and producer, remains the highest-grossing IMAX film ever.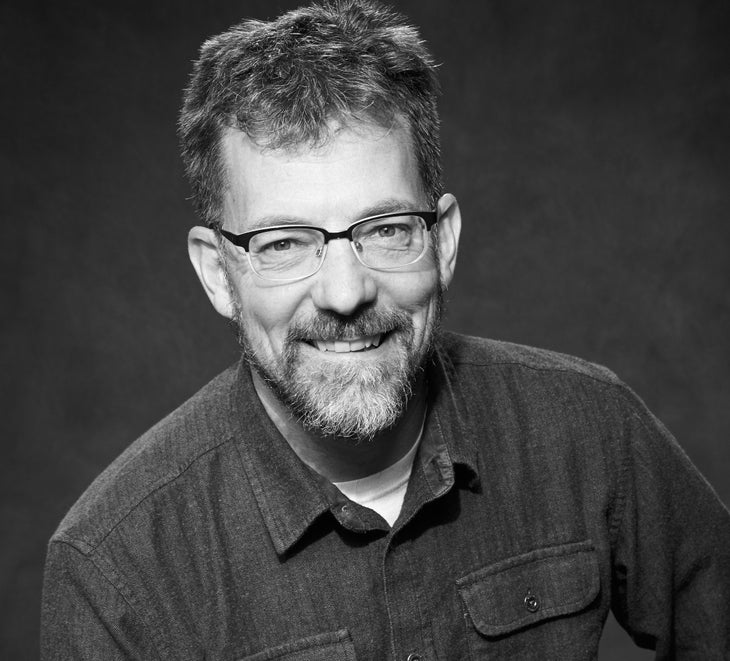 Michael Brown of Serac Films, another repeat Everest ascentionist (five times) has three official Emmys, Sports Cinematography Category, on his shelf from among five nominations.
Brown tells us, "It was a thrill to be nominated for an Emmy for the first and subsequent times. For those of us who suffer from imposter syndrome, it helps us look back and say, 'Perhaps my work wasn't so bad after all!'"
The first was for the climbing and skiing film Mount Cook, Summit of Extremes for ESPN's Expedition Earth, produced by John Wilcox of Aspen, and in which Bruce Grant—who later died on K2 with Alison Hargreaves and Rob Slater, among seven lost in 1995—skied off the summit of Mount Cook with Jim Zellers, a snowboarder.
Brown recalls: "The Emmy says 1993—I still have the statue, with a broken wing from some move, held together with gaffer's tape." His other Emmys were in 1996 and 1997.
His film with Erik Weihenmayer on Everest—Farther Than the Eye Can See, on Weihenmayer's historic ascent as a blind person—was nominated in 2002 for best documentary and cinematography. "Erik was a blind nominee," Brown notes, "as a producer."
In 2003 Liesl Clark won a Primetime Emmy Award for "NOVA: Mountain of Ice," about an ascent of Mount Vinson in Antarctica with Conrad Anker and Jon Krakauer while studying the rates of snow accumulation in the region. A science and adventure filmmaker, she also shared nominations in 1999 and 2004.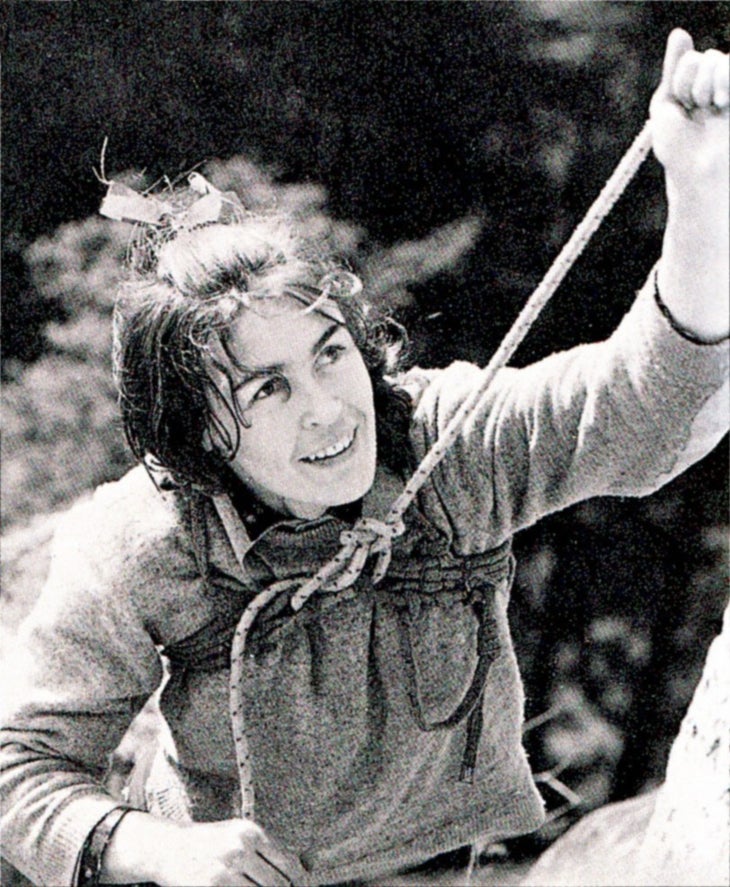 *
While historically relatively few women (note Chai Vasarhelyi, Bev Johnson, and Liesl Clark above) have pursued a career in mountain cinematography, Julie Tullis (UK) was a British climber-filmmaker who went on numerous high-altitude filming expeditions. Tullis died at 45 descending from the summit of K2 in the tragedy of 1986, which took the lives of four others as well.
In 2003 Jennifer Jordan made the documentary Women of K2; in 2005 Jordan published the book Savage Summit: True Stories of the First Five Women Who Climbed K2. At that time the only five women to climb K2 had all died, three on the mountain and two others afterward. One was Tullis, and another was Wanda Rutkiewicz.
Wanda Rutkiewicz (POL), who climbed eight of the 14 8000-meter peaks before she disappeared on Kanchenjunga in 1992, at age 49, directed mountain films including Nanga Parbat 85 (1986), Requiem (1987) and Karnawal pod Cerro Torre (1990).
In recent years Taylor Rees has shot film on a National Geographic expedition to Myanmar for Down to Nothing; spent weeks skiing through Iceland for The Coldest Crossing; filmed during Alex Honnold's free solo of El Sendero Luminoso in the Portrero, Mexico; and was a co-director in post production on Ghosts Above and Lost on Everest.
Rees's middle name is Free Solo: "Yes, on the birth certificate," she confirms. "My parents were climbers and lovers of the idea of being responsible for your own life and path, not relying on ropes or believing in safety nets."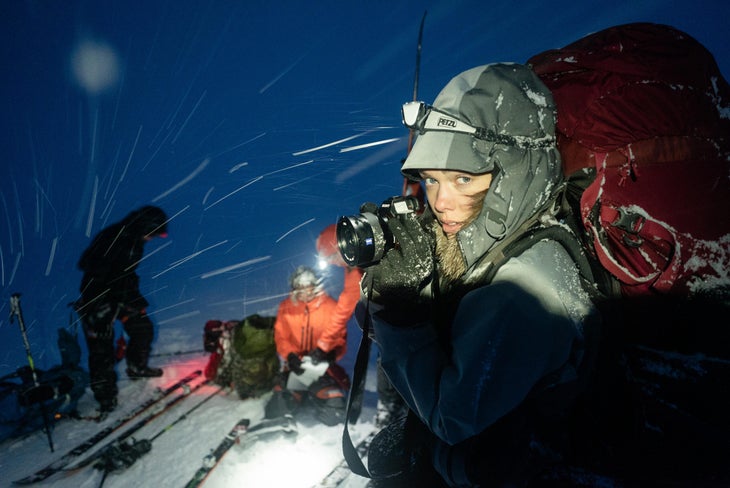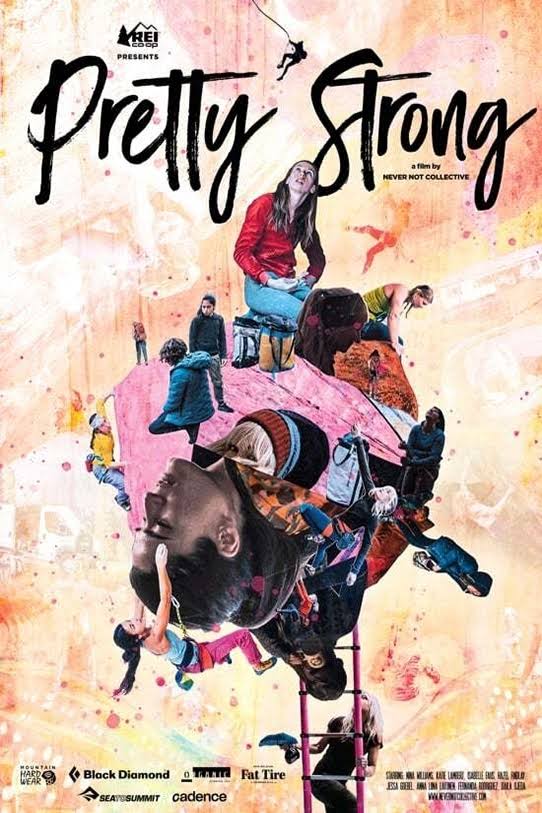 Other strong up and comers in the climbing genre (and all exceptionally strong climbers) include Colette McInerney, who released her first feature, Pretty Strong, co-directed with Julie Ellison and Leslie Hittmeier, all of Never Not Collective, in January 2020. Tara Kerzhner created Slaydies, also an ode to hard climbing by women, done with McInerney, and Wild and Wonderful, about the first deep-water-soloing comp on rock, in the New River Gorge in 2016; it was re released in a dedication to Inge Perkins, women's winner, who died in an avalanche in Montana in 2017. Kerzhner was director of photography on This is Beth (a short documentary on the life of Beth Rodden, 2021), directed by Jen Randall, who has been coming out with climbing and mountain films, including Psycho Vertical (2017), for a decade. Henna Taylor directed the 87-minute An Accidental Life (2022), about Quinn Brett and her journey after a fall in Yosemite left her paralyzed from the waist down; and Caroline Treadway directed Light (2021), about eating disorders in top-level climbers, especially women, but affecting men as well.
"Wow, that's so exciting about The Alpinist!" says Treadway in an email, adding in response to a question, "I wish I had an Emmy or an Oscar but sadly that hasn't happened … yet. : )"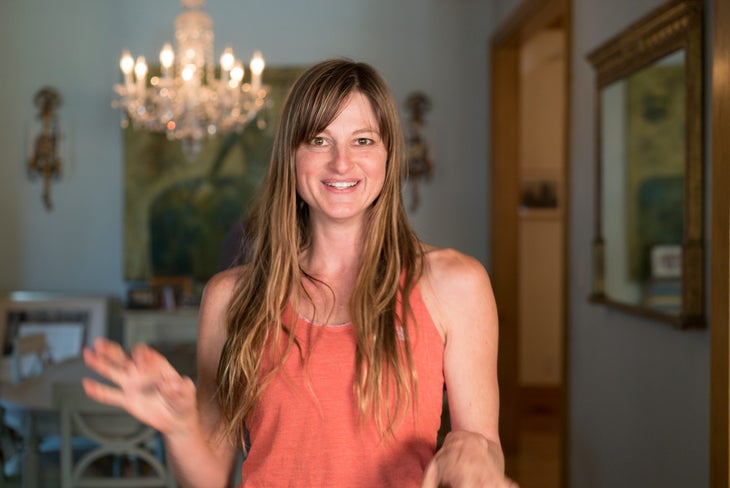 Light: A Documentary About Eating Disorders in Rock Climbing
*
Look to the future, and it is bright. Marie-Louise Nkashima, a young rock climber and a 2021 graduate of New York University film school, in September became the first Black woman athlete on The North Face team.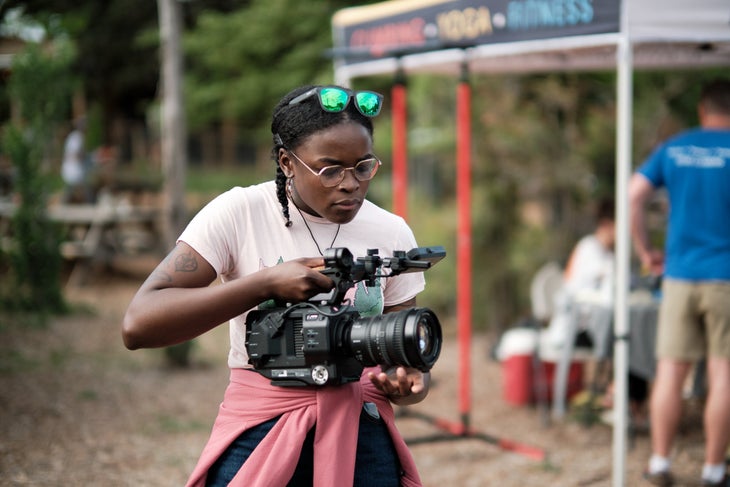 She posted her thanks on Facebook (shared with permission): "In this role I have hopes to share stories about adventure and how it applies to the human experience. Our connection to Nature is wildly overlooked in modern culture. I want to share that everyone, even regular folks like me, can find their place back home in the outdoors."
*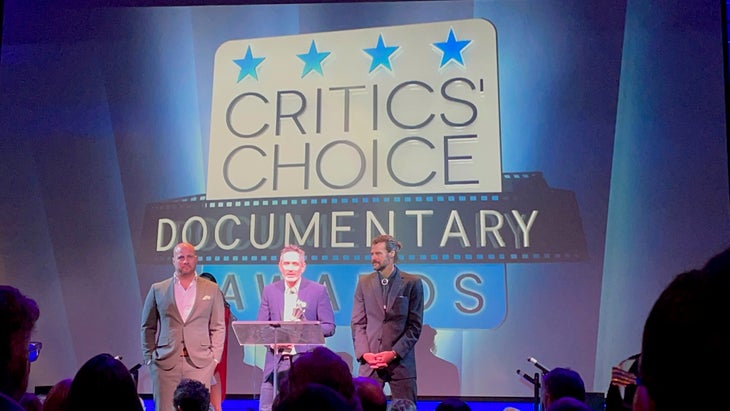 These days the Sender film crew is holed up working on content for their next season's touring-streaming filmfest, Reel Rock 17. They will come out of their home offices on May 24, however, to attend the Emmy Awards, beginning at 5 p.m. EST.
Nick Rosen, asked whether The Alpinist is his and Mortimer's hardest film to make, says: "We have made challenging films before, but what happened to Marc-André made this especially difficult. A lot of very sad, dark nights in the edit room. At the same time, seeing the effect Marc had on so many people has been incredibly gratifying."
* Named on the Valley Uprising Emmy for Outstanding Graphic Design & Art Direction were:
Barry Thompson (motion graphics)
Marten Blumen (additional motion graphics)
Eric Bucy (additional motion graphics)
Sari Jones (additional motion graphics)
Wesley Meeks (additional motion graphics)
Mark Palkoski (additional motion graphics)
Greg Twigg (additional motion graphics)
See also:
Marc-André Leclerc & The Alpinist: What It Means to Live, and Die, in the Mountains
Brette Harrington Recalls Life With "The Alpinist" and Daring Soloist Marc-André Leclerc
New Film Alert: The Ledge is a Modern Cliffhanger—But With a Female Lead
The New Movie "Infinite Storm" Chronicles a One-Woman Mountain Rescue
This Tom Ballard Documentary is a Flawed, But Poignant, Portrait of Loss in the Mountains