Heading out the door? Read this article on the new Outside+ app available now on iOS devices for members! Download the app.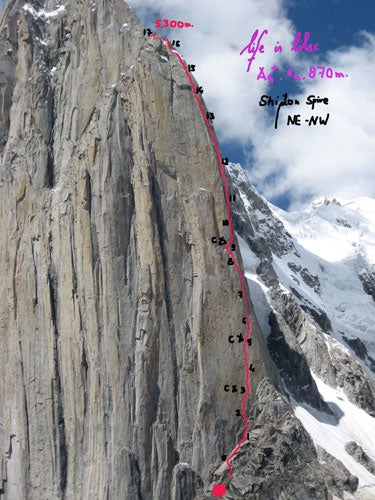 Silvia Vidal aid-solos monster line on Shipton Spire
Shipton Spire is a bear. It stands 19,308 feet above sea level along the Baltoro Glacier of the Karakoram Himal, and the main faces tower more than 4,000 feet. Some of the climbs earn grade VII, stretching 30-plus pitches up monolithic granite to mixed terrain to summit. Though the tower has gained popularity, it's still a frightening place.
The accomplished wall specialist Silvia Vidal, 36, of Barcelona, Spain, recently stuck her neck out (solo) on a new Shipton line: Life is Lilac, completed over 21 days this July (10 through 30) and clocking in at 2,900 feet, 5.10 A4+. The climb follows the Northeast Pillar, with a few pitches in the middle detouring onto the Northwest Face and the climb finishing at a saddle at around 17,400 feet. Vidal did not summit; she fixed the first 700 feet over the first eight days, hitting the A4+ crux four pitches up – 100-plus feet, a two-day nut to crack. From there, she cast off, mostly aiding because her Soloist self-belay plate worked best for that and to preserve energy, for hauling.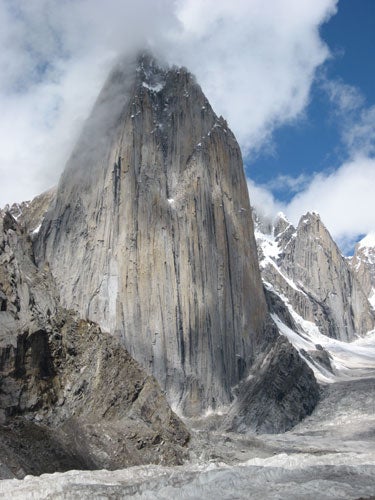 You talked about the moments of craziness up there, being alone on Life is Lilac – were there also moments of black?Lilac was the main color, and the rest of the colors were also there but with less intensity. Sometimes it was lilac with black dots, and only during the rappels, the dots were really big.
Describe the "craziness."When you are alone and in silence for a long time, deep feelings start to appear. Because of the silence, you are able to hear many things. Nothing annoys you.
I don't know where my mind goes. It's just that it goes, but always returns. So that's no craziness.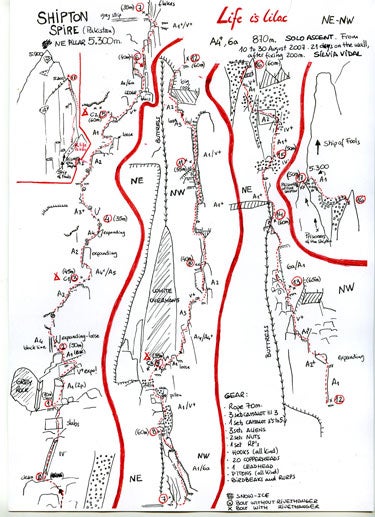 Did you have any companions?This time I took Setis, a plush beetle that a good friend made for me and gave as a present for the expedition. Usually, I don't have something as a lucky amulet.
How do you fund these trips?During the year, I do slideshows. And if I need more money, I work with windmills — installing the wire cable for security, inside the windmills. I get a little money from my sponsors. But one month before leaving, I had problems with some of my sponsors and they dismissed me. So I didn't get money for the Shipton trip. I paid for everything myself.
Does the fear ever go away on a solo wall?Fear is always present, but never panic. You need to deal with fear all the time. Sometimes it's more present, sometimes it seems it's not there, but it's, like, colors and dots. How to reduce the dots — that's the story.
What color is life now that you're back home?Still lilac.
Photo by Silvia Vidal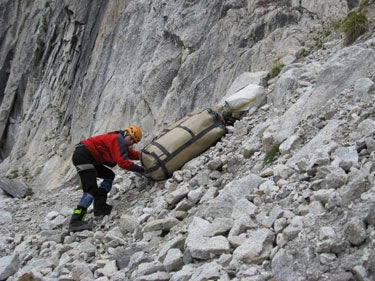 Photo by Silvia Vidal