The Front Climbing Club reaches new heights through 100 percent commitment to Blue Sky renewable energy
Heading out the door? Read this article on the new Outside+ app available now on iOS devices for members! Download the app.
Highlights from the 2006 SENDFEST event at The Front Climbing Club.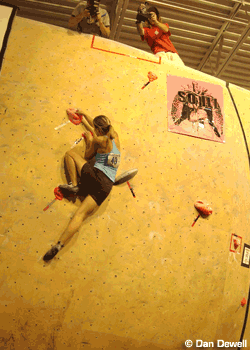 SALT LAKE CITY — It takes passion and perseverance to become a skilled rock climber, and The Front Climbing Club is showing this same dedication in its efforts to help protect and preserve the environment. The Front has committed to purchasing Blue Sky renewable energy equal to 100 percent of the electricity used to power its 10,000 square-foot world-class indoor rock climbing facility.
The Front's purchase of 76, 100-kilowatt-hour Blue Sky blocks per month will offset 91.2 tons of carbon dioxide emissions each year; providing annual benefits equivalent to not driving more than 195,396 miles or planting nearly 36 acres of trees. When climbers are not training indoors, they are enjoying beautiful environments in climbing destinations across the world. The Front's support of renewable energy is helping preserve these beautiful places today and into the future.
"From the design of our wall to our competitions, The Front always has been a pioneer in the world of climbing gyms," says Sandy White, general manager of The Front. "We're proud to be the first climbing and fitness gym in the United States to be an EPA Green Power Partner matching 100 percent of our electricity use to renewable energy; we are doing our part to preserve the environment for future generations of climbers."
Rocky Mountain Power's Blue Sky renewable energy program provides its customers with an easy, convenient way to support new renewable energy development and help community-based renewable energy projects get off the ground. Customers can buy Blue Sky in 100-kilowatt-hour blocks for $1.95 each, in addition to their regular monthly electricity bill. Business customers can save on larger purchases. Enrollment is optional, and customers can increase their participation or withdraw from the program at any time.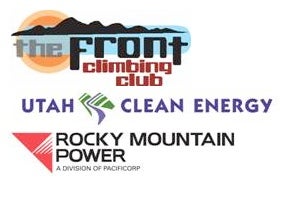 Renewable energy already is included in the mix of resources Rocky Mountain Power uses to generate power for its customers. Blue Sky provides an avenue for customers to support even more renewable energy on the system, or, like The Front, to match 100 percent of their electricity use to renewable sources.
"As a fellow climber and outdoor enthusiast, I commend The Front for their leadership in choosing clean, renewable energy," says Sara Baldwin of Utah Clean Energy. "The energy we use can have a significant impact on the places we enjoy for recreation. Choosing renewable energy is a great way to reduce the impacts of climate change and air pollution, while driving the demand for a cleaner energy future."
Located in downtown Salt Lake City at 1450 South 400 West, The Front Climbing Club offers something for everyone, from the beginner to the hard-core competitive climber. The Front's spacious rock climbing area was specifically designed for bouldering and includes additional dedicated wall space for top rope climbing. The Front provides the right equipment, training and support to ensure a great rock climbing experience. The Front is the first climbing and fitness gym in the nation to be recognized as an U.S. Environmental Protection Agency Green Power Partner for purchasing Blue Sky renewable energy equal to 100 percent of its electricity needs. The gym also features recycling and waterless urinals in an effort to reduce its impact on the environment. More information is available at www.frontslc.com.
Blue Sky is one of the most popular green-power programs in the United States, and is currently ranked second in the nation for the number of customers enrolled. In Utah, more than 22,300 residential and business customers buy Blue Sky renewable energy. More than 58,000 customers buy Blue Sky in the Western United States. For more information about Blue Sky, or to sign up, call toll free at 800-769-3717 or visit www.rockymountainpower.net/bluesky.
More about Utah Clean Energy Utah Clean Energy is a nonprofit public interest group working to speed the transition to a cleaner, safer, more sustainable energy future. Through advocacy, education and diverse partnerships, Utah Clean Energy advances the use of renewable energy and energy efficiency. For more information, visit www.utahcleanenergy.org.