The GOOD MEN PROJECT ANNOUNCES WINNING ESSAY ON WHAT IT MEANS TO BE A GOOD MAN IN AMERICA TODAY
Heading out the door? Read this article on the new Outside+ app available now on iOS devices for members! Download the app.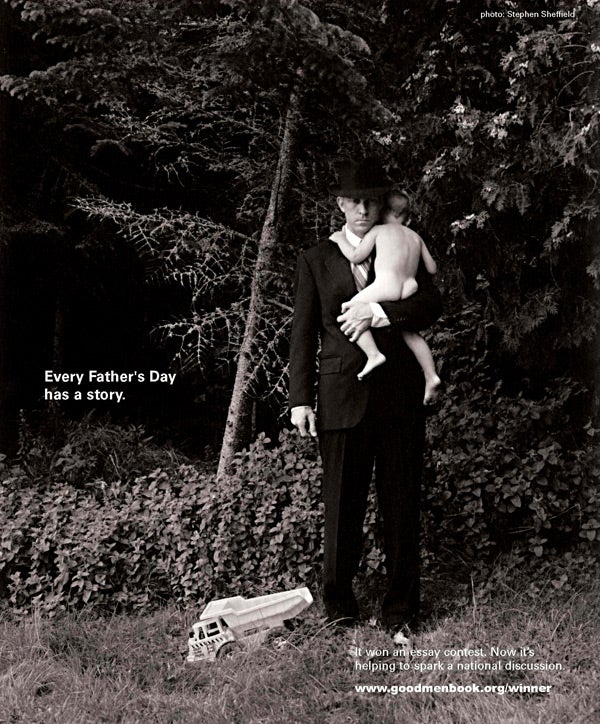 "Iowa Black Dirt" by Perry Glasser Wins National Writing Contest
NEW YORK/BOSTON, June 15, 2009 — The Good Men Foundation, a charitable corporation dedicated to helping organizations provide educational, social, financial and legal support to men and boys at risk, today announced Perry Glasser as the winner of TheGood Men Project National Writing Contest (goodmenbook.org). As the Grand Prize winner, Glasser will receive $1,000, and his essay, "Iowa Black Dirt," will be published in The Good Men Project anthology in November.
"Iowa Black Dirt" is the story of a man unexpectedly gaining full custody of his of his 8-year-old daughter and then embracing his role as a full-time single parent. Through his unconditional love for his daughter, he learns what it means to be a father and learns about what it means to be a good man.
"This essay was first composed during a miserable year in Kansas when I lived in a borrowed furnished basement whose original residents, a cadre of crickets, resented my presence," says Glasser. "Desperate to remember better times, I thought of my daughter and raising her as a single parent."
To generate more diverse content for the book and to foster a broader dialogue about what it means to be a good man in America, the editors of The Good Men Project sponsored the national writing contest. Each writer submitted an original essay focusing on a defining moment in his life that caused a fundamental change in his understanding of himself as a man.
TheGood Men Project received well over 100 submissions. In addition to awarding the winning entry, thejudges selected five runners-up for $500 prizes:
Jeffrey K. Wallace, Trabuco Canyon, Calif., "No One Saw a Thing"

Keith Ackers, West Chester, Pa., "The Most Important Job"

Joseph Levens, Smithtown, N.Y., "Resolution"

Stephen Karl Klotz, York, Pa., "Dad, Retired and Rehired"

Ricardo Federico, Bowling Green, Ky., "Whatever It Takes"
"The Good Men Project National Writing Contest is a platform for men to communicate through their experiences," saysTom Matlack, cofounder of The Good Men Foundation. "There is no more important question at this moment in history—with markets collapsing, corruption rampant, two foreign wars, environmental disaster at hand, and the fabric of the American family disintegrating—than what it means to be a 'good' man."
In November, The Good Men Project anthology of essays will be published. The authors, a wide cross section of men, draw upon their experiences as sons, husbands, fathers, or workers and explore the perspectives they have gained from those moments.
For more information about the anthology and the foundation, please visit www.goodmenbook.org.
About The Good Men FoundationThe Good Men Foundation (www.goodmenbook.org) is a registered New York State charitable corporation dedicated to helping organizations that provide educational, social, financial, or legal support to men and boys at risk. All proceeds from the publication and sales of the book The Good Men Project will be distributed to The Foundation and will be used exclusively for the charitable mission of The Foundation. The Foundation is in the process of applying for not-for-profit tax-exempt status under Section 501(c)(3) of the Internal Revenue Code. It is anticipated that all grants from The Foundation will be made to other 501(c)(3) certified organizations.
About Perry GlasserPerry Glasser (www.perryglasser.com) is the author of the forthcoming Dangerous Places, a collection of short fiction that received the 2008 G.S. Sharat Chandra Prize from BkMk Press at the University of Missouri–Kansas City. He also has published two prior collections of short fiction, Suspicious Origins (St. Paul: New Rivers Press) and Singing on the Titanic (Urbana and Chicago: University of Illinois Press), a book recorded by the Library of Congress. Glasser's consumer freelance magazine journalism has appeared in such venues as the Chronicle of Higher Education, Poets & Writers, Phi Delta Kappan, and Dad's Magazine; his book reviews have been featured in the New York Times Book Review and the Chicago Tribune. Glasser resides in Haverhill, Mass., and is a professor at Salem State College, where he coordinates the Professional Writing Program.