The Haute Route in a Day!
Heading out the door? Read this article on the new Outside+ app available now on iOS devices for members! Download the app.
Stéphane Brosse (left) and Lionel Bonnel celebrate their arrival in Zermatt, a little over 21 hours after leaving Chamonix on foot. Most skiers take a week to cover the same distance, with the help of ski lifts and buses. Courtesy of Kairn.com.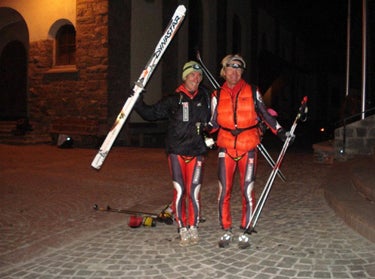 A pair of elite French skiers has completed the famed Haute Route from Chamonix to Zermatt in less than 24 hours. The ski-mountaineering traverse has many variations, but generally covers around 60 miles and takes most parties six to seven days to complete.
Lionel Bonnel and Stéphane Brosse did the route in style, using no ski lifts or other motorized assistance. The two walked or ran in the valleys and skied the rest of the way, carrying all of their own gear. (They cached food and drinks at three stops along the way). Along with Laurent Fabre, they started from the church in the center of Chamonix, France, at 1 in the morning, and arrived in downtown Zermatt, Switzerland, at 10:11 p.m. the same day, for an elapsed time of 21 hours 11 minutes. En route, Bonnel and Brosse climbed more than 28,000 vertical feet and descended about 26,000 feet. Exhausted, Fabre abandoned the quest in midafternoon.
The Ottema Glacier in southern Switzerland. Skiing up this long, flat glacier was the final crux in Stéphane Brosse and Lionel Bonnel's sub-24-hour traverse of the Haute Route. Photo by Seabhcan / Wikipedia.org.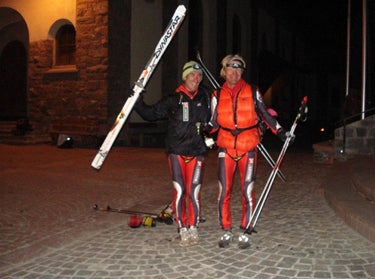 In an interview at Kairn.com, Brosse said they had several moments of grave doubt during the traverse, the first time between the Col du Chardonnet and the Col de la Grande Lui, between 4 and 5 in the morning, when, amid wind and falling snow, they got off-route and had to plow through a foot of new snow. The second crisis came when Fabre, completely drained, called it quits during the long climb to the Col du Sonadon. And finally, Brosse and Bonnel suffered serious morale problems during the seemingly endless climb of the six-mile-long Ottema Glacier, when they gained only 250 feet in an hour during the midafternoon heat.
Both men are veteran ski mountaineering racers. Brosse, 36, is a past world champion in ski mountaineering, and has won many of the sport's most prestigious races; he and Pierre Gignoux also set the speed record for climbing Mont Blanc by skis in 2003: from Chamonix to the 15,781-foot summit and back in 5 hours 15 minutes and change. Bronnel, 40, is a longtime member of Le Groupe Excellence of the Federation of French Alpine Clubs.
Date of Traverse: May 2, 2008
Sources:Kairn.com, Skimountaineering.org, Ffcam.fr
MORE NEWS: