The International Climbers' Meet Recap
Heading out the door? Read this article on the new Outside+ app available now on iOS devices for members! Download the app.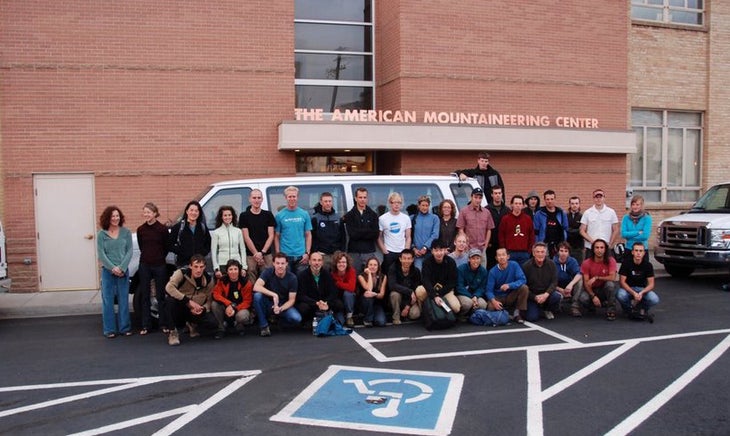 Last year I was honored to be the guest speaker for the BMC's annual banquet in Wales. While there, I was intrigued by the positive things I heard about the annual International Climbers' Meets that the BMC had been doing for a number of years. A perfect thing, I thought, for the AAC to do, especially with America's frayed reputation around the globe. The AAC with its International reach was in a perfect position to pull off such an event and with thumbs up from the staff and the Board of Directors, America's first International Climbers Meet (ICM) became a reality.
Selecting Indian Creek (IC) as the first venue was easy. IC with its miles of sandstone cliffs sporting hundreds of splitter cracks set in the beautiful high desert of Southeast Utah is quintessentially American. I like to say that the climbing in IC is world class and the camping is even better.
The AAC, largely because of work that we did with addressing the solid waste problem in IC, also has a great relationship with the local Bureau of Land Management (BLM).
We were pleasantly surprised that 49 climbers from 23 countries signed up for our inaugural event. Europe was well represented but it was gratifying to see climbers from Russia, China, Japan, Turkey, South Africa, Brazil and Australia there as well. The 24th country, America, was represented by 30 host climbers from a dozen different States.
We selected our campsite because the large amount of flat bedrock allowed us to accommodate such a big group with a minimal amount of negative environmental impact. Stewardship of the places where you play was a main theme of the event. Two representatives from the BLM gave a great fireside chat about protecting an area with delicate desert ecology and numerous Native American artifacts.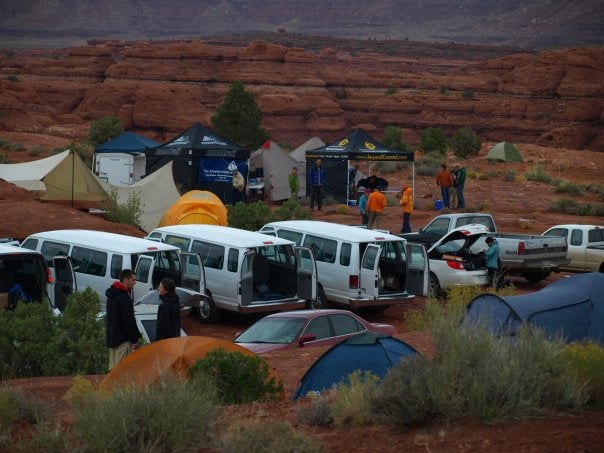 Providing food for 80 ravenous climbers in an area miles from the nearest store or running water was a challenge. Our caterer pulled it off even serving up bear sausage the first morning.
The international climbers were more than a little impressed by the beauty of the area and the quality, and difficulty, of the climbs. There are few other places worldwide that can prepare you for splitter cracks in vertical, hold less, sandstone. The host climbers were able to show their expertise and provide some on spot clinics on the subtleties of jamming. The international climbers seemed to appreciate the learning experience and I'm sure that they will be the ones giving lessons on technique when they go home.
Nights were an occasion for our director of fun and games, Brittany Griffith, to shine. The camp was blessed by a natural rock amphitheater that allowed all 80 climbers to share one campfire. Brittany kept things lively with nightly games and awards. George Lowe, AAC Board Member, triumphed with an award for the one most likely to get a citation from the fashion police.
The six days went by too quickly. My most lasting impression is that climbers, no matter where they are from, are all members of one tribe. The camaraderie between climbers from vastly different cultural backgrounds was astonishing. New friendships were forged that transcend culture, religion and borders. I feel that what I saw happen at the ICM is the future for our shrinking planet. People coming together and appreciating each other because of what they have in common not shunning each other because of cultural differences.
Nothing as complex as the ICM could have happened without a lot of hard work from the AAC staff. Thanks to all. I especially want to thank volunteer coordinator, Dana Richardson, and events coordinator, Brittany Griffith, for helping make this such a great event.
See a photo gallery by Anna Piunova from The International Climbers' Meet HERE
For more information about the AAC and the ICM visit the: AmericanAlpineClub.org