The Kilimanjaro glaciers are turning straight to vapor
Heading out the door? Read this article on the new Outside+ app available now on iOS devices for members! Download the app.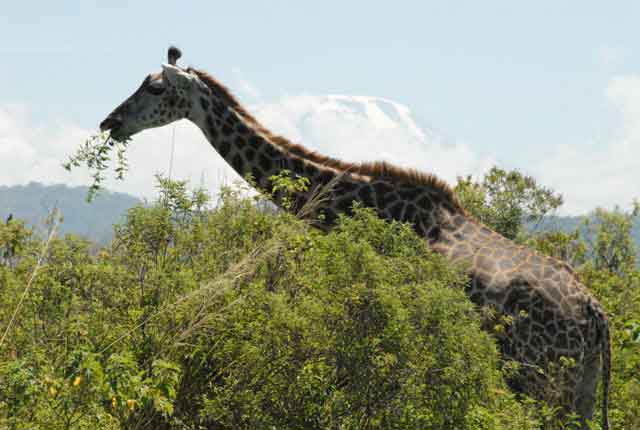 The Arrow Glacier is no longer on Kilimanjaro. The Heim Glacier was a very famous for glacier climbing before 1996 but now almost all of it has evaporated. The Northern ice fields are mostly gone as well and half of the Fortangular glacier has receded. In this interview with Navaya ole Ndaskoi, Alexander Lemunge, Executive Director and Senior Trip Leader of East African Voyage Ltd (who's led thousands of tourists to the top of Kilimanjaro, 5,895 meters) said that these are definitive footprints of global warming confronting mankind.
Question (Q): Would you mind telling our readers about your self?Answer (A): I was born on the foothills of Mount Kilimanjaro in 1968. I spent my early life supporting the family like many children in Africa and attaining formal education. In 1997 I traveled to USA to become a certified Wilderness First Responder and CPR Emergency Cardiac Care Provider. During my stay in US, he attended leadership training with NOLS (National Outdoor Leadership School) completing the Outdoor Educator Course. I also attended several other courses with NOLS in East Africa. In the meantime, I studied a lot about High Altitude Physiology and rock climbing. I attended an interpretation course conducted by Richard Estes who is a well known researcher, conservationist and writer who has been doing field work in Africa since 1963. I attended a two-week course at the college of Africa Wildlife Management at Mweka, Tanzania. I also worked with Tanzania National Parks Authority to organize and recruit over 500 mountain guides, currently leading trips on Mount Kilimanjaro. I trained Kilimanjaro and Meru rescue teams in rescue skills and evacuation. Currently I am doing Bachelor of Arts (BA) in Tourism at the Open University of Tanzania. Today I have my own company called East African Voyage Company Limited and I still work on contract basis with companies as a trip leader in Tanzania, leading treks on Kilimanjaro and safari. I have been in the tourism industry in Tanzania since 1994. I led over 150 ascents on Mount Kilimanjaro. The clients I led have successfully climbed to the summit of Kilimanjaro on over 95 per cent.Q: How do you describe the tourism infrastructure in Tanzania?A: Infrastructure is very broad. I would like to comment on its three aspects. First, the roads are generally is poor condition. During the rain season matters goes from bad to worse. This is responsible for the high and low seasons. Tourists could flow all year round if the roads are improved. The second problem is about the flights. Very few airlines land on Kilimanjaro International Airport and Julius Nyerere International Airport. So to this day, most tourists coming to Tanzania come through Nairobi, Kenya. The problem of airports, local and international, needs to be addressed very urgently to encourage international airlines to land straight into Tanzania. Finally I would like to say that accommodation is still an acute problem that also needs to be addressed.Q: You have been leading trips attempting to climb Kilimanjaro for over 10 years. Do you think porters who carry items of the clients are properly taken care-off?A: There is no set-up system of how much each trip is sold. In effect different companies sell the product differently. Very few sell the product expensively and the majority sells very cheaply. Those who sell cheaply fail to pay porters and other staff. Some delay payment of their staff for months. Others do not pay at all, leaving porters to depend tips from tourists. This in turn seriously affects the quality of service they provide. The living standard of porters is low. My opinion is that they should set-up an association with offices in Arusha, Moshi and at respective gate through which we climb Kilimanjaro such as Machame, Marangu, Mweka and Rongai. This will make them as accessible to porters as much as humanly possible. It will in turn improve their working conditions. I tried to the best of my abilities to support them in their claims since I understand the importance of their work and the need for their welfare to be taken seriously.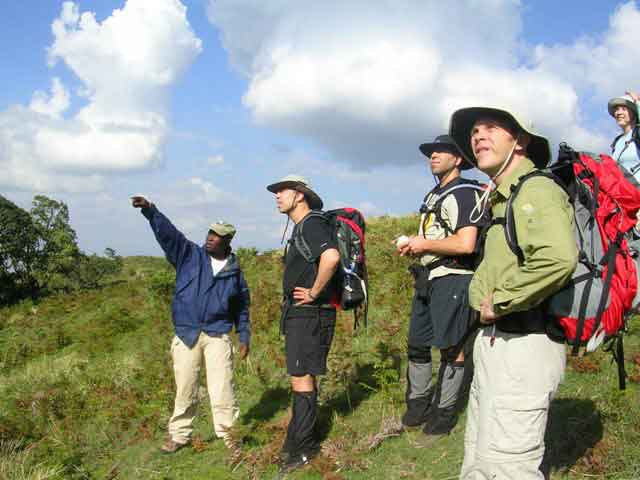 Q: You climbed Kilimanjaro to the summit more than 150 times. Do you see any signs of global warming on the ice of Kilimanjaro?A: Of course, yes. The Arrow glacier is no longer on Kilimanjaro. When I started to climb in 1993 it was almost in its full shape of an arrow. The Heim glacier was very famous for glacier climbing before 1996. Now almost all of it has melted. The Northern ice fields are mostly gone as well. Half of Fortangular glacier is no more. All these have led to rock falls especially on the Western Breach. As you can understand global warming is responsible for this. Scientific evidence indicates that there will be no glacier at all remaining on Kilimanjaro by 2025. This is a sad fact confronting mankind.Q: Around 40,000 tourists attempt to climb Kilimanjaro every year. What are environmental implications of this?A: There are numerous camping sites. This means land is being cleared. When you are talking about 40,000 tourists you are talking, to be lenient, of a minimum of 120,000 people if two porters are attached to every tourist. Now this is a very serious crowd. Water consumption is increasing destroying the environment forever. The human waste and other trash is also growing. Tourists, porters and guides should be serious trained about the leave no trace philosophy, you must take out every thing you took in.Q: What do advice Tanzania National Parks Authority (TANAPA), a Government agency that manages Kilimanjaro and other National Parks in Tanzania?A: Lemosho trail is the fastest growing route. Yet it is surprisingly inaccessible. TANAPA and Kilimanjaro National Park must work on this, if I were to advice.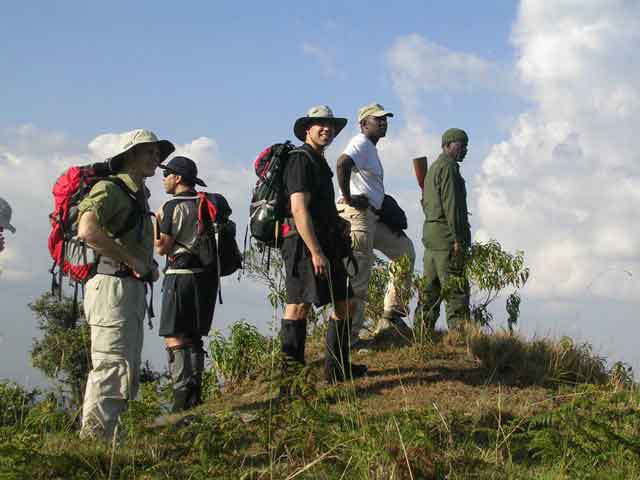 Q: Can you explain technically about climbing Kilimanjaro?A: Climbing Kilimanjaro is physically demanding. You should be in a good shape before attempting climb. On going heart and lungs diseases can seriously affect climb. At 19,340 feet oxygen is half of what you get at sea level. The heart and the lungs should be working properly. I must stress that someone with any history of such problems must consult his or her physician before attempting to climb Kilimanjaro.Q: How many routes and which one do you prefer? A: There are seven routes which are Lemosho, Londorosi, Machame, Marangu, Mweka, Rongai and Umbwe. I prefer Lemosho through Barafu as well as Machame. These routes are more scenic and least crowded compared to the rest. This gives a climber enough time to acclimatize and summit. In addition clients sleep in tented camps instead of in cortèges. Tented camps are not noisy and they give a client some privacy.Q: What kind of training and exercise you need to climb Mount Kilimanjaro? As a client you need training by hiking at list three times a week carrying some weight in a backpack preferably 15 ponds, about 7 kilograms. If someone has an opportunity to do a really hike on the mountains, that is the best way to train yourself. I led people who did treadmill, climbing stairs because that is all they could do. Mental preparation, however, is the most important thing. You must be determined. It is mind over body. It is very hard to train for the altitude, unless you pay some money to get into a pressurized room.Q: Who should climb Kilimanjaro for six and eight days and why? A: Highly experienced people on high altitude and has no or little problems of high altitude can climb in six days. Less experienced climbers can climb for about eight days. You simply climb during the day time if you choose the eight days package. However, six days allows climbing with enough minimum time to acclimatize. In effect more time on the mountain broadens chances of summiting. I recommend climbing for eight days.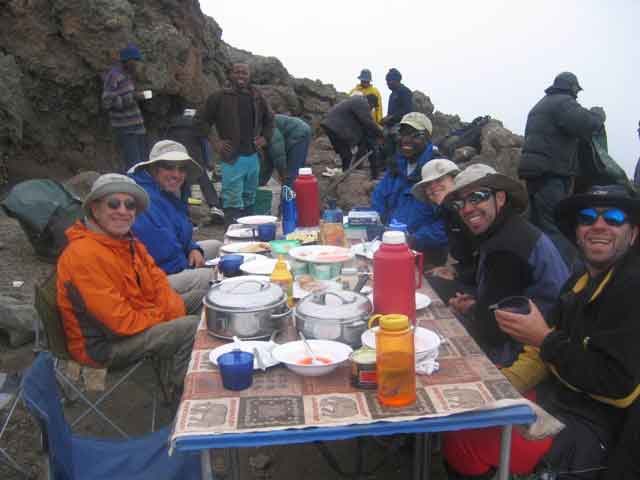 Q: What do you remember most on the numerous times you led groups on Kilimanjaro?A: I remember leading a trip of a mother and her three daughters. They fell sick in different times at different altitudes. The mother was very scared. With our moral support and medicines we provided they all made to the summit. That was emotionally moving. I remember seeing them breaking into tears in jubilations. That was amazing. I was very happy and this day will remain in my mind for the rest of my life. Another day I was coming down Mweka trail. A client-cum-friend gave me a lunar bar chocolate. I ate half of it. Incidentally I read what the ingredients are. Wow, the bars reads, 'this bar is for women.' You can imagine what has been going on in mind. For some minutes I was wondering what could happen for the next few hours!Q: How does a trip leader relate to a client?A: A trip leader is a layer between the client and the company. He represents the company and oversees the quality of services being offered to the client as indicated in the itinerary. He is in charge of everything in the trip that makes a client feel at home.Q: What is the difference between trip leader and guide?A: A trip leader is more trained on high altitude physiology and outdoor management. They have intensive training on first aid. The Trip leader has more feeling, about taking care of client, monitoring of the trip. He or she cannot accomplish these without a guide.Q: What are the equipments required to attempt climbing Kilimanjaro? Proper equipment is extremely important to the success, enjoyment, comfort and safety of your trip. On Kilimanjaro your body must be kept very warm all times. I mean for a comfortable climb you need comfortable hiking boots well worn. You need to dress in layers, a minimum of three that fits on top of one another. Bear in mind that NO cotton is allowed because when it gets wet it does not keep you warm. On top of that a Gore-Tex jacket and pants are necessary and a warm compressible jacket for cold protection on higher altitude is needed. The head must be well protected, for this you need a shade hat for the sun, a warm hat and a balaclava for cold. Sunglasses are very important too; bring a few pairs including glaciers sunglasses. Remember that you are near the Equator and sunlight is very strong on high altitude. For sleeping, bring a full size sleeping pad and a sleeping bag which is at least 15 degrees below Fahrenheit. High quality tents will protect you from storms, snow, rains and keep you warm and safe on Kilimanjaro. Tents need to be four-seasons tents built specifically for high altitudes and wind resistance. Mountain Hardwear Trango 4 Tent is a typical example. Also the company provides water treatment methods. I prefer the Swiss Army Katadyn water pump because it is an environmental friendly method of cleaning water and it is easy to clean huge quantity of water. This makes clean and safe water available for drinking, cooking and body wash. In the meantime, we use sterilizer to clean fruits and vegetables to prevent any bacterial contamination. I always welcome clients to visit the kitchen tent so that they can see for themselves how food is prepared in the most hygienic way.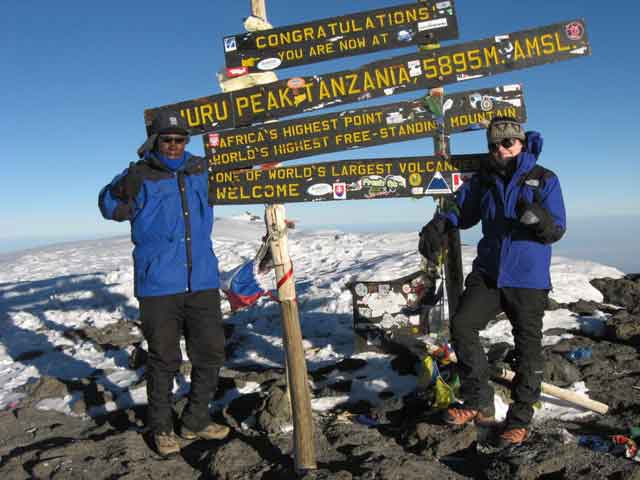 Q: It is said that food can change from low to high altitude. What is your take on this? Your body cannot digest protein on high altitude. The meals must contain mainly carbohydrates such as pasta or rice. Meat, fish and the like will not be served on high altitudes. On the contrary, in low altitudes full meal with proteins will be served to give you enough energy for the climb. On both high and low altitudes meals must contains vegetables and fruits for proper diet. It is strongly advised that you drink three to five liters of water every day, good hydration help acclimatization on the mountain.Q: What is mountain sickness?A: This disease has two appearances. The most common severe form of altitude illness, the most often causing death is high altitude pulmonary edema. It is a problem of lungs that typically shows up on the second night after reaching a specific altitude. The pressure in the lungs arteries rise, and fluid seeps out of the pulmonary capillaries and begins to fill the alveolar sacs. The patient begins to drown. The second is called high altitude cerebral edema, a brain problem with a high potential for death. This is when the intracranial is filled with pressure or fluids suppressing the brain. Both are fatal. Emergency kit which includes oxygen, high altitude hypobaric chamber and some pills are used as first aid. The treatment is descent, descent, descent.Q: Kilimanjaro is the highest walkable mountain on Earth. What does this mean?A: We do not use ropes, Carabiners, and other technical climbing gear when climbing Kilimanjaro. It is just a hike. Above all Kilimanjaro has a generous weather compared with most other mountains from around the world. Most climbers reach the crater rim with little more than a walking stick, clothing and proper determination.Q: What measures do you take in case of an accident?A: We immediately give first aid to stop life threatening and at the same time we call rescue team. Kilimanjaro National Park has its well functioning rescue teams which work shoulder to shoulder with a respective company whose client gets an accident. The rescue team can drive up to 12,000 feet above the sea level. Beyond that altitude they use different types of litter to carry the patient down the mountain depending on the severity of the problem. The patient is then taken by an ambulance to KCMC hospital in Moshi town on the foothills of Mount Kilimanjaro. Sometimes the patient is sometime flown to Nairobi Hospital in Kenya by helicopter. Flying Doctors Services and Knight Support have the best rescue ambulance helicopters that work efficiently.Q: Kilimanjaro is literally a stone-thrown away from the Equator. This highest free-standing mountain in the world is snow caped. Is this not amazing Alexander?A: This is fascinating. Kilimanjaro is the only place to see snow close to the Equator. In fact the world climate is summarized on Kilimanjaro. The ascent of the slopes is a virtual climatic World tour from the tropical to the Arctic. Even before you cross the national park boundary, the cultivated foothills give way to lush montane forest, inhabited by elephant, leopard, buffalo the endangered abbot's duiker and other small antelope and primates. Higher still lies the moorland zone, where a cover of giant heather is studded with other worldly giant lobelias. Above 4000m, a surreal alpine desert supports little life other than a few hardy mosses and lichen. Then, finally the last vestigial vegetation gives way to a winter wonderland of ice and snow and the magnificent beauty of the roof of the continent. By the time you reach the summit, you are already in the range of -25 degrees centigrade. Snow capped roof of Africa will literally carry you far way emotionally.