The Legacy of Chicks Climbing and Skiing
Established in 1999, the organization provided safe spaces and programs for female ice climbers, rock climbers, mountaineers, and skiers.
Heading out the door? Read this article on the new Outside+ app available now on iOS devices for members! Download the app.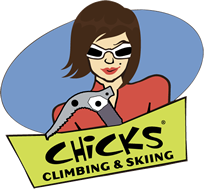 When Norie Kizaki returned from an ice climbing clinic with Chicks Climbing and Skiing in 2003, she immediately quit her office job to become a certified guide. "Chicks was the reason I had the courage to stop what I was doing and pursue my passion," Kizaki says.
The organization's impact on Kizaki's life is one story of hundreds from women who are saddened over the organization's recent dissolution.
After 21 years in business, the Chicks leadership have decided that their business model is no longer viable, especially with coronavirus-era social-distancing and stay-local requirements in place. "We can't safely build community the way we have in the past as responsible business owners," they wrote on Instagram. Chicks' last day in operation was August 15.
The women-specific organization was a first of its kind, blazing a path for women in the climbing world and in the outdoor industry. The affinity group provided a safe space for women of all abilities and backgrounds to learn from each other and grow as athletes.
"I'm just grateful for what they've done in this space because they created a knowledge that we could do it," says Lizzy VanPatten, founder of She Moves Mountains, another organization teaching technical rock climbing skills to women. "They definitely paved the way for more of us to step in."
Kim Reynolds founded the organization as Chicks With Picks in 1999, offering female ice climbing courses. They expanded to offer rock climbing courses around 2010, then backcountry skiing in 2014, renaming the organization Chicks Climbing and Skiing. They hired a total of 32 female guides—including Kizaki—all certified by the American Mountain Guide Association.
Kitty Calhoun, one of the four owners who bought the business in 2014 from Reynolds, said she knew Chicks meant a lot to the community, but she expected to go out more quietly. The team has been touched by the outpouring of love and support. "Kim set out to change a paradigm and she did," Calhoun says. "[Climbing] was kind of an old boys club and network. I never imagined that we would have our own, but we do."

Angela Hawse, another owner, adds, "Chicks clearly was a force that provided a vehicle for empowering women to get gritty and give it their best. And more than anything [we] built a community of rad chicks that will continue in her spirit to climb, ski, support each other, and keep 'kicking Axe' well into the future."
Chicks' impact extended far beyond the circle of women who participated in clinics throughout the country. Their social media presence also empowered women just getting into climbing and women who felt underrepresented in the space.
Eileen Ringwald discovered Chicks after launching her own online community, Rockgrrl, in 2002. She followed the business on Twitter until she eventually volunteered herself as the photographer for the first rock climbing clinic at Devil's Lake in Wisconsin.
"I shared a tent with my friend and there was one point when we were just giggling," Ringwald says. "I was like, I haven't had this since Girl Scouts. It just felt so different. I had climbed with women before, but never an all-women staff at that point."
Whitney Bradberry, a freelance marketing consultant, formerly with the American Alpine Club, says she also found it difficult to find many women to climb with when she started in the sport more than 10 years ago. "[Chicks] built community through their social media channels by engaging with and highlighting their followers," she says. "It inspired the work I've done since."
Katie Boué, founder of Outdoor Advocacy Project, says she engaged with Chicks online as well. "They made me feel welcome and valued in a sport community that often leads with exclusivity and litmus tests," Boué says. "There was never a question of whether or not I was a climber—just abundant and genuine stoke."
Even though the company is closing, Norie says "the values and the communities they have developed will continue to live on."
VanPatten's organization is one women will look to for skills and empowerment. Part of her work, she says, is to be more intentional about intersectionality and do better representing and elevating trans women, Black women, and Indigenous women in the sport. "I hope that the climbing space just becomes safe, instead of us needing to create spaces," she says.