The Master's Favorite Rock Climbs
Heading out the door? Read this article on the new Outside+ app available now on iOS devices for members! Download the app.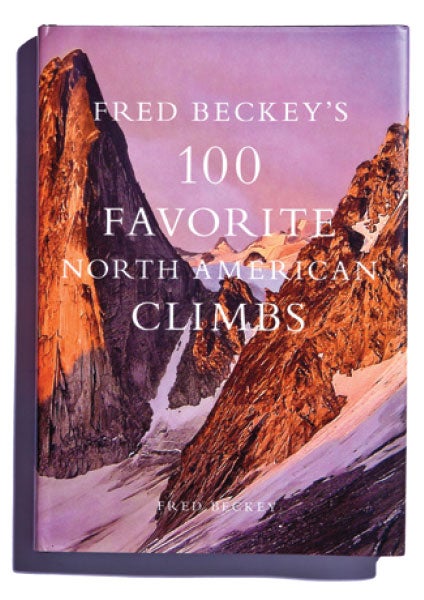 1. Angel's CrestThe Sheriff's Badge, The Chief, Squamish, B.C. (IV 5.10b; 13 pitches) FA: Fred Beckey and Eric Bjornstad, 1964 (full route)
"[Angel's Crest's] supreme position and generally ideal summertime temperature have made it a coveted climb, despite a certain amount of medieval greenery and forested ledges. It is a long climb and can be tiring. The Angel Crack near the base takes power, but the moves on the third pitch are the hardest."
In 1962, Les MacDonald, Henryk Mather, and Beckey made the first ascent of the upper portion of Angel's Crest by climbing the huge chasm on the left, North Gully, to the Acrophobes Towers, just below the final pitches. But "the incompleteness of the arête's ascent bothered aspirants, much as it might annoy a museum director to have an empty grand gallery." Thus, two years later, Eric Bjornstad and Beckey made a push from the base of the route, taking two days to climb to the very ledges where they'd begun the earlier ascent.
Most modern parties climb Angel's Crest in a day. If you try the 5.10 offwidth variation around the 11th pitch, bring Big Bros for protection.
Access: From Vancouver, Sea to Sky Highway north to Squamish Guidebook:Squamish Climbing, by Marc Bourdon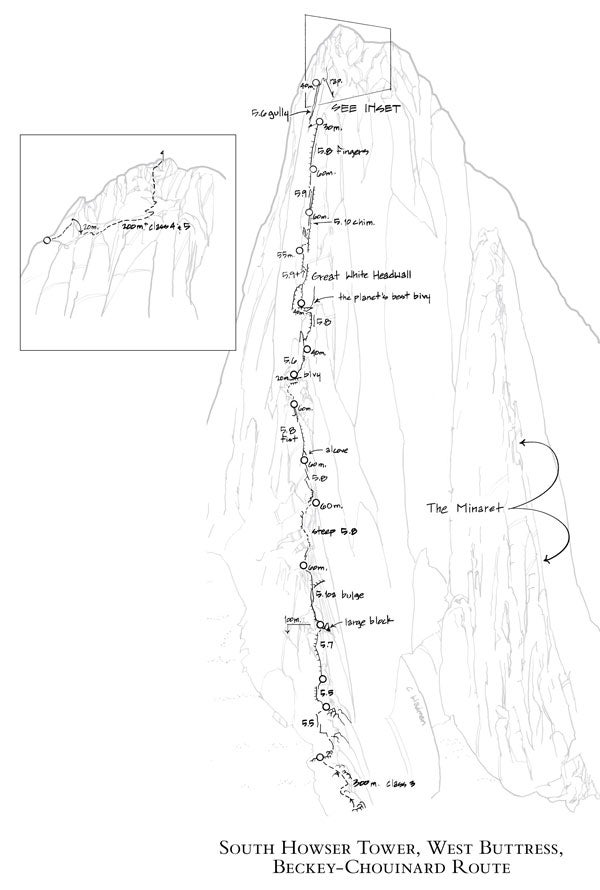 2. Beckey-Chouinard Route West Buttress, South Howser Tower, The Bugaboos, B.C. (V 5.10-; 15–22 pitches) FA: Fred Beckey and Yvon Chouinard, 1961
"During a reconnaissance of triple-summitted Howser Spire in 1959, I stared in disbelief at the sweeping curve of the South Tower's granitic splendor and its immense west buttress. Although the buttress had a fearsome aspect, a few cracks could be detected in absurd locations. I wondered why this was the only Bugaboo peak with but a single route.
"For much of the 1961 summer I had teamed with Yvon Chouinard—well known for his hard drive and inventive climbing gear. [We] could barely ignore the urge to focus on the prize of the Bugaboos. From a camp at the col adjacent to Pigeon Spire, we first undertook a taxing circuit of the Howser massif, where we confirmed the beauty of the South Tower's grand prow.
"On August 8 we began the final push. We adhered to Yosemite wall-climbing methods—the leader hauling his pack on a spare rope and the second man carrying a rucksack, sometimes using prusik-knot loops for handholds at cruxes. "At the seventh pitch a single crack sliced the granite for 40 meters. Farther up, we climbed a chimney formed from an immense flake, then a long corner system that led to the sandy base of what we had already dubbed the Great White Headwall.
"We tackled the formidable headwall's first pitch with positive energy, placing 16 pitons. That day I was more comfortable on the aid moves, while Chouinard continued with protean grace from a hanging belay in nylon stirrups to reach a chimney.
"Morning light stirred us into methodically ascending our fixed ropes. From our highest anchor, I climbed the left wall of a 'dihedral chimney' with the help of knifeblade pitons that I only trusted with my partner's shouted assurance.
"Another chimney curved to the top of the headwall, which we climbed with glee, sensing a victory yet that day. We soon made a simple pendulum traverse to a broken gully, then clambered more easily onward, to reach the summit by mid-afternoon."
Climbers now do the route in about 15 pitches, and mostly or all free. Few bivouac, but it's a big day!
Access: Bugaboo Provincial Park off Highway 95, near Brisco Guidebook: Bugaboo Rock: A Climbing Guide, by Randall Green and Joe Bensen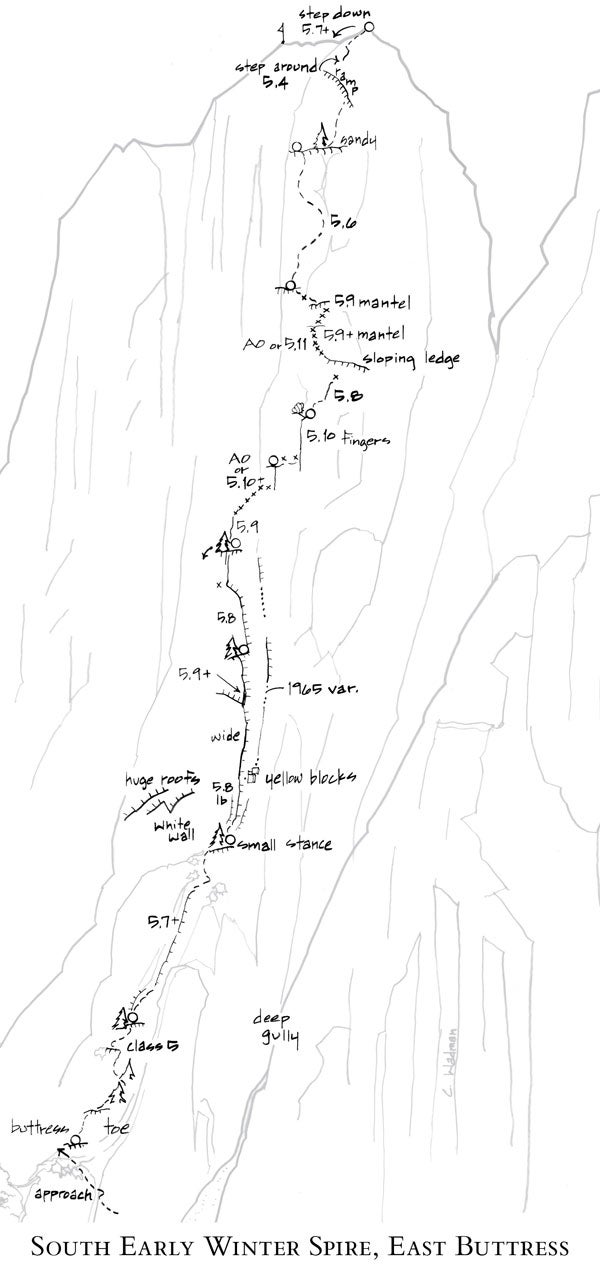 3. East Buttress South Early Winter Spire, Washington (IV 5.9+ A1 or 5.11-; 9 pitches) FA: Fred Beckey and Doug Leen, 1968
"The stellar sight of the South Early Winter Spire brings an immediate yearning to technical rock climbers. Its ascent is one of the most rewarding in the Cascades. The pitches are a delight—liebacks, difficult friction, thin shoe-edging, even finger pockets.
"[In June 1968] I tied into the rope [at the base] and climbed an increasingly difficult crack to end the pitch with a hanging belay from pitons. Doug [Leen] moved onward carefully, climbing almost entirely on bong-bongs (large aluminum pitons) to reach a spacious ledge. The next pitch consisted mainly of free climbing, with one bolt placed to pendulum around what my partner later described as a 'huge suspicious- looking block that seemingly defied gravity.' Angle pitons tipped into weathered holes helped the leader climb on to a promising and continuing crack. Now we knew the route held promise."
Leen and Beckey fixed a rope on the longest pitch. They returned the following month to finish the route, with one bivouac, finding varied, enjoyable climbing. Beckey says they "reached the pointed summit block, almost frivolous with joy."
You'll find a bolt ladder midway up the route, providing the option to pull on the bolts or free climb at 5.10+/5.11-. The route has some modern bolted anchors (as well as natural belay stances), but be prepared to clip old hardware.
Access: Hwy. 20, one mile east of Washington PassGuidebook: Selected Climbs in the Cascades, by Jim Nelson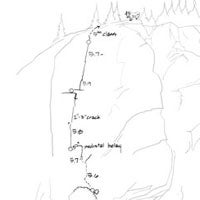 4. Outer Space Snow Creek Wall, Washington (III 5.9; 6 pitches) FA: Fred Beckey and Ron Niccoli, 1960
"Flanking the Snow Creek tributary canyon of Icicle Creek, a 700-foot wall acts as a gravitational force for climbing enthusiasts. The major portion of the broad wall is a shield of knobby slab split by the 300-foot Outer Space crack and adorned with what have been termed 'unbelievable chickenheads.' Climbers from all portions of the United States and Canada have come to savor its magnificent upper pitches.
"Enticing cracks such as the one on Outer Space became realistic ventures in the Cascades when Joe Hieb crafted 10-gauge hot-rolled plate to make durable angle pitons up to three inches in width. Armed with such gear, Ron Niccoli and I uncoiled our 120-foot rope at a series of corners and cracks that bore toward the uncertain problems on the shield. When we finally attained the soaring crack, it was necessary to continue energetically: Knobs at the crack's edge did not always have space for a foothold. We hammered in a few wide pitons and twice pounded wooden blocks for security, surely not as solid as camming devices invented later.
"Move after move of strenuous hand jams became the routine. The steepness of the wall did not permit rests except on knobs. At one spot the leader could wrap a nylon sling around a knob by the use of a tight girth hitch. Placing protection such as hitches on knobs and the use of wooden blocks ultimately took more time than climbing. Six hours after we donned rock shoes, a gradual slab led to the tree-covered summit, a haven for curious goats."
Outer Space's six pitches encompass entertaining, thoughtful climbing; you'll encounter steep cracks with perfect jams, juggy flakes, slabs, roofs, knobs, and more. Bring sturdy shoes for the descent, and watch for ticks if climbing in the spring.
Access: Icicle Creek Road, south of Leavenworth, WA Guidebook:Leavenworth Rock, by Viktor Kramar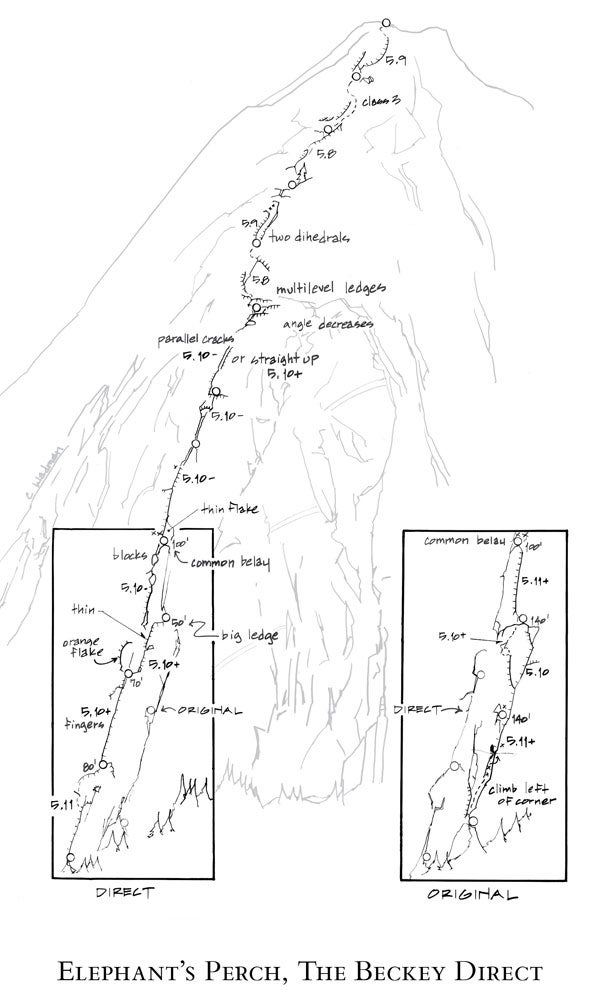 5. The Beckey Direct Elephant's Perch, Sawtooth Range, Idaho (IV-V, 5.11a; 12 pitches) FA (Beckey Original): Fred Beckey, Steve Marts, Herb Swedlund, 1963; Beckey Direct: Reid Dowdle, Paul Potter, Mark de Fourneau, 1984
"The Sawtooth Mountains were late to be coveted by rock climbers, and even by the early 1960s there were only a few peak-baggers and scramblers. When El Capitan in Yosemite Valley and the Diamond on Longs Peak had been scaled, a few local Mt. Heyburn craggers kept noticing the face of a spectacular domelike massif to the southwest, but failed to investigate it.
"The domelike massif was streaked with crack lines from its foot to the summit slab—none of which had been probed by previous climbers. At our campfire blaze we giggled about Yosemite experts who were not aware of this secluded gem. Rock climbers may disagree about the ideal route, but that night we all voted for a striking plumb-line close to midface.
"When a pleasant morning sun greeted us during gearsorting, a relaxed mood set in. That afternoon, both [Herb] Swedlund and I tackled cracks with mixed free and direct-aid climbing. The faint thud of hammered pitons echoed from a cliff beyond the lakes—a sound no others would hear." The team of Steve Marts, Swedlund, and Beckey spent three days piecing together the route.
"We laughed happily about the many problems of the ascent and recalled its intricacies— which in all required 110 piton placements and the use of only a few bolts."
Most people today climb the Beckey Direct, a later variation that takes cracks to the left of the Beckey Original and bypasses two 5.11+ pitches. Be sure to camp beneath the towering stone, in a beautiful spot sandwiched between the Elephant's Perch and the neighboring Goat's Perch.
Access: Redfish Lake, off Hwy. 75 Guidebook:Idaho: A Climbing Guide; Climbs, Scrambles, and Hikes, by Tom Lopez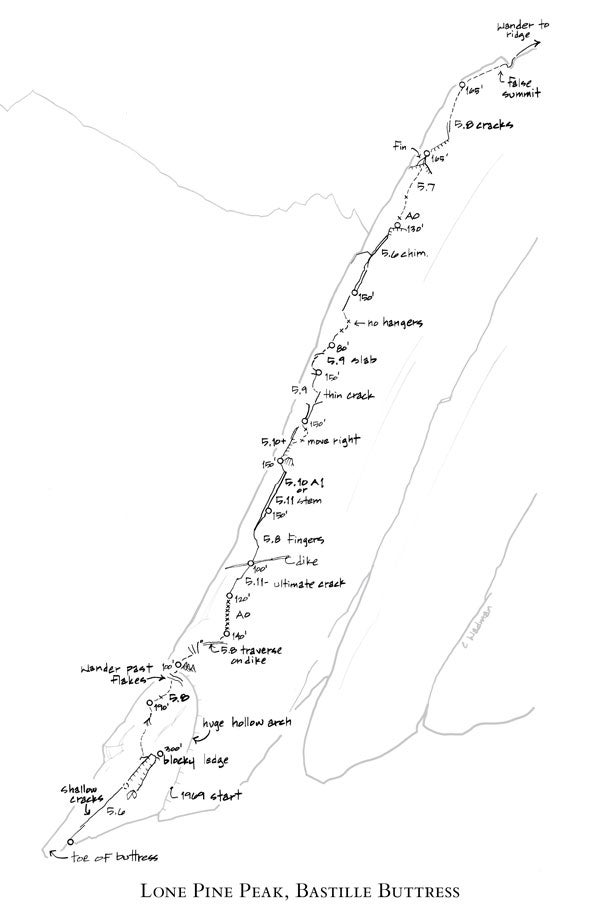 6. Bastille Buttress Lone Pine Peak, Sierra Nevada, California (IV+ 5.11 A0 or 5.10 A1; 17 pitches) FA: Fred Beckey, Chuck Haas, Joe Brown, 1969
"In spring 1968 I stopped at the town after an overcrowded day of skiing at Mammoth Mountain to investigate the largest and most dominating of the frontal buttresses on massive Lone Pine Peak, which obscured the vista of higher Mt. Whitney. There was no mistaking the identity of the pillarlike formation with its curious boulder summitknob.
"I hiked across the sandy escarpment to the base of the gigantic buttress, which I later described as 'rounded smoothly to resemble the sloping stack of a cruise ship.' The white, burnished surface distinguished the buttress from competing crags of the main peak. There was but little to encourage a climbing route, yet I knew defiant appearances might mellow on closer scrutiny. Anxious to prove the route's quality, I self-belayed for two moderate pitches with care, at times unnerved by friable holds, until I reached a sandy recess beneath a mammoth arch. Climbing the arch would require strenuous stemming, best done with a partner's belay."
Joe Brown, Chuck Haas, and Beckey ventured up for the first ascent in April 1969. "We found that a peculiar agony of the climb was its continual illusion: What appeared moderate proved excruciating; some of the slabs became bolting problems. We had never seen such shallow grooves without protection cracks—certainly not at Tahquitz Rock or Yosemite Valley."
Three days after starting, the men found themselves at the summit. "Bastille had been an adventurous climb of 17 pitches—twice the original estimate. We pondered why we were so alone in this wilderness pursuit, while the technically oriented climbers in California aimed the ultimate expression of their art toward the crowded arena of Yosemite."
You can climb the route in a day, using slings to aid up the bolt ladder on pitch five. (This pitch has been freed at 5.13, but aids at a kinder grade of 5.9 A0.) The hard moves are well protected, but expect some runouts on the easier sections. Snow and ice may be present during prime spring climbing months.
Access: Whitney Portal Road, above Lone Pine, CA Guidebook:The High Sierra: Peaks, Passes, and Trails, by R.J. Secor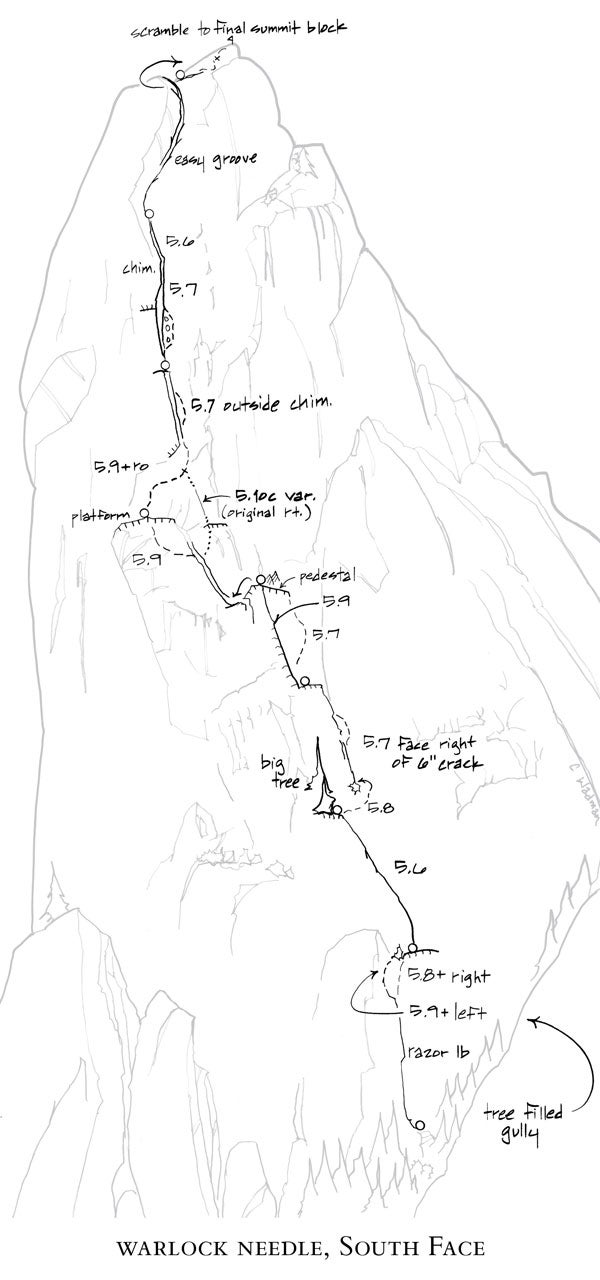 7. South Face The Warlock, The Needles, California (III-IV 5.9+ or 5.10+; 8 pitches) FA: Fred Beckey, Dan McHale, Michael Heath, 1970
"Rock climbing at the stunning domes known as the Needles, beginning in 1969, lagged far behind that of other California areas. Dan McHale and I scaled the south face of isolated Hermit Spire and then, with Mike Heath, tackled the longest bald face of commanding Warlock Needle—which needed its arsenal of black arts in its attempt to defeat us.
"Deep crack systems, chimneys, and blank faces were Warlock's weapons. Yet the orange-toned granodiorite liberally sprinkled with knobs were favorable, and we arrived at the summit by day's end. We barely kept ahead of the sunshine, which stirred us into climbing our best—and not making any errors."
The first free ascent of this route came in 1976, six years after the original climb. The original way can be done with minor aid on the crux pitch or free at 5.10c. A short boulder problem at the top goes at 5.10+.
Access: Lloyd Meadow Road to Needlerock Creek, near Kernville Guidebook:Southern Sierra Rock Climbing: The Needles Area, by Sally Moser, Greg Vernon, and Patrick Paul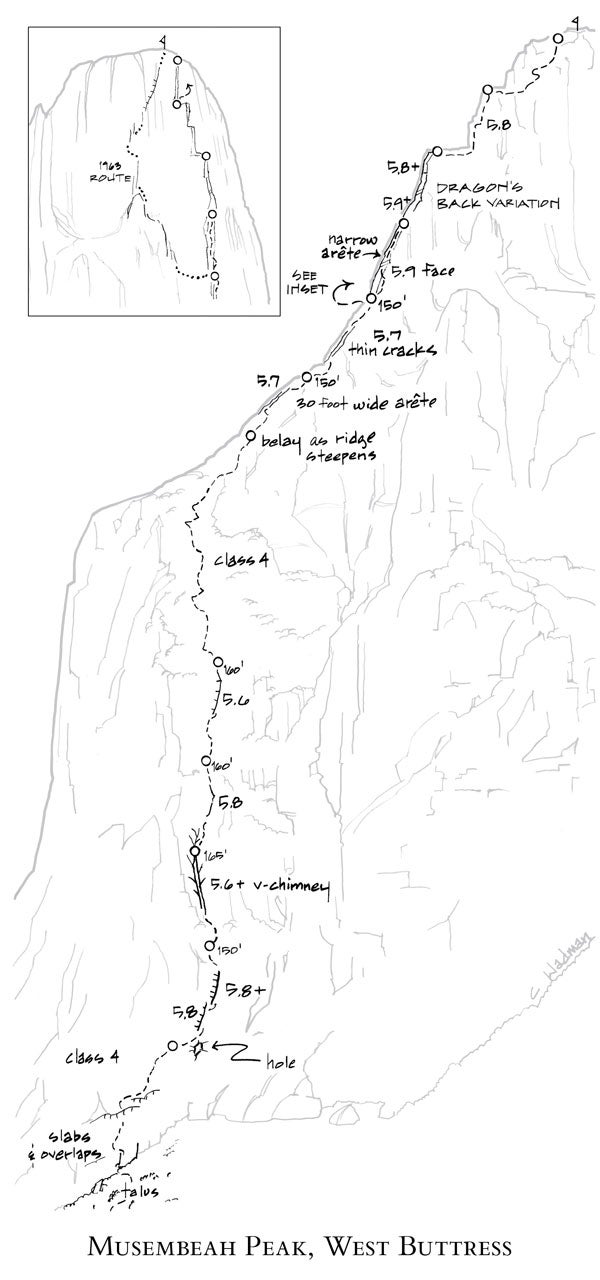 8. West Buttress Musembeah Peak, Wind River Range, Wyoming (IV 5.8; 10 pitches) FA: Layton Kor and Fred Beckey, 1963
"Hemmed in by rolling hills, the Wind River Mountains have long been mysterious and a barrier to westward travel. The topography is immensely confusing, a location where human diligence and resourcefulness are requisite assets for travel. Musembeah [is] an immense stone pile that stands slightly east of the divide and is distinctive for its craggy shape.
"In 1962, after climbing nearby peaks, Layton Kor and I were attracted to Musembeah's prize, 1,500-foot west buttress. Kor had exploded on the Colorado climbing scene in the 1950s with his daring, attaining a certain celebrity with his speed tactics. During our plan for the ascent of an alluring, prominent buttress on Musembeah, I silently wondered how I could keep up with my partner. My inner demons suggested that a good night's sleep might help.
"The peak appeared as an alpine marvel, cast into prominence by frost shattering and erosion on its flanks. While climbing the following morning, the rock turned out to be a marvel, with tiny, magical holds for fingertips and shoe edges."
That day, Kor and Beckey were so immersed in climbing that they didn't notice storm clouds rapidly approaching. Howling winds and pouring rain assailed the pair as they made their way to the summit.
"Kor moved furiously through steep, long, and wet cracks, stopping only to place a few pitons. He was getting soaked while struggling with a crack that would have been continuous 5.8 when dry. As the rain turned to sleet, the buttress became more broken, allowing for simulclimbing to the summit parapet. Dripping clouds engulfed us: We felt as if we had been in an icy water tank for half a day."
The first ascent party summited via a line to the left of the crest, but this way is usually in the shade, which can be unpleasant at altitude (the summit is 12,593'). Today, it's recommended to take the crest straight on or to the right.
Access: Highway 287 to Fort Washakie. The peak sits on the Wind River Indian Reservation; secure a permit at the general store in Fort Washakie. Guidebook: Climbing and Hiking: Wind River Mountains, by Joe Kelsey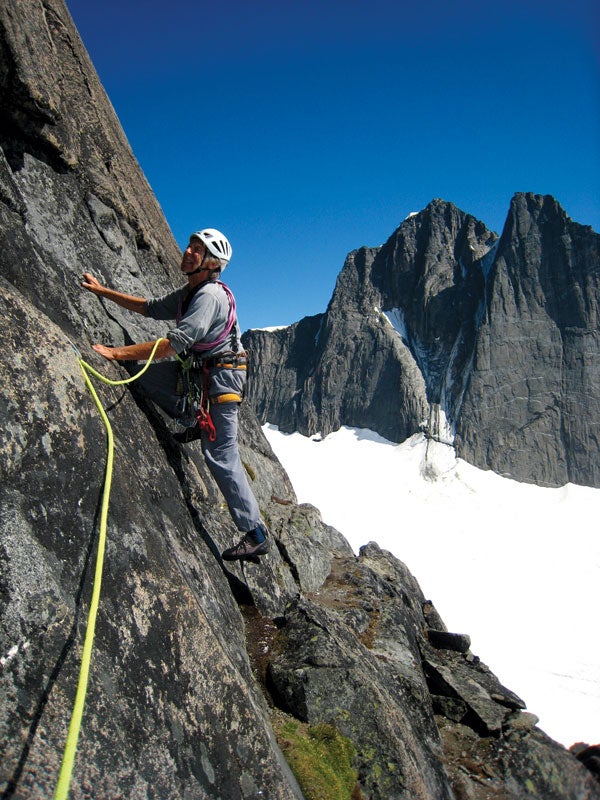 Three Questions with Fred Beckey February 6, 2012
What's your proudest first ascent? Maybe Mt. Deborah [via the south ridge in 1954, eastern Alaska Range]. People told us we were never going to get up it; people feared it. It looks spectacular and is pretty dangerous; there's no safe way, no easy way. Mt. Waddington, too—I did that as a teenager. [When we summited], it was still a blank on the map. You couldn't see it from anywhere, but here it is, over 13,000 feet [and] higher than anything in the Canadian Rockies, which people had been climbing since 1900. That was more of an achievement, certainly more audacious, because we had no backup of any kind and no way of communicating. If I fell in a crevasse—which I did, and I got out of it—but say I didn't… Who's going to look for you? Five or six weeks later, it's too late!
Is there anywhere you wanted to visit but never got to go? Lots of them. Endless, but you can't live long enough to do them. Baffin Island, Greenland; Europe; the Himalayas; Nepal. You could live 100 lifetimes and never begin to touch it all. I'd like to go somewhere in the Himalayas this summer, either India or China. I don't have it put together yet.
Any close calls? [On trying to make the first ascent of Mt. Serra in British Columbia:] I was in an avalanche where the whole glacier broke, and we were cascaded down about 1,000 vertical feet over crevasses and ice blocks. One guy slid into the rock wall on the side; he got chopped. What caught us was the guy I was tied to; he was on one side of an ice block and I was on the other. So the ice block saved us. Piece of luck, right? The whole slope just went; I still don't know why. —Julie Ellison