The Trace We Leave: Climbing's Impact on Crag Flora
Heading out the door? Read this article on the new Outside+ app available now on iOS devices for members! Download the app.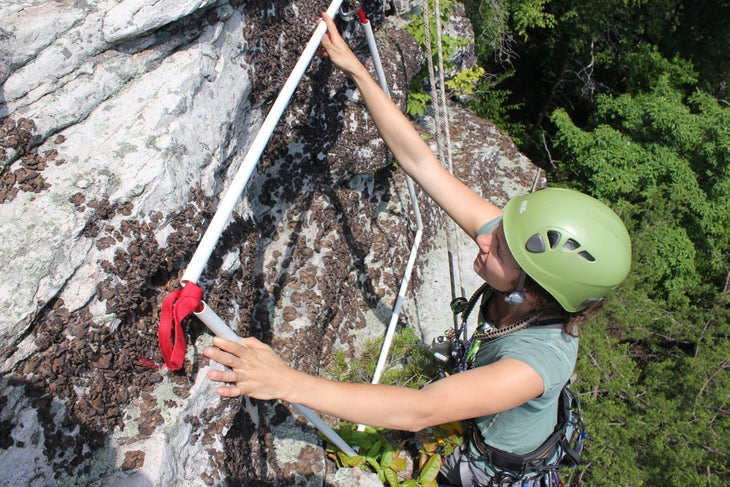 Stellar views typically reward climbers who endure seven hours in a harness. But Michael Tessler, a biologist at the American Museum of Natural History, has spent days hovering just feet off the ground. In 2013, while researching the impact of bouldering on rock-associated vegetation for a study (later published in Biological Conservation—in 2016), Tessler dangled or perched on a ladder nose-to-nose with boulder problems at the Shawangunks, New York. With a hand lens, small knife, and hundreds of miniature manila envelopes to transport samples clipped to his harness, he collected plants and lichen at Bonticou, Lost City, White Dot, Waterwork, and other Gunks bouldering sites.
"I had to basically measure stuff for hours," says Tessler, a climber of a decade. "It wasn't fun."
Tessler and his colleagues later compared the biodiversity of life—moss, liverworts, lichens, seedlings, herbs, little plants, and trees—found on established boulder problems with the flora on nearby unclimbed faces across the 8,000-acre Mohonk Preserve. This eastern ripple of the Appalachian Mountains hosts more than 1,000 routes across five linear miles of quartzite, and 100-plus boulder problems; it also hosts about 80,000 climber visits a year.
"We were able to very confidently and easily show there's a reduction of plant species where there's climbing occurring," Tessler says of this first-ever bouldering-focused impact study. In his analysis, Tessler found not only that unclimbed boulders were home to a greater number of species of lichen, moss, and woody plants, but that the faces of climbed boulders were less covered, in terms of area, by plant life.
Tessler's study is one of about a dozen published in the last decade suggesting that climbing might pose an ecological risk, and that land managers urgently need scientific guidance. In 2018, Swiss researchers found even minimal climbing reduced the diversity of plants and land snails in the Jura Mountains—where, in 2011, a different team concluded climbing impacted an alpine flower, the yellow whitlow-grass. Researchers found plants and lichens were less diverse on established routes in West Virginia's New River Gorge, according to a study published in 2015 in Applied Vegetation Science. And other studies have documented similar effects from Spanish coastal cliffs to Canada's Siblet Peninsula and Poland's Mirow Rocks.
Still, Tessler and others say they're hopeful environmental stewardship can be effectively tapped. They imagine it's possible for guides, researchers, land managers, and climbers to come together and balance the sport's potential ecological harm with its human benefits.

A heavier footprint
The survival of cliff ecosystems like those at the Gunks will depend on how new/future climbers relate to the outdoors, a pressing issue in the gym era. Consider: In 2017, 43 new climbing gyms opened in the US—a record for the most facilities debuted in a year. That year, more than 5 million people climbed indoors and more than 2 million sport climbed and bouldered outside, according to the Outdoor Foundation, which also reported that half a million have trad-climbed in the past decade. For further evidence, consider New York City, now home to a dozen gyms, with four more set to open by the end of 2020.
Not surprisingly, there has been genuine worry about the mentorship gap and the failure to pass along Leave No Trace ethics. And our swelling numbers have also meant we—all of us—are leaving more of a mark. Last year, the Access Fund (AF) depicted crags in peril in their newsletter: crumbling cliff bases in Ten Sleep and Indian Creek, human waste in Red Rock Canyon, and overrun parking areas and unapproved trails from Rumney, New Hampshire, to Joe's Valley, Utah. "There's always been footprints. There's always been people with bouldering pads," says Ty Tyler, AF's stewardship director. What's changed, he said, is the wholesale popularity of places that were not designed to handle today's numbers. Almost half the US population recreated outside at least once in 2017, when the National Park System hosted a near-record 331 million visits. "People go to a handful of destinations, and those destinations are taking the brunt of this," Tyler says.
Mohonk, too, has struggled. Once-lush cliff bases have eroded from decades of plopped packs and pacing feet. Nowadays, on a peak weekend, hundreds of climbers converge on a couple dozen popular routes. At the more popular bouldering areas like the Trapps and nearby Peterskill, queues form on classic problems.
Still, Mohonk choreographs a delicate dance between climbers, the preserve, and its scientists. Take its peregrine falcons. After a period of local extinction, they reappeared in the Gunks in 1998; a pair has nested annually there since. Every winter, preserve scientists survey for the peregrines' return and, once spotted, scramble to map and close routes within the birds' mile-or-so range. In cases like 2018's, when closures included the über-classic High Exposure, the local climbing coalition launched campaigns over social media and in-person to soothe angry climbers and explain the stakes.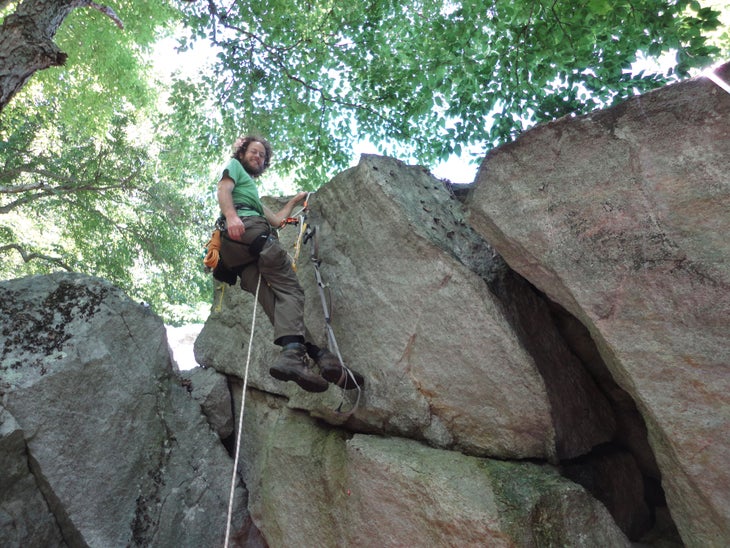 So while the Gunks have rapidly gone from 0 to 60, it's been under the watchful eye of a nonprofit nature preserve. The area benefits from a weekly volunteer trail crew and a cooperative climbers' coalition that has worked with Mohonk Preserve to install bolted anchors and hardware across 90 or so routes to mitigate impact like climbers rapping off trees. But that's not true for all crags. About 60 percent of the country's climbing areas lie on public lands, according to AF, with more developed every year—and only a patchwork of solutions to mitigate impact.
"Climbers want new cliffs; they want new routes. Our existing crags are saturated," says Elizabeth Long, a lifelong climber and Mohonk Preserve's conservation science director. "It's not malevolence. People don't come here with the intention of doing damage."

"It's not about keeping people out"
Laura Boggess, an ecologist and biology professor at Mars Hill University in North Carolina, knows some climbers fear that ecologists wouldn't hesitate to shut down a route in order to protect a single flower. So she tells the story of the Roan Mountain bluet, whose purple blush had only bloomed across a handful of North Carolinian mountains until, in autumn 2013, the federally endangered flower was spotted in Virginia's Grayson Highlands State Park, a popular bouldering area. Officials immediately closed the area to climbers, but ecologists worked to expand access soon after. Similarly, after the discovery of a peregrine nest in Cedar Rock, North Carolina, spurred a blanket closure of 75 routes last fall, wildlife experts and the local climbing coalition partnered to limit closures to a single 12-route sector.
"I hear, 'We don't want a cliff ecologist—they'll find something rare and shut down our crag,'" says Boggess, herself a trad climber. "It's not about keeping people from crags. A lot of the climbing community gets that."
In the last decade, only about 12 studies (some mentioned higher in this article) have examined flora and fauna at popular climbing sites. Recreational ecology—the focus on outdoor spaces where human recreation competes with biodiversity—remains a scientific niche. "There's this massive industry behind (climbing) … but overall there's not a lot of people studying it," Tessler says. "It's in a no-man's land."
Boggess has spent the last eight years studying cliffs in the Southeast. For a 2017 floristic survey of Tennessee's remote Big South Fork, she rapped in at 60 sites with a compass, clinometer, chalk, chisel, hand lens, pens, and notebooks—and an ascender to jug up once she'd collected samples. While Boggess didn't find significant climber impact (probably because the area still experiences relatively low traffic, she explains), the study still offered an important takeaway: Even within the stretch of a single cliff, she documented a variety of vegetation. This suggests incredible complexity, biologically speaking, even on the small scale of a given crag. "If you're going to make management decisions based on an area's ecology, you have to go out and take a look," she says.
The field can build on itself, recreational ecologists say. So while it's hard to use a survey of Joshua Tree as a guide for Wyoming's Tetons, land managers can use published research as a template for their own site-specific studies. And the good news is, most err toward positivity, offering suggestions for minimizing impact. Tessler's study, for example, suggested setting aside remote boulders for conservation. Rangers and citizen-scientist climbers can rappel at-risk routes to search for rare species. Developers can pare back cleaning or consider leaving virgin boulders unclimbed. Climbers can travel in smaller groups, to avoid trampling bases with packs and crashpads. And for anyone who finds herself face-to-face with a cliff: Do as the ecologists do.
"What do you see if you look more closely? It's really a whole world on there," Boggess says. "Knowing a place that way is very powerful."