The Week in Review: A 10-Year-Old Does Two V12s.
We published close to thirty stories this week. Here are six that you won't want to miss.
Heading out the door? Read this article on the new Outside+ app available now on iOS devices for members! Download the app.
For more story roundups, consider subscribing to Climbing's Newsletter.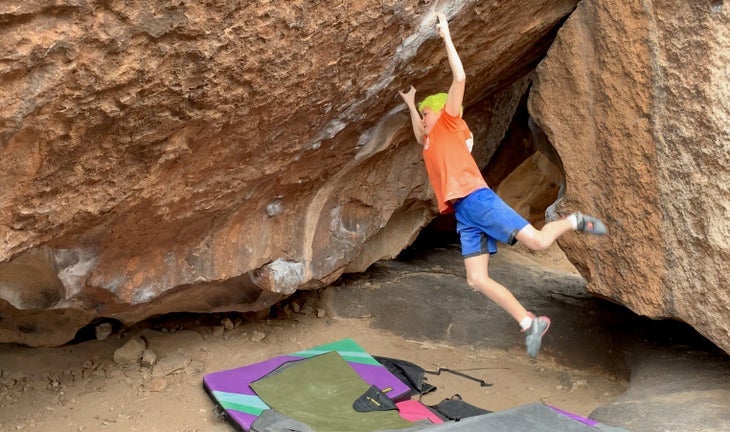 By Delaney Miller
Bayes Wilder is having a pretty dang good year. He sent his first 5.14a, Rodeo Free Europe, in Wild Iris, last July. Then, in November, he put down Southern Smoke, his first 5.14c (yep, he skipped a grade). And a few weeks ago, he put down two V12s—Barefoot on Sacred Ground and Rumble in the Jungle—during a trip to Hueco Tanks, the latter of which he did in a day.
And the best part? Please refrain from quitting climbing: Bayes is only 10.
"Climbing is my life," he told Climbing over the phone. "I just like all the crazy cool stuff in climbing. I love knee bars, toe hooks, heel hooks. … It's so abstract."
By Alison Osius
Jeff Lowe, legendary alpinist, wrote The Ice Experience, of 1979, while living in the Coop, a former chicken coop with a second story built upon it, at Paul Sibley's place in Marshall, Colorado. Jeff Long, one of climbing's greatest writers, wrote his first big novel, Angels of Light, during the year he lived in the Coop. A talented itinerant So Cal climber, Ray Olson, posted on Supertopo in 2007 that he'd lived there from 2000 to 2002, and "did a fair bit of writing there, too, getting my first piece of fiction published while in residence."
 Now Paul Sibley's chicken coop—and the home beside it—have both burned down.
By Anthony Walsh
Per Sjönell was climbing near Sundsvall, in central Sweden, next to the ice route Barnbergspelaren (Child Mountain Pillar). The pillar was still growing and thus too serious to lead, so Sjönell racked up for a thinly iced corner to the right. The filmer, Mats Englund, told Climbing that the corner had been attempted several times before but remained unclimbed.
Sjönell took a small whipper on his first attempt, but a well-placed piton at hip height (the highest piece in this video) arrested his fall.
But how did his second attempt go?
Read the full story (and watch the whipper) here.

By Shail Desai
Pavitra Vandenhoven couldn't sleep. It was the first night at her new home in Sint-Niklaas, Belgium, and the surroundings looked rather strange. Until then, the five-year-old had slept in a large shared room alongside other orphans like her in India. Craving the connection of her absent friends, Pavitra grabbed the crib's railing with her little hands, hoisted herself over the top, and crawled to her parents' room.
That first night was a wake up call for her mother, Christel Van de Voorde. Pavitra was born without legs and often relied on her mother to move from room to room. Van de Voorde was impressed—even if she couldn't yet grasp how her daughter had managed to escape the crib. Van de Voorde, a climber herself, began to wonder, Could Pavitra become my climbing partner?
By Fred Beckey
Helmy, 16, and I, 19, were ambitious teenage brothers with a plan. We would scale Mount Waddington, the monarch of the Canadian Coast Range that had repulsed 16 attempts and been deemed impossible before it was finally climbed in 1936 by two of America's foremost alpinists, Fritz Wiessner and Bill House.
Wiessner and House were praised for their conquest of "one of the world's most formidable mountains." Wiessner himself said that the climb was no pushover and recounted a frightening event, when "fragments of ice and rock hurtled down at short intervals from the summit ridge." He added, "Seldom in my 20 years of mountaineering have I climbed a mountain which made such heavy demands on climbing knowledge, on nervous energy, and on daring."
When I read Wiessner's remarks, I knew that Waddington was the perfect climb for two Seattle teenagers. So six years later in 1942, we pitched our small tent beneath Waddington's massive southwest face.
By Matt Samet
"I'm tired of being weak," I told Nina Williams. Six of us were on an editorial trip to Cayman Brac in December 2018, and earlier that day I'd been shut down on the difficult dyno crux of a 5.13 at Dixon's Wall, In Vino Veritas, that she'd hiked the first ascent of, flashing it with energy to spare—and calling the dyno "V4" with a semi-sadistic grin upon lowering. That night while our group savaged the buffet at the resort where we were staying, I talked about my frustrations.
"I've never really trained for anything—just gotten by doing what I could," I continued. "But I feel like something needs to change." Now in my late 40s, I was seeing the inevitable power decline of middle age. But of course, like the stubborn, old-school climber I am, instead of facing the facts about my plateaued climbing, my outsized ego, and my longtime training aversion, I'd kept puttering along, conflating just climbing whatever had fresh tape on it at the gym with actual training. (Note: Just because you're in a rock gym doesn't mean you're "training"—you're just climbing…on plastic.) Or, on my more "serious" gym days, doing some light-duty bouldering circuits, then finishing out on the auto-belays for the "ultimate pump."
For more story roundups, consider subscribing to Climbing's Newsletter.