Théo Blass Just Sent His First 5.14c—He's 12
He did the second ascent of Seb Bouin's new 5.14c in the historic crag of Claret, near Montpelier.
Heading out the door? Read this article on the new Outside+ app available now on iOS devices for members! Download the app.
After school on Wednesday, January 26, Théo Blass, age 12, sent his first 5.14c, Guerre Future, in Claret, France.
It was the second ascent of the line, which was established by French strongman Sébastien Bouin several weeks ago and is a variation of Guère d'usure, a 5.14b that Blass sent last year after 15 days of effort.
Both routes start with roughly 35 feet of 5.12a climbing to a good rest, followed by a tough roof. After that, Guere d'usure veers right to a good rest while Guerre Future continues up a stunning prow—the most noticeable feature on the wall—and gets progressively harder until it again rejoins Guerre d'usure at its crux. This section, with Blass's beta, consists of 12 technical moves on slopers and pinches, with slippery feet and numerous tricky heel hooks and knee scums.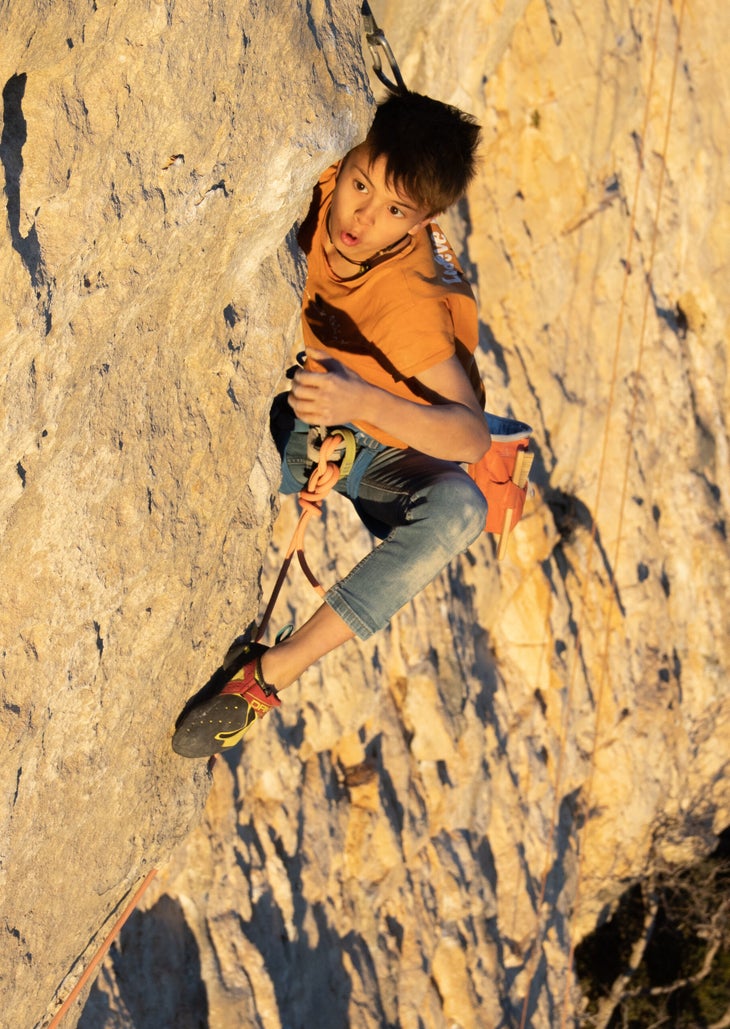 Blass's father, Vlad Arnaoudov, told Climbing that the route was a great fit for Blass, who enjoys technical, powerful climbing more than pocket pulling. "But this particular line demanded another level of physical and mental engagement," he says. "The crux of Guere d'usure felt much harder and [more] precarious [when coming from a] more intense lower section. It took [Théo] five to six sessions to get the level of power endurance and the micro-beta needed to climb through the entire crux without getting completely wasted."
It was an unlikely day for a hard send. Claret is a very sunny crag, and the temperatures on Wednesday felt almost summery—so hot, in fact, that both Blass and his father fell on their slippery 6c (5.11b) warmup.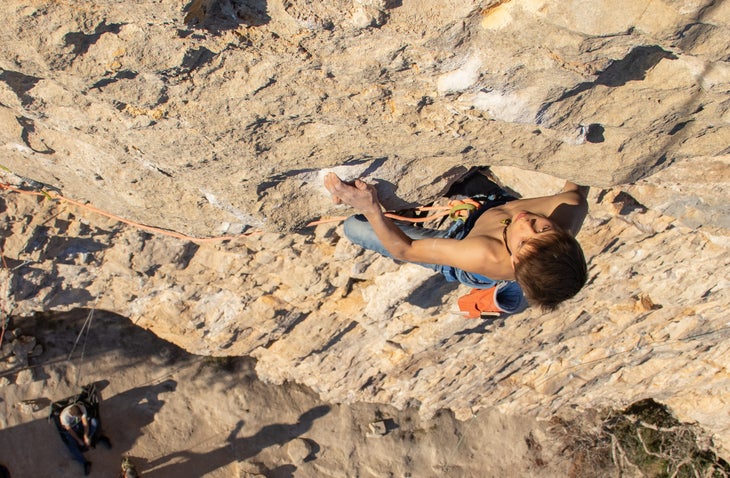 "But then," says Arnaoudov, "after an hour rest and a walk around the crag chatting with friendly locals, Théo went for the first try of the day and the route looked three grades easier than normal. He was cruising it, climbing completely effortlessly in a perfect flow."
Blass botched his beta high on the route and fell. But thirty minutes later ("after more chats with more friendly locals") he tried again and took it to the chains.
"It was still relatively early in the afternoon (and still quite hot)," says Arnaoudov, so "we decided to go to the climbing gym."
Blass's parents are also climbers, so Théo and his younger sister, 8, grew up spending weekends and holidays at the crags. At first, Blass mostly climbed because it was the least boring thing to do while hanging out all day at the crag, says Arnaoudov. But he started climbing more seriously at age 7, attracted in part by the discovery that his small fingers fit well into pockets and that this made certain climbs easier for him than they were for adults. He found pleasure in the age inversion, "enjoying the feeling of being superior at something some adults are desperately serious about," says Arnoud.
Blass quickly sent his first 5.12s. He did his first 5.13d at 9 and his first 5.14b at 10.
"Climbing is very natural for him," his father noted. "He climbs on just about anything—from trees to stone walls to the side walls of half pipes in the local skate park. He loves projecting and the feeling of mastering a difficult sequence to perfection and being in control of every little detail, although his default style is more intuitive and a bit chaotic."
Typically, Blass climbs outside two days a week with the family, plus a couple hours with his team once a week, and one day on the family's home wall, which is located in the basement and is "tiny," according to Arnaoudov. "But Théo and Alizee are tiny too," he adds, "so it suits them well."
Blass is also a skilled mountain biker and pianist—though climbing has been taking priority recently. After a few nasty falls on his bike, he realized that sport climbing, though occasionally scary, is the safer sport.
And he recently experienced some setbacks on the piano: As Arnaoudov noted, Blass sat down and "projected" Bheethoven's Fur Elise for a month, and "got very close to linking it, [but] the last hard section was too much and he gave up."