Thin and Committing Ice Smears Define 2,000-foot New Route in Norway
"Entropi" has several pitches of "mentally challenging" ice climbing including a vertical, 65-foot step of two-inch-thick ice.
Heading out the door? Read this article on the new Outside+ app available now on iOS devices for members! Download the app.
The alpinists Juho Knuuttila (Finland) and Eivind Jacobsen (Norway) completed a striking new route in northern Norway earlier this month, on the steep northwest face of Mt. Blokktind (3,395 feet), which they dubbed Entropi (WI 5+ M6 N5/5.9 R; 2,180 feet). They climbed the line onsight, in 16.5 hours car-to-car, and left no fixed gear in place.
"[The] climbing was never extremely hard but … it wasn't well protected on some of the more difficult pitches," Knuuttila told Climbing in an email. "I really needed to dig deep to commit to some of them."
Indeed, after finding this line several years ago on a map, and carefully watching it come into winter-climbing condition this season, Knuuttila was determined to make the most of the brief weather window. "In January I contacted a local lady who lives across the fjord and sees the face from her home," he said. "I asked if she could send pictures of conditions on a regular basis as I knew that quite special conditions are needed for this line to form."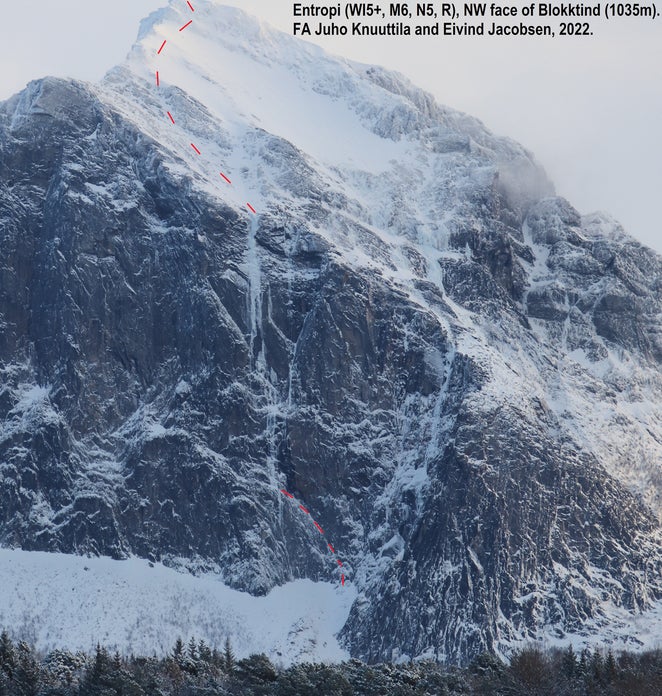 Those special conditions are warm, wet spells mid winter to melt the large snow slopes overhead, followed by enough of a cold snap to freeze the meltwater to the northwest face. Partway through the climb, Knuuttila said he realized that warm temperatures (relative to typical ice-climbing conditions) were actually a blessing for this route, as the seriously thin ice would be even more dangerous to climb in cold, fragile conditions. "Thin ice also means that it delaminates quickly if it gets warm, so you really need to time your attempt right," he said.
This article is free. Please support us with a membership and you'll receive Climbing in print, plus our annual special edition of Ascent and unlimited online access to thousands of ad-free stories.
On March 4, Knuuttila and Jacobsen made the two-hour approach to the base of the northwest face, soon realizing that the white "ice" streaks from their conditions photos were likely to be plastered snow. "We expected climbable and easily protectable ice almost the whole way up but it turned out to be something different," Knuuttila said.
The first three pitches consisted of fun, engaging turf climbing along a ramp to access the upper ice smears. Once below the ice, however, the doubt set in; it looked steep, thin, and dangerous. They discussed bailing, and almost did, but Knuuttila poked around for an alternative and eventually uncovered a techy M6 sequence on sloping ledges, turf, and small crimps for his cramponed feet. All well above his gear, of course.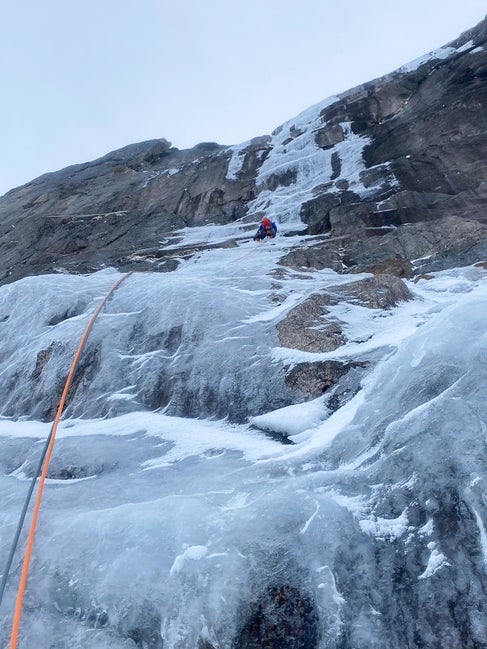 The fifth pitch was "equally bold" with two-inch-thick vertical ice. Five hours into their route, Knuuttila's mental exhaustion had begun to build. "It all made me question why to even climb," he said. "Conditions were perfect though, and the ice was so elastic, that in a way it was safe to climb as long as we took our time and climbed in control. That pushed us forward." Then came hand cracks, finger jams, sketchy feet, torqued tools, and the occasional bomber cam. Pitch eight served up a 210-foot vertical vein of sticky ice, running plum up the headwall."Not very thick ice once again, but enough to take short screws. What a wild position to climb!" Two final pitches of WI 5 (in, thankfully, more reasonable condition) brought the pair to the top of the headwall where they unroped and simul-soloed the final 800 feet of snow to the summit in a howling wind. Rain came as they hiked down to their car, slamming their tiny weather window shut. Future suitors will have to wait until next season—or longer—to have a go.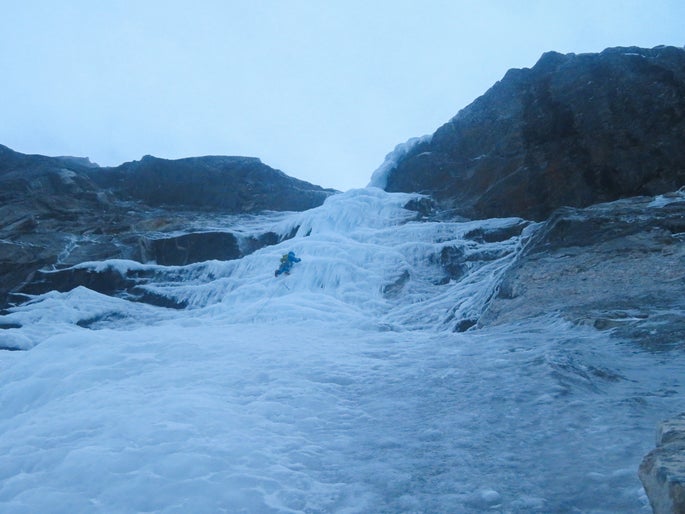 As for the name, Knuuttila said Entropi felt appropriate given the lack of order or predictability throughout the ascent. The thin, steep ice looked unlikely from the base, and even more so from directly below. Regardless, they went and had a look, and were pleased with what they found.