Three-Year Effort Yields Huge M12 in Canada
Heading out the door? Read this article on the new Outside+ app available now on iOS devices for members! Download the app.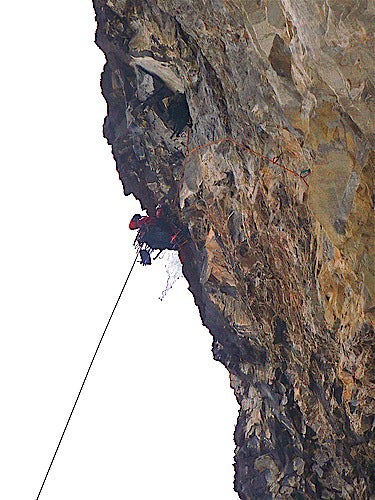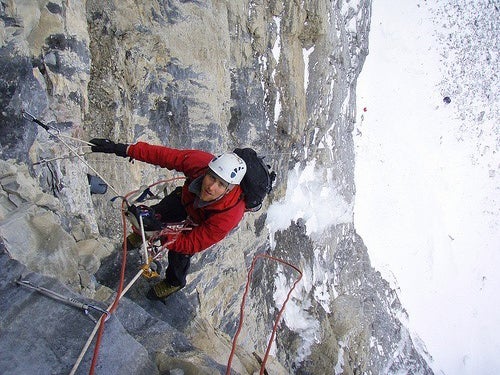 After a three-season effort, a team of Canadians has completed a major new mixed route in Alberta with a long crux pitch that could be as hard as M12.
Will Meinen and Brandon Pullan spent several days over two seasons working on The Jimmy Skid Rig (300m, WI5 M12) before recruiting Will Gadd this year for the final efforts to free-climb the route.
The route is approached by a "slot-canyon adventure course" that took two to five hours depending on snow conditions. Meinen and Pullan discovered tattered ropes hanging from the wall from a previous attempt, but started their line several hundred yards to the right on a discontinuous vein of ice. Several pitches of mixed ice and rock climbing gained an overhanging wall with two long pitches that diagonaled to the left to reach a steep ice curtain.
At the end of last winter, the two had established the route up to the ice curtain but had not free-climbed the hardest pitches. Enter Gadd, whom Pullan suckered with "tales of perfect rock and golden huecos." No such rock was found, but Gadd was still psyched by the route's quality, and after several more visits he redpointed the full line, with mixed pitches of "M9ish" and "M12ish."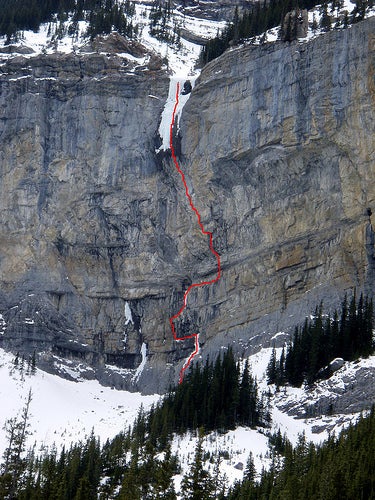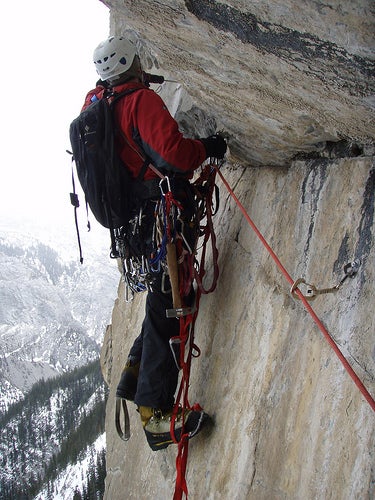 "It's hard to rate the crux pitch, as it was more about being able to lock off repeatedly than dangle in a horizontal roof," Gadd said. "I like lock-offs and have trained a lot for that this fall and winter, but it's hard to rate something like that. It's a great route, though—nice combination of alpine-style mixed to start, then some vicious dry tooling, and then some ice. Mega!"
Meinen said the team still has to return to the cliff to clean up some abandoned gear, including several ropes that were lost during an epic descent in bruising winds. You can read Gadd's account of the ascent and the frightening descent at his blog. Meinen's first-person story about The Jimmy Skid Rig is at the Mountain Hardwear blog.
Date of Ascent: January 30, 2009
Sources: Will Meinen, Will Gadd, Blog.Mountainhardwear.com, Gravsports.blogspot.com